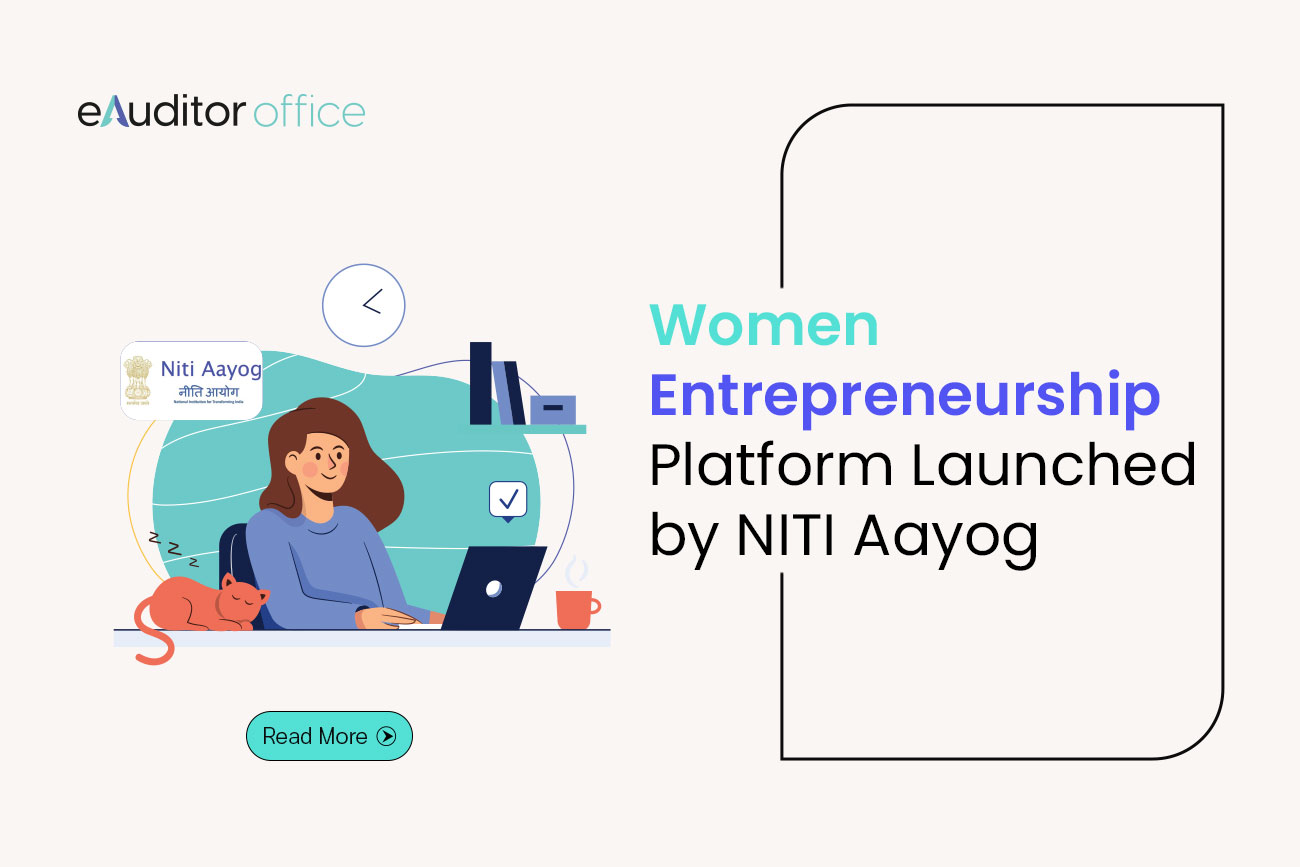 NITI Aayog has launched Women Entrepreneurship Platform (WEP), which is exclusively created for encouraging Indian women's participation in the growing Indian startup ecosystem.
With a significant increase in entrepreneurial ventures founded and co-founded by women, they have started to be trailblazers of innovation and scaling their businesses like never before.
Yet, the participation of women is considerably low even though many Indian women have entrepreneurial ambitions.
Some of the critical reasons for low female entrepreneurship rates are
Unconscious Gender Bias
Low confidence in Business skills
Difficulty in Access to Finance in any form
Less networking opportunity
Lack of family support
Child-care Issues
Less safety in the public space and workspaces
Data on Women's Participation In Entrepreneurship:

According to the Sixth Economic Census Conducted Between January 2013 and April 2014: Only 8.05 million businesses were owned and run by women out of, 58.5 million companies in the country.
It means only 13.76% of entrepreneurs were women, which is very low in women participation amongst many other countries.
Another report by the World Economic Forum's Gender Gap Report says, "Economic participation and opportunity" is one of the indicators where India's gender gap is high. In this, India ranks 142 out of 149 countries.
A society without women's participation will not grow to its full potential, and significant losses on innovation, economic growth and job creation. It shows that reducing gender bias and disparity in all sectors is essential to achieving a $5 trillion economy and becoming a developed country by 2047. Understanding the importance of not overlooking this issue, NITI Aayog has built a platform to support aspiring and existing women entrepreneurs in every possible way.
Women Entrepreneurship Platform (WEP): Overview

NITI Aayog, in partnership with the Small Industries Development Bank of India (SIDBI), for assistance in this initiative.
WEP is a first-of-its-kind, all-in-one platform that aims to bring together all women from different parts of the country to build an ecosystem that encourages, educates and enables women entrepreneurs to realize their entrepreneurial aspirations without setbacks.
WEP platform planned to achieve this by being a facilitator of all relevant information and service with significant partnerships and conducting programs throughout the country.
Three Pillars of WEP:
Iccha Shakti: Motivating aspiring Women entrepreneurs to start their first business venture.
Gyaan Shakti: Creating a relevant knowledge bank and conducive ecosystem for women entrepreneurs to carry out entrepreneurship in their representative field of interest.
Karma Shakti: Being a support system to women entrepreneurs in setting up and scaling up their businesses by providing all that's needed in their entrepreneurial journey.
Focus Area of Women Entrepreneurship Platform:
The primary objectives of WEP are hosting relevant information and services that would enable women to realize their entrepreneurial dream.
NITI Aayog's WEP, with its partnership effort, offers services like:
Community and Networking Opportunities.
Skilling Program in line with entrepreneurship
Assistance in Product and Service Marketing
Financial Assistance in the form of funding and loans
Incubation and Acceleration Support based on their business growth stage
Tax Assistance and Business Compliance
Eligibility Criteria:
Women-led businesses at the ideation stage that have just started their entrepreneurial journey or any established startup can register under this scheme.
And, if you are a corporate, startup incubator, NGO, research institute, accelerator, etc., who can provide assistance to women entrepreneurs in any form can apply under this WEP scheme.
Highlights and Benefits of This Scheme:
Providing Free Credit Ratings
Mentorship
Funding Support business led by women
Apprenticeship
Enabling Partnerships with Corporates
The platform also encourages women entrepreneurs to share the stories and experiences gathered from their entrepreneurial journeys for the purpose of mutual learning from each other.
WEP, as a platform, will also promote many offline initiatives and outreach programs to reach out to potential women entrepreneurs across the country. This would be done in partnership with relevant organizations and agencies.
CONCLUSIONS:
With the increasing number of new businesses getting funded and founded by women entrepreneurs in India, yet close to 90% have very little access to proper financial support and have too many other societal constraints. At the institutional level, the government is developing many initiatives specifically focused on issues that hold every aspiring Indian woman entrepreneur. One such initiative is NITI Aayog's Women Entrepreneurship Platform to provide knowledge, guidance, financial support, training and development opportunities that will make them a significant part of the Indian startup ecosystem of the present and the future.
Author : Dharani
Date : 01-Nov-2022

GET HELP