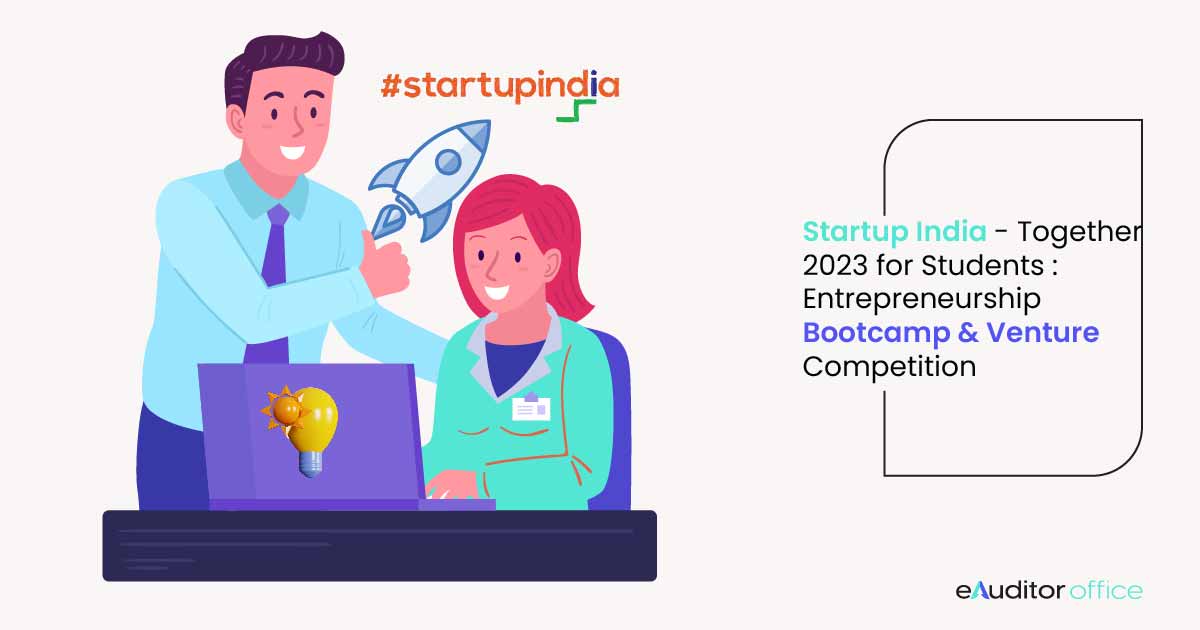 Together 2023 for Students: Entrepreneurship Bootcamp & Venture Competition


In the last few years, the number of startups registered in India has increased significantly with support schemes such as Startup India, Make In India, Mudra Loans, Standup India, and so on.
To make this startup ecosystem more vibrant with young minds, the Indian government, in association with Canada, has scheduled an entrepreneurial boot camp and venture competition called "TOGETHER 23" on 01 November 2022.
The workshop encourages young minds to bring quality innovation and inculcate problem-solving, out-of-box thinking and taking calculated-risk in their entrepreneurial venture.
In this article, we will learn the details of the TOGETHER 23 workshop and how to apply and participate.
What is Together 23?

Together 23, the 3rd edition of this Entrepreneurial Bootcamp and Venture Competition, is a global initiative conducted by the two leading innovative economies - India and Canada. Startup India and Schulich School of Business in Canada are the key stakeholders organizing this event.
The core objective of this Bootcamp cum venture competition workshop is to give all aspiring entrepreneurs access to
Expert Trainers in Entrepreneurship
Access to Mentorship sessions conducted by top leaders in the business world
Live deep-dive discussions and sessions to interact
Along with that, the participating Indian and Canadian students will be paired together to work and co-develop an entrepreneurial solution to the existing problem.
Key Highlights of the Together 23 Program:

Around 600+ student entrepreneurs from India and Canada will participate in this program.
Participating students will get access to interact and learn from successful startup founders, investors, and business coaches from India and Canada Online.
This program is conducted as an open-education model that will allow young entrepreneurs to participate simply by submitting their business ideas.
The top 25 Indian student teams selected in this program will undergo a new 30-day intensive mentorship and acceleration program.
Student ventures from India selected in the top 25 list will receive mentorship assistance from a specialized Indian and Canadian mentor for three weeks exclusively.
Student entrepreneurs will get to listen to keynote speeches of some dignitaries and leaders on social entrepreneurship and the importance of a more profound connection between the Indian and Canadian Ecosystems.
The final top 6 teams will get to present their business pitches to the panel of judges.
The top teams will be rewarded with cash prizes, in-kind prizes, networking opportunities, incubation access and Resource Partner Support.
Eligibility Criteria for Together 23 Workshop Program:
Individuals and ideation-stage startups.
The startup team size should consist of 1 to 3 people
Any recent graduates who complete graduation in the last two years.
Official Timeline to Submit Applications:

Application Start Date: 03 September 2022
Application End Date: 01 November 2022
Start Date of Together 23 Workshop: 17 November 2022
Procedures Post Submission of Application:
Prerequisite:
Together 23 Program Launch Event: 17 November 2022
1st Round of Together 23:
Bootcamp training for two consecutive days: November 18-19, 2022 (Weekends)
Participating Student entrepreneurs will be having
Expert training sessions on pitch design
Identify the problem statements and areas to be addressed
The market size of the entrepreneurial venture
Establishing value proposition
Designing products for the market
Marketing the product for sale and
Understanding different revenue models
Final date to submit the Open Round Business Pitch: 23 November 2022
NOTE: To qualify under the top 100 student entrepreneurs, students must attend an entire session conducted between 17 November and 19 November 2022.
Announcement on Student Selected in the Top 100 will be made on 06 December 2022.
ROUND 2: 12 December 2022
Students selected in the Top 25 will be made on 12 December, and a Pairing of Indian students with Canadian Students from the Schulich School of Business will be made.
Each Student pair has to develop and work on their ideas further.
Along with that, the students will be assigned to Indian and Canadian mentors in this Round.
Semi-Final Round:
Opening Ceremony of Top 25 - Together 23 Program: 19 January 2023
Deep-dive Session and Hackathon Bootcamp: 20 January 2023
The hackathon Bootcamp will be conducted -
Business Pitch Training
Presenting to Venture Capitalists.
Products
Go-to marketing
Teams selected under Top 25 will receive mentorship, one day each week until the final submission for three weeks (23 January, 03 February, 10 February)
The last Date to Submit Video Recordings + Deck of the Final Pitch: 12 February 2023
Announcement of Top 6 Student Teams: 15 February 2023
Finale - CHAMPIONSHIP ROUND
Last & Final Mentorship Session For Top 6 Student Teams: 17 February 2022
Live Final Pitch Training as Private Sessions: 18 February 2023
LIVE CHAMPIONSHIP ROUND & CLOSING CEREMONY OF Together 23 Program: 19 February 2023
CONCLUSION:
As India transforms itself and the world becomes a global hub for startups and innovations, nurturing entrepreneurial capabilities at the college level is very important. If you are a college graduate pursuing a college degree with an entrepreneurial idea for a startup, the Together 23 program will provide a lifetime experience for you to learn and build new skills and network with the great minds in the field of entrepreneurship.
Together 23: Last Date to Apply: 01 November 2022
Author : Dharani
Date : 31-Oct-2022

GET HELP