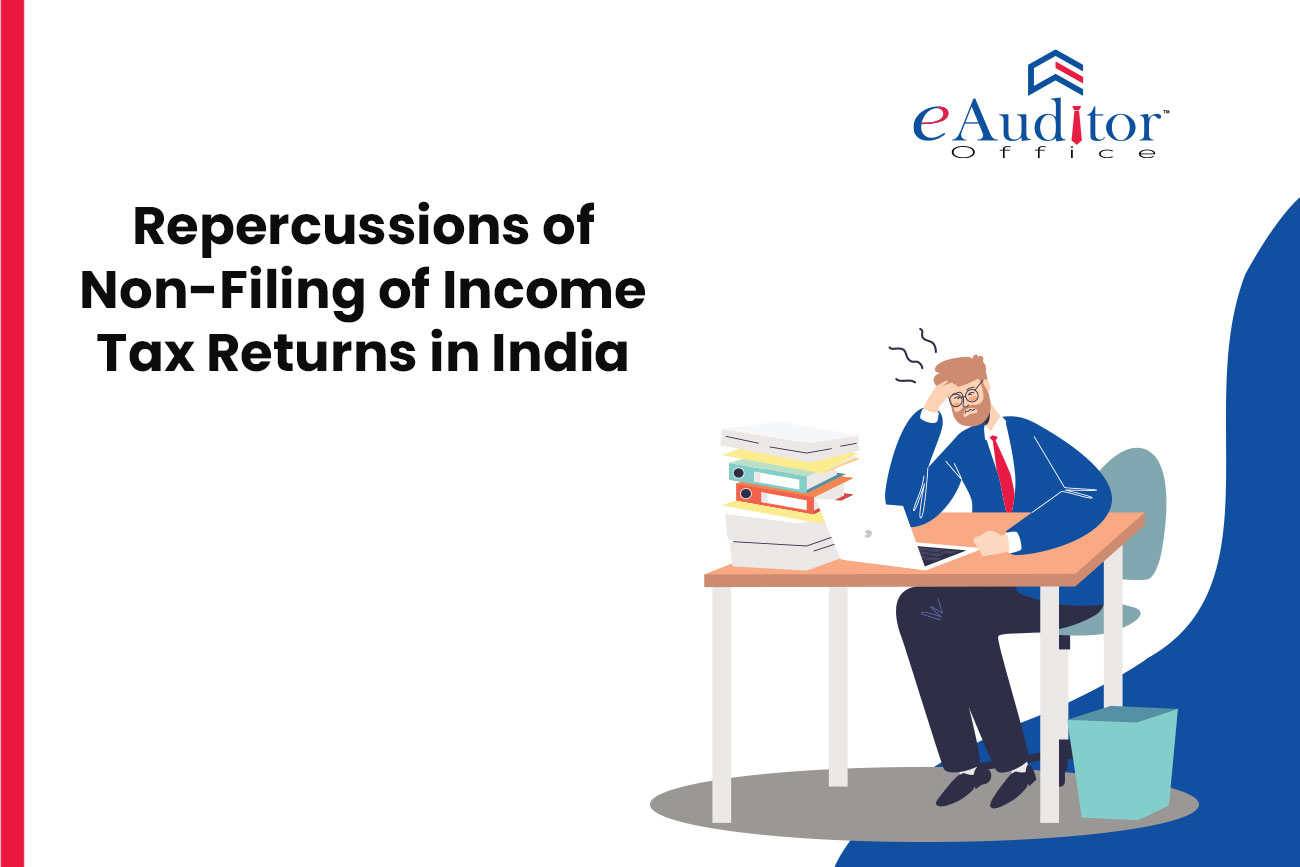 Repercussions of Non-Filing of Income Tax Returns in India
Overview
The Income tax return is a kind of report which helps taxpayers to disclose their income and assets to the Income Tax Department. It comprises personal and financial data related to the taxpayers. The taxpayer can be of the following types:
Person / Individual
Hindu Undivided Family
Association of Person
Body of Individual
Firm
Trust
Company
Society
Since the scope of the Income Tax Act,1961 is widespread and covers a variety of assessees, the consequences of non-filing of ITR can be severe.
Let us understand who needs to file ITR:
Person who is overpassing the slabs of Income mentioned in the Income tax rules and laws.
Every company or firm, irrespective of their profit or loss.
Any resident or ordinarily resident in India who is holding an interest in an entity outside India or who is the beneficial owner of any asset outside India.
Person who has deposited ₹ 1 crore or more in one or more current bank accounts.
A person who has incurred more than ₹ 2 lacs on foreign travel for self or another person.
Any person who has incurred expenditure of more than ₹ 1 lac towards electricity consumption.
Due dates for filing returns
31st July for Individual / HUF/ AOP/ BOI whose books of accounts are not required to be audited.
31st October for Businesses who Requires to get their books of accounts to get Audited.
30th November for the Businesses requiring Transfer Pricing report.
These due dates are subject to due date extensions and changes made by Government in the future.
Major consequences for not filing ITR on due dates:
1. Levy of Late Fee:
If the Income tax department deems fit, can issue a legal notice to any person who is required to file ITR but has not filed it. Such legal notice can be issued under section 142 of the act. The penalty would be imposed upon the person for violating the rules of the income tax act. Late fee from ₹ 5000 to ₹ 10000 can be imposed upon the defaulter.
2. Interest Obligation:
If the taxpayer owes any taxes to the Department of Income Tax, interest conforming to Section 234A at the rate of 1% on a monthly basis will be levied till all dues are cleared.
3. Legal action upon the concealment of income:
The penalties for concealment of income can be as high as 100% to 300%, so if an individual is not filing ITR just to hide his income from the vigilance of the Income Tax Department then he has to face grave consequences.
4. Carry forward of losses:
As per section 80, the assessee is required to file the return up to the due date for carry forward of the following losses-
Business losses
Speculation business losses
Loss from specified business under section 73A(2)
Losses under head "capital gain"
Losses from the activity of owning and maintaining race horses
5. Delay in Income tax Refund:
The Income-tax authority can withhold the refund amount if the ITR is not filed on time which will lead to monetary loss to the taxpayer.

Author : Aditi
Date : 02-Sep-2022

GET HELP