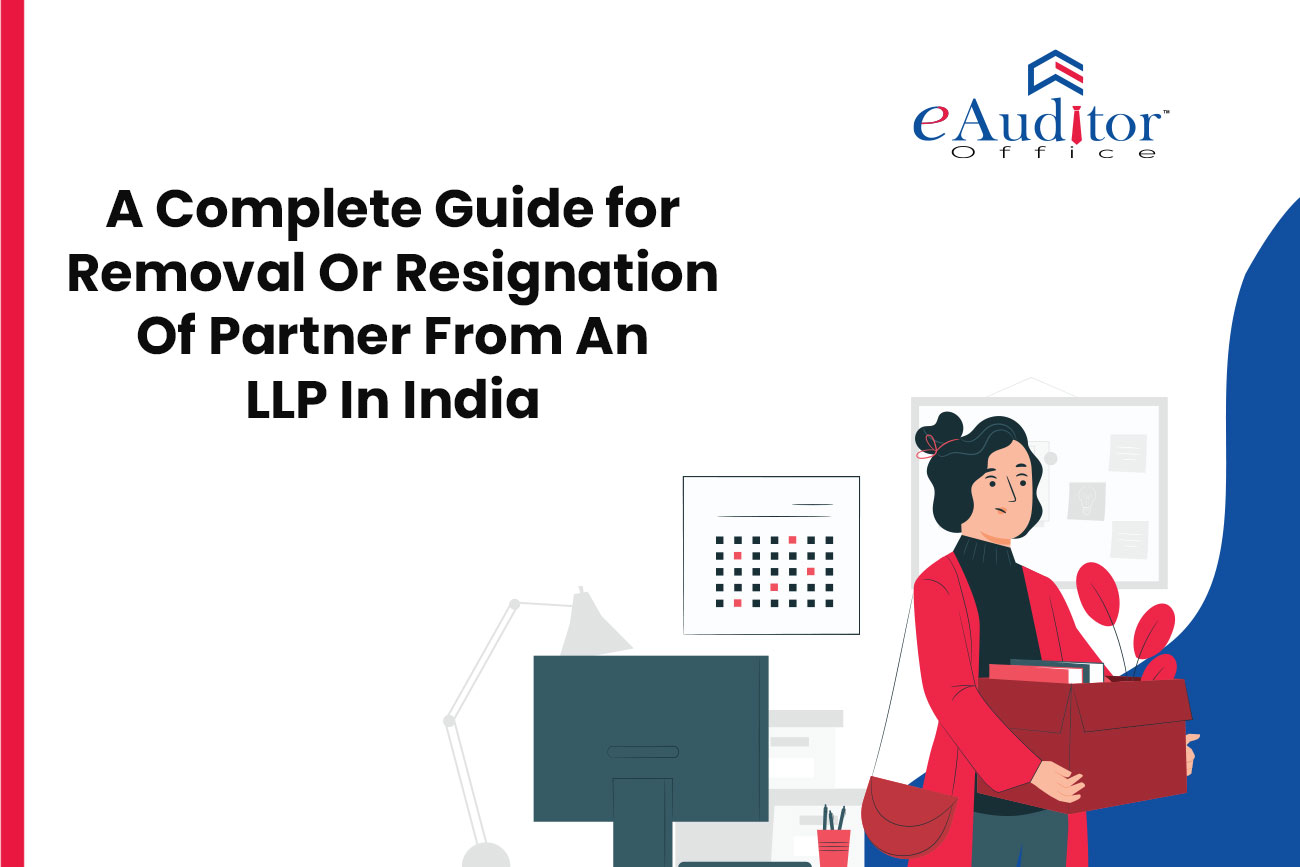 A Complete Guide For Removal Or Resignation Of Partner From An LLP In India
In a Limited Liability Partnership (LLP), partners are responsible for all critical decisions and carrying out the LLP business.
For an LLP to reach its growth target, it is essential to bring in new partners with relevant knowledge and expertise from time to time. Other than that, a partner in an LLP may prefer to resign/retire due to personal reasons or be removed for the benefit of the LLP.
In any of the cases mentioned above, it is necessary to properly notify, document and do all the required filings with the Ministry of Corporate Affairs (MCA) as per the established procedure.
If not, the partner's removal or resignation will not be deemed effective.
So, in this article, let's understand the details involved in removing or resigning partners from LLP.
Different Ways An Existing Partner Cease To Be A LLP Partner:
An LLP partner can cease to be a partner of a Limited liability Partnership under any of the four circumstances:
Resignation of Partner from LLP
Retirement of Partner from LLP
Removal of Partner from LLP
As per the LLP Agreement details
In case of the absence of an LLP agreement, a partner needs to give 30 days' notice to the other partners of the LLP.
Resignation of Partner from LLP
LLP Agreement governs the resignation of a partner; however, a partner can resign from an LLP by providing notice of resignation in writing not less than 30 days to the LLP and other Partners of the LLP.
An LLP Partner can resign:
Due to any specific event or circumstances as mentioned in the LLP Agreement.
Due to any personal reason, by giving prior notice in writing of not less than 30 days to the other LLP partners. The statement should clearly communicate the intention to resign from the partnership.
Documents Required For LLP Partner Resignation:
Supplementary LLP Agreement
Resignation letter
Acceptance document proof of partner's resignation
Resolution for notice of the partner
Steps for Resignation of LLP Partner:
Preparing resignation letter of resigning partner.
Submission of the resignation letter to the partners of the LLP.
Conduct the meeting to pass the resolution or get consent to accept their resignation from the LLP. It involves discussing the essential parameters of resigning a partner's liability, capital, debts, and so on.
Filing of Form 3 (to revise the LLP Agreement) and Form 4 (to notify the change in partners/designated partners) of the LLP within 30 days of resignation.
Relieving letter to partner from LLP
Revised and reinstated LLP agreement as per the existing strength of the other partners.
NOTE:
Once the Registrar of LLP takes note of the LLP form 3 and LLP Form 4, he will approve the same after assessing the relevant aspects.
Removal of LLP Partner in India:
Removing a partner of an LLP can be classified under two broad categories:
Automatic Removal of LLP Partner
Removal of Partner by Voting
Automatic Removal of LLP Partner:
It happens in the following scenario:
Death of an LLP Partner
Dissolution of an LLP
If the competent court declares the partner is of unsound mind or mentally ill
If he has applied to be adjudged as insolvent or displayed as an insolvent.
Removal of Partner by Voting:
Removing an LLP partner can be carried out as per the LLP agreement. In the absence of a removal clause in the LLP agreement, Schedule I applies to the LLP.
Unless the LLP agreement clearly allows it, the removal of the LLP partner cannot be dismissed by the majority of other partners.
In other words, the consent of all the partners is required to remove a partner by voting.
And, if there are only two partners, both the partners cannot leave the LLP at the same time.
LLP Form 4 must be filed within 30 days following a partner's removal, resignation, or termination from the LLP to be effective. Form 4 must be signed by an designated partner of LLP and certified by a practising chartered accountant (CA), company secretary, or cost accountant.
Other than resigning or removal, a partner can get retirement from an LLP.
Retirement of Partner from an LLP:
A partner can get retirement from an LLP partnership in case of any event or circumstances defined by the LLP agreement.
Form 4 has to be filed within 30 days of retirement. Form 3 has to be filed in case of LLP Agreement change along with Form 4.
Create an Addendum of the original LLP agreement to effect the Retirement of the outgoing LLP Partner.
Rights And Obligation Of The LLP Partner's Removal Or Resignation:
In case of removal of partner due to death or insolvency, the following benefits are entitled to the next to kin of that partner.
The total capital contribution made by the partner
Rights to share in the accumulated earnings after subtracting accumulated losses (if any) as the date the partner ceases to be a partner.
If the LLP partner has resigned or been removed by other partners, the rights and obligations differ from those mentioned earlier.
It is essential to note that if the partner is removed or resigned, the liability incurred will remain effective and not be dismissed.
Conclusion
Entrepreneurs find it difficult to deal with all legalities of removal or resignation of LLP partners. Still, with the help of a legal expert, it can be done quickly and efficiently.
At eAuditor Office, we are dedicated to helping startups stay legally compliant, and our team of business-friendly professionals is here to help you every step.
If you are looking for assistance in dealing with legal documentation of an LLP partner's removal or resignation or have any other questions related to LLP law in India, please do not hesitate to contact us via e-mail at info@eauditoroffice.com or call us at +91 96297 34296.
Author : Dharani
Date : 02-Sep-2022

GET HELP