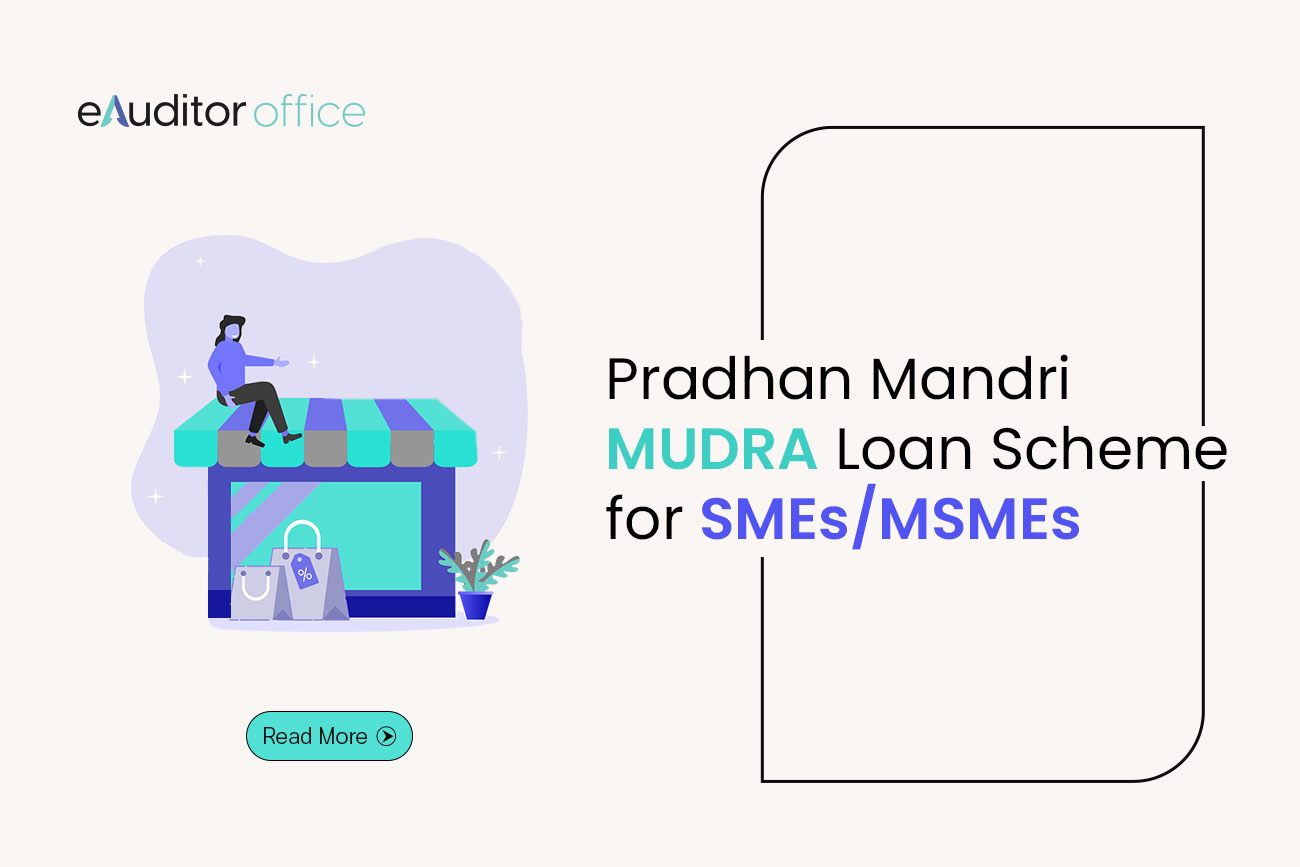 Pradhan Mantri Mudra Loan For SMEs/MSMEs - Mudra Yojana
In the year 2015, Pradhan Mantri Mudra Yojana (PMMY) scheme was launched by the government of India to provide financial assistance to Micro, Small and Medium Enterprises (MSMEs). This scheme was formalized by setting up Micro Unit Development and Refinance Agency Limited under the Companies Act 2013 and registered as Non-Banking Financial institution under the Reserve Bank of India (RBI).
In this article, let's learn and understand the critical details of the MUDRA loan scheme.
If you are an aspiring entrepreneur looking for professional assistance to set up your business legally, our legal and business experts at the eAuditor Office are here to guide you. Regarding registering your business as an MSME, private limited company or any other type of business formation, our team will assist and answer all your queries. Feel free to contact our team for a FREE consultation in setting up your business.
Now, let's get into the topic.
As mentioned above, the MUDRA scheme is to provide financial assistance in the form of a credit to MSMEs in India. If you are wondering why MSME is the targeted group of this scheme, let me tell you why.
Importance of MSME in India:
MSME is a key business that contributes to more than 45% of our country's GDP, i.e., the total value of goods and services produced within India. Not just that, these small and medium-scale businesses provide significant employment to the vast population of this country, next to agriculture.
According to the 2013 National Sample Survey Organisation (NSSO) survey, around 5.77 crore small or micro units conduct business operations in India. Of that, most were owned by sole proprietors and employed 12 crore people across various business sectors.
Out of the total micro and small business units, almost 60% is owned by people from SC, ST and OBCs.
MSMEs are spread across various industries like manufacturing, service, trading and processing. The SMEs and MSMEs compromise businesses like small manufacturing units, vegetable vendors, food-service units, repair shops, machine-operating small industries, the food processing industry, and many others.
As a non-corporate entity, MSME is the largest non-aggregated business ecosystem sustained with 50 crore human crores.
These micro industries face myriad constraints that contribute to the slow growth phase and lack of scaling the business. They are:
Lack of access to finance
Lack of Proper Information and scattered information sources
Lack of Market making and market development
Lack of growth orientation
Skill development gaps
Poor infrastructure
Lack of technological advancement
Lack of pro-MSME policy intervention
Out of all the constraints mentioned above, the low availability of timely credit is the most prominent one. These small businesses usually source financial credit from informal lenders such as friends and relatives.
The central and state governments are taking steps to build a pro-business ecosystem in the country. MUDRA loan scheme is one such central government policy measure to ease the existing financial constraint of the MSMEs.
Roles and Responsibilities of the MUDRA Loan Scheme:
MUDRA is formed with the sole objective of providing financial support by refinancing to micro, small and medium enterprises. The goal is to fund the unfunded business sectors of the country.
Along with providing financial assistance to businesses, MUDRA will also monitor the PMMY data via a web portal, facilitate the offering of the scheme, create awareness, financial literacy, and other social support services to the intended people of the business sector by providing access to information about the PMMY scheme.

Vision and Mission Of MUDRA Scheme:

VISION:
The vision of the MUDRA is to provide highly integrated financial and support services of the best standard at the global level. It should serve as a comprehensive socio-economic development tool.
MISSION:
The mission is to create a sustainable, all-inclusive, value-based entrepreneurial culture in partnership with other enabling institutions to achieve economic success and financial security for entrepreneurial ventures.
VARIOUS OFFERINGS OF MUDRA:
Under the MUDRA loan scheme, various interventions have been created and categorized as Shishu, Kishore, and Tarun. This signifies the further growth and development stage of each business. It also helps to identify the subsequent growth outlook of the MUDRA beneficiary.
MUDRA Loan Category and its respective loans:
Shishu: covering loans up to 50,000/-
Kishor: covering loans above 50,000/- and up to 5 lakh
Tarun: covering loans above 5 lakh to 10 lakh
MUDRA refinance loans are delivered primarily through banks, NBFCs or microfinance institutions.

Eligible Beneficiaries of the MUDRA Loan Scheme:

Under the PMMY scheme, the eligible MSMEs are those running small manufacturing units, shops, food-service providers, machine operators, food processing companies, repair shops, service sector units, etc., conducting their business in both rural and urban areas within the Indian demography.
List of Documents Required for the MUDRA Loan Scheme:
MUDRA Loan Application
Detailed Project Report of the Business
Identity Proof of the Business owner (PAN or AADHAR or Passport)
Proof of Residence (Telephone Bill, Electricity Bill, or Property Tax)
Recent Photo of the applicant (not older than six months)
Complete quotation for the machinery or items to be purchased.
Pricing details of the machinery and supplier details.
Identity proof of business like business license, Valid UAM number, and business license.
If you belong the category such as SC/ST and OBCs, do submit those proofs (Community Certificate)
Performance of PMMY Scheme:
In the first year of its implementation, PMMY has provided financial assistance to nearly 3.50 crore micro-entrepreneurs with a loan amount of Rs. 1,32,954 crore, thereby surpassing the target of Rs. 1,22,188 crore.
Since its launch, from 2015 to 2020, under the PMMY scheme, Rs.12.30 lakh crore was sanctioned and benefited 2448 crore loan accounts. As per the study report published by the Ministry of Labour and Employment, MUDRA loans created around 11.2 million jobs additionally between 2015 and 2018.
Of that, 55% were self-employed jobs, and 45% were part of new job opportunities in the already existing businesses.
Most importantly, the MUDRA Loan scheme has increased entrepreneurial aspiration and generated more employment opportunities across various industries than ever before.
The total number of self-employed people increased from 25.9 million to 31 million in 2018. Before MUDRA loan Scheme, 39.3 million people worked in various small-scale business entities, but between 2015 and 2018, this number increased to 50.4 million.
List of Value Additions By MUDRA:

Credit Guarantee Fund for Micro Units:
As announced by the Hon'ble Union Minister for Finance in the budget for FY 2015―16, a separate credit guarantee fund was created for MUDRA loans, with an initial corpus of Rs. 3000 crores.
National Credit Guarantee Trustee Company (NCGTC), managing various credit guarantee funds, was appointed as the implementing agency for Credit Guarantee Fund for Micro Units (CGFMU). NCGTC constituted the fund during 2015-16, and the schemes were notified on April 18, 2016, through a GoI gazette. For enhancing the flow of credit at the ground level, the cover is given on a portfolio basis against individual units.
MUDRA CARD:
MUDRA Card is an innovative credit product whereby the borrower can avail of credit hassle-free and flexibly. The borrower can avail of the credit as an overdraft facility through a MUDRA card for working capital. Small business owners can use MUDRA Card to withdraw cash from any ATM or Business Correspondent or purchase using a Point of Sale (POS) machine. The borrower can repay the amount when surplus money is available, reducing the interest cost. During 2015-16, 5.17 lakh MUDRA cards were issued for an amount of ` 1476.96 crores.
MUDRA MITRA Mobile App:
MUDRA MITRA is a downloadable smartphone application in Google's Play Store and Apple App Store. It provides information regarding 'Micro Units Development and Refinance Agency Ltd. (MUDRA)' and its various products/schemes. It guides a loan seeker to approach a Banker in availing MUDRA loan under Pradhan Mantri Mudra Yojana (PMMY). Users can also access helpful loan-related material, including sample loan application forms.
CONCLUSION:
India has the largest disaggregated business ecosystems, which contributes significantly to the economy and employment generation of the country.
Providing the funding support to the millions of these micro, small and medium size enterprises is a mission of MUDRA. Pradhan Mantri Mudra Yojana (PMMY) is meeting the credit aspirations of the millions of units to grow from strength to strength thereby contributing more to the economy. If you are business owner, eligible for this MUDRA loan, make use of it to meet your credit requirement.

Author : Dharani
Date : 31-Oct-2022

GET HELP