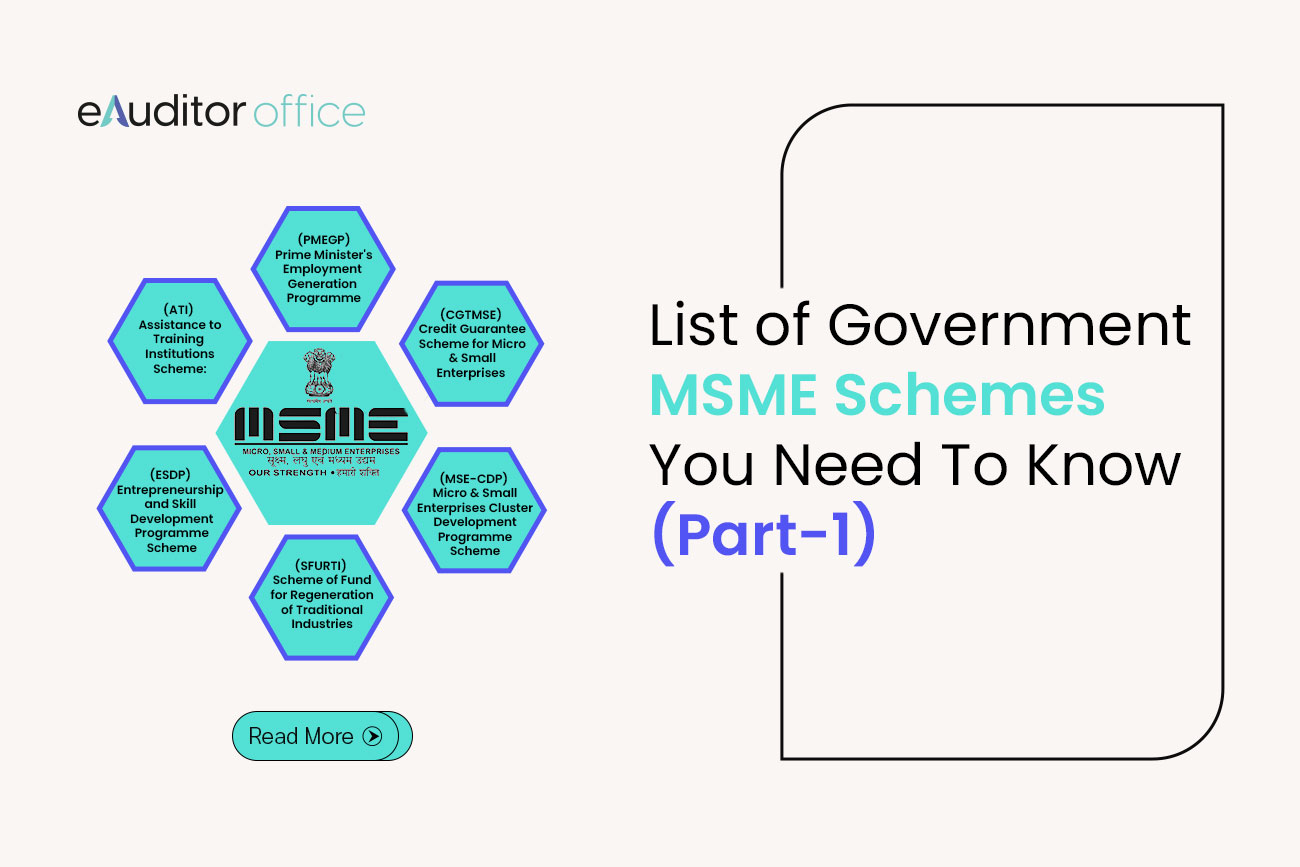 India's Micro, Small, and Medium enterprises (MSMEs) contribute about 1/3rd of our GDP, and our manufacturing sector contributes 30% of our GDP. Our MSME accounts for over 80% of businesses in the country, and 63 million MSMEs employ around 110 million people across various businesses.
With over 90 million MSMEs in the country, few have regular access to adequate and timely finance to grow their business. One of the main reasons is that most don't have Udyog Aadhar Number/Udyam Registration. Even if one has a valid Udyam registration, many are unaware of the existing financial credit schemes available for their business.
In this blog, we will learn about some of the important government schemes dedicated to MSMEs. It is Part 1 of two blog series.
Prime Minister's Employment Generation Programme(PMEGP)
This scheme specifically targets people who want to set up self-employment businesses and sustainable employment in urban and rural areas. The underlining purpose of this scheme is to stop occupational migration in a region and generate employment opportunities that can accommodate rural and unemployed youth.
Benefits of PMEGP:
Avail subsidy financed by banks for setting up enterprises in non-farm sectors like artisans.
A margin money subsidy is available for the bank loan approved under this programme. The scheme's beneficiaries can avail of subsidy amounting to 15 to 35% of the project. It is available for a total project value of up to Rs. 50 lakh in the manufacturing sector and Rs. 20 lakh in the service sector.
Higher margin money subsidy from the government is available for people belonging to any of the below-mentioned special categories:
SC/ST/ Women/ Minorities/ Ex-Servicemen/ Transgender/ aspirational districts/North-east Region:
35% Margin Money Subsidy (Rural Areas)
25% Margin Money Subsidy (Urban Areas)
All Indian citizen above 18 years of age can apply for PMEGP Scheme.
If you're interested in applying for the PMEGP scheme, you can apply at: https://www.kviconline.gov.in/pmegpeportal/pmegphome; for more detailed guidelines of the scheme, click to read.
2nd Loan for Upgradation of PMEGP/MUDRA Units:

This scheme is for further expansion of any existing successful and well-functioning manufacturing and service/trading units from 2018-19.
It's primarily for units that have been making profits for the last three years.
It applies to all the already existing, well-performing PMEGP and MUDRA units.
Any successful MSME business owners looking for financial assistance to upgrade their business units with automation and new technology can use this scheme.
The upper limit on the upgradation cost of the business unit is Rs. 1 crore for the manufacturing sector and Rs. 25 lakhs for the service sector.
Once the loan is approved, the bank will disburse the loan amount in the form of a term loan, and the applicant entrepreneur can also avail of the maximum subsidy of 15% of the total project cost, i.e., 15 lakhs in Non-North-east Region states.
In the case of an entrepreneur from NER or other Hill states, he can avail subsidy of 20%, i.e., Rs. 20 lakhs of the total project cost.
A valid Udyog Aadhar Memorandum(UAM)/Udyam Registration is mandatory to avail of this loan.
To apply for this 2nd loan, click the below-mentioned link:
https://www.kviconline.gov.in/pmegpeportal/pmegphome
CGTMSE: Credit Guarantee Scheme for Micro & Small Enterprises
This scheme is for all existing and aspiring first-generation entrepreneurs who want to venture into self-employment in Micro and Small Enterprises (MSEs).
This credit guarantee facility is available for all loans up to Rs 2 crore, without any collateral and third-party schemes. And the credit guarantee has varying coverage:
It is 50% of the defaulted loan amount the bank gives when the loan is between Rs. 10 lakhs and Rs. 100 Lakhs per MSE borrower for retail trade activity.
It is 80% of the defaulted loan amount for Micro, and Small Enterprises (MSEs) operated and/or owned by women and all loans in the North East Region (NER) for credit facilities up to Rs. 50 Lakhs.
In case of default of repayment of the loan amount, the CGSTMSE trust will settle the claim up to 75% of the total defaulted loan amount given by the lending institution (Banks/NBFCs) for credit facilities up to Rs. 200 Lakhs.
It is an 85% of credit guarantee for the micro enterprises' total defaulted loan amount for credit up to Rs 5 Lakhs.
Recently, CGSTME, the credit guarantee scheme, has been made available for select Non-banking Financial Companies (NBFCs) and Small Finance banks.
MSE business owners looking for a business loan can apply through member lending institutions like all banks and select NBFCs.
Micro & Small Enterprises Cluster Development Programme (MSE-CDP) Scheme
The government of India has rebranded and revived the erstwhile cluster development scheme, Small Industries Cluster Development Programme, as the Micro and Small Entreprises Cluster Development Programme (MSE-CDP).
With its new revised guidelines, the scheme aims to achieve the following objective:
To build or modernize the infrastructural facilities in the industrial areas or existing clusters of MSEs.
Building a Common Facility Center for testing, supporting production processes, training, a depot for raw materials, a treatment plant for effluents, etc.
Promote more sustainable and green manufacturing in the MSE clusters.
This scheme applies to all existing entrepreneurs in the form of (a Special Purpose Vehicle).
Common Facility Centres:
The purpose of CFC is to create tangible assets for the cluster's MSEs that can be used as design centers, standard testing, and production centers, including Plug & Play facilities.
Infrastructure Development: Land development, a network of roads, proper drainage, power distribution, etc.
Any existing entrepreneur can apply for this scheme using this link:
https://cluster.dcmsme.gov.in/
Scheme of Fund for Regeneration of Traditional Industries -SFURTI
The SFURTI schems objective is to offer assitance and promote traditional sectors and increase the regular income of those artisans providing sustainable employment opportunities. And to enable artisans involved in traditional industries by organizing them to improve overall production and assist them in value addition to make competitive products.
The SFURTI scheme applies to a cluster of artisans in traditional industries such as Bamboo, Honey, Textile, Coir, Agro-processing, Khadi, etc.

Benefits offered by SFURTI Scheme:
The scheme offers financial support
Upto Rs. 2.5 crore for the collective of 500 artisans.
Rs.5 crores for the collection of more than 500 artisans.
For setting up a production facility with modern machinery.
Support in terms of raw material.
People employed in traditional business will get up to Rs.25 lakhs for Soft interventions like
Skill Development
Exposure Visits
Buyer Seller Meets
Support digitization, business development- marketing.
Apply for the Scheme of Fund for Regeneration of Traditional Industries(SFURTI); check the link:
https://sfurti.msme.gov.in/SFURTI/Home.aspx
Entrepreneurship and Skill Development Programme(ESDP) Scheme
The core objective of the Entrepreneurship and Skill Development Programme (ESDP) Scheme is to encourage entrepreneurship, promote new enterprises or expand the capacity of existing MSMEs. This scheme is for all aspiring and existing entrepreneurs.
This scheme applies to people belonging to different categories of society SC/ST, Women, physically challenged, and Ex-servicemen.
Entrepreneurship and Skill Development Programme provides training on
Entrepreneurship & Skill Training in Agro-based Products
Carpet Weaving
Food & Fruit Processing Industries
Mechanical Engineering Workshop/ Machine Shop
Heat Treatment
Basic/Advance Welding/ Fabrication/Sheet metal work
Glass & Ceramics
Hosiery
The existing entrepreneurs and their team of staff will get specific training on the following:
Industrial Management
Export management
HR Management
Markekting Management
Digital marketing training
Quality Management training
Supply chain management
Retail management
Logistics management
Interested entrepreneurs can apply for this scheme through MSME-DI and MSME-TC websites. The scheme link - http://dcmsme.gov.in/Enterprise&skillDevelopment.html
Assistance to Training Institutions (ATI) Scheme:

As the name suggests, this scheme assists training institutes that provide entrepreneurship and skill development programs.
With the help of this scheme, the training institutes can build new infrastructures, upgrade the existing ones, provide training to faculties, and other relevant offerings.
This scheme applies to training institutes under the Ministry of Micro, Small, and Medium enterprises, and State level- Entrepreneurship Development Institutes.
There is a cap on the maximum assistance disbursed under this scheme at the state level EDI will be restricted to Rs.300 lakh in each case.
To provide a grant under this scheme, the EDIs owned and managed by the state governments and union territories would be selected per the recommendation made by the respective state government and UTs.
Interested Training Institutes under the Ministry of MSME and EDIs of the State government can submit their application to the Director/Deputy Secretary (EDI) or Ministry of MSME.
CONCLUSION:

At the institutional level, the Indian government, its ministries, and departments provide schemes that focus on different sectors of MSMEs. This blog has covered seven schemes focusing on different industries and services offered by MSMEs. If any of the schemes are relevant to you, we hope you make use of them to realize your entrepreneurial journey.
Author : Dharani
Date : 02-Nov-2022

GET HELP