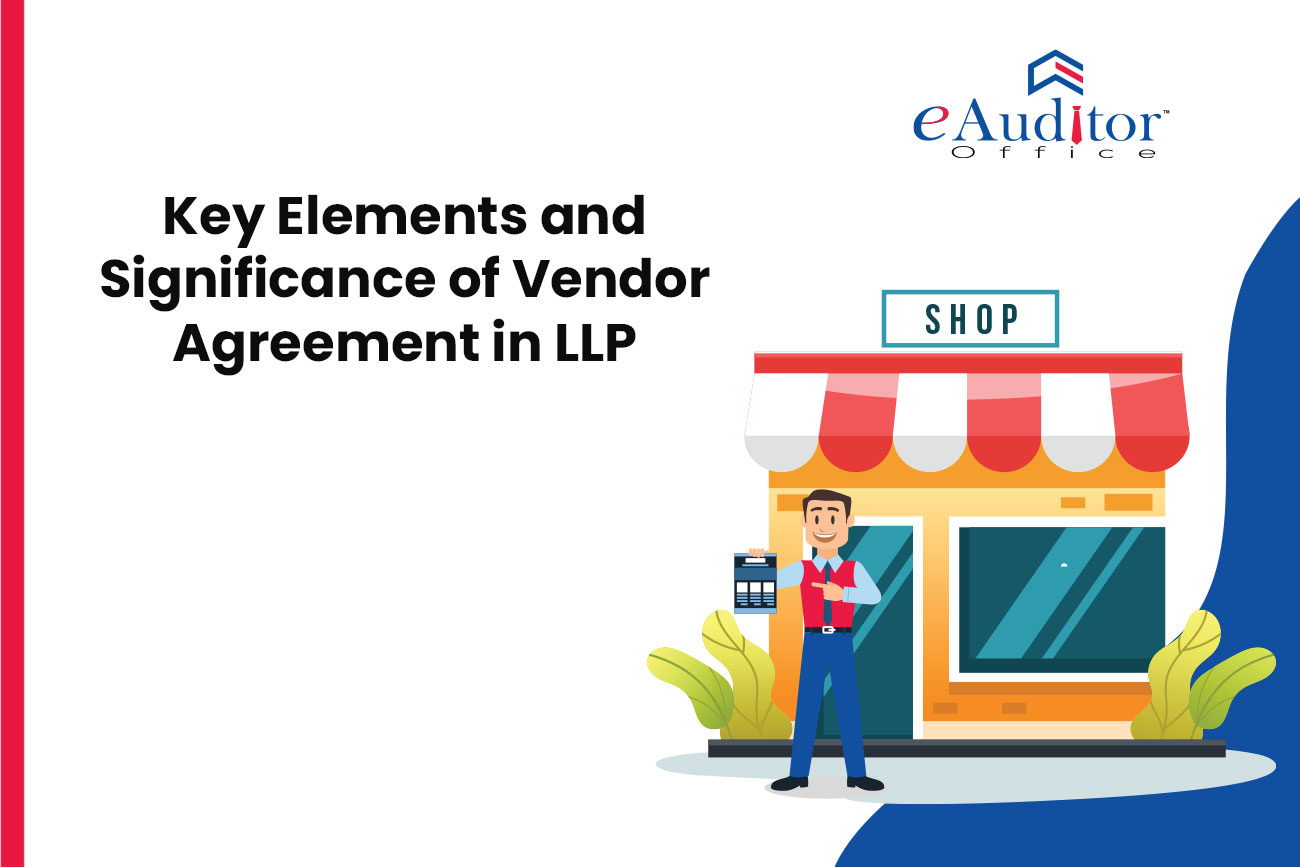 KEY ELEMENTS AND SIGNIFICANCE OF VENDOR AGREEMENT IN LLP
As a Limited Liability Partnership (LLP), you may have to find and deal with vendors for varied business purposes. Finding the right vendor can be daunting, but signing the
Vendor Agreement is essential once you find the right one. A vendor agreement is legally binding between the business and the vendor.
What Is a Vendor Agreement?
A vendor agreement is an agreement between two or more parties, where one party agrees to provide goods or services to the other party in exchange for money.
In the case of a vendor agreement between a business and a supplier/vendor, the business entity is the buyer, and the supplier is the seller. The supplier will provide goods or services to the industry in exchange for money; in return, the business will agree to buy those goods or services from the supplier.
The terms of a vendor agreement can vary from agreement to agreement, but some key elements are typically included in a vendor agreement.
A vendor agreement is legally binding on both parties. It contains all the detailed provisions regarding goods and services, rights, and obligations agreed upon on both sides.
Having a Statement Of Work (SoW) along with the Vendor Agreement is essential. Without SoW, a vendor agreement should not come into operation. And the vendor agreement is only enforceable after it gets attested with signatures from both parties.
If you are looking for expert assistance in drafting a legally sound vendor agreement, eAuditor Office is the right fit. Our team of experts will anticipate the future needs of the firm and
What Are the Key Elements of a Vendor Agreement?
When preparing a vendor agreement for your business, it's crucial to include all essential elements.
Your vendor agreement should spell out the responsibilities of both parties. It includes deadlines, delivery schedules, and quality standards. It's also essential to have a clause that states what will happen if one of these obligations is not met.
You'll also want to make sure that there's a section on pricing. It should include both the price per unit and the shipping cost. And don't forget to include an expiration date—after all, you don't want to be locked into a contract with a vendor forever!
Key things to look for in the Vendor Agreement in an LLP:
1. Details of business and vendor:
The agreement should contain the following details of both the business and the vendor:
Name of the person in Charge
Name of the Registered Business
Registered Office Address
2. Details of goods and services:
Mention the complete details of all the goods and services you will receive from the vendor. These details include the type of goods, quantity, quality, variants - shape, colour, size, the composition of the goods, etc.
3. The purchasing cost of goods and services:
Next, mention the total amount you will settle upon purchasing goods and services. This provision should also mention the mode of payment, payment structure, and the due date for each payment.
It includes things like when and how the payment will be made to the vendor after or before the completion of the contract.
4. Delivery Timeline:
The agreement should have details about the mutually agreed delivery time of the product or service from the vendor to your business. This provision is highly relevant if your business is dealing with perishable goods.
5. Validity of Vendor Agreement:
In this section, you must mention the validity of the business vendor agreement between your business and the vendor. It should also contain details regarding the terms of the contract's cancellation and legal actions in case of breach of the agreement.
6. Confidentiality Clause:
It is one of the important clauses of the agreement that deals with disclosing confidential information between two parties.
Some of the key pointers are:
Definition of Confidential Information
Validity of the confidentiality clause
List of things included as confidential information
List of items excluded from confidentiality clause.
7. Indemnity Issue
If any parties work against the agreed contract, it will be considered a breach of contract. In that case, compensation has to be made for the resulting loss —acceptable terms to be laid down to deal with such scenarios.
8. Termination of Vendor Agreement:
You need to lay out the circumstance of terminating or cancelling the contract of the agreement in mid-way before the agreed validity period.
The circumstances can be of
Delay in delivery
Non-payment of dues
Delivery of damaged goods
Improper service
Non-delivery of goods and services, etc.
9. Resolution of Disputes:
Even after agreeing with the vendor agreement, sometimes disputes may arise between the parties; in such cases, it is necessary to settle the dispute amicably to carry out the business properly.
It is like approaching dispute resolution methods like arbitration or mediation or reaching out to courts if needed.
All these details have to be communicated in the vendor agreement.
If you have any questions about vendor agreements or other legal matters related to your business, please don't hesitate to contact us at eAuditor Office. We're happy to help!
What Is the Significance of a Vendor Agreement in an LLP?
When you're setting up your business, it's essential to have a vendor agreement in place. This document defines the terms and conditions between your company and its vendors.
A good vendor agreement provides two significant advantages to the business:
1. Increase in Efficiency
Efficient management of all stakeholders is essential for a business to realise its maximum output. A well-drafted vendor agreement that clearly states the security policies, financials, and other important pointers will help in a practical business approach and proper supplier and third-party vendor relationship.
2. Risk Identification and Management of Vendor
A business dealing with any third-party contract should clearly understand the pros and cons of such a business relationship. And, they should have a well-defined description of duties, rules and regulations on how both the parties should conduct business in such engagements.
Doing so can have a proper risk assessment and manage the vendor accordingly without engaging in unwanted conflict situations.
How Can eAuditor Help You With Your Vendor Agreement?
At eAuditor Office, we specialise in helping business owners prepare vendor agreements that are both legally sound and compliant. We understand the importance of having a strong vendor agreement, and we're here to help you get it done right.
We'll walk you through every clause so you know what you agree to. We'll also help you negotiate terms with your vendors to get the best possible deal.
It is crucial to have a vendor agreement in place so that both you and your vendors are clear on the expectations and obligations of the relationship. A well-drafted vendor agreement can help to prevent misunderstandings and disputes down the road.
That's why we offer a range of services to make your life a little easier.
So don't wait any longer—contact us today and let us help you take your business to the next level!
Author : Dharani
Date : 02-Sep-2022

GET HELP