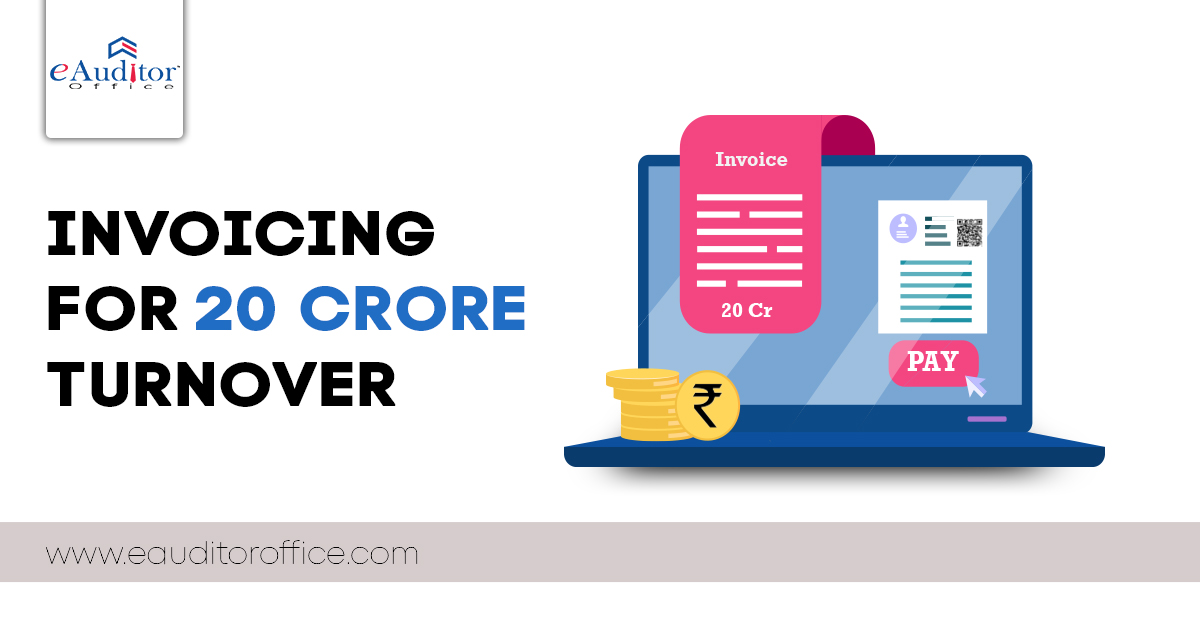 GST e-Invoicing for businesses above Rs.10 crore turnover
In India, there is a greater focus on encouraging a stronger culture of entrepreneurship and innovation.
As a way towards that, the Indian government has taken a series of steps in the last few years, mainly in making business tax compliance less complicated by introducing comprehensive indirect tax system.
Similarly, in the 35th GST council meeting, the council recommended to implement e-invoicing under GST that applies to specific categories of taxpayers.
Recently, the government has notified that GST e-invoicing is mandatory for taxpayers with an annual turnover of more than INR 10 crores from 1st October 2022
In this article, we will learn about electronic invoicing, different phases of e-invoicing implementation based on the taxpayers' turnover limits and various modes to generate IRN.
Do you think your business needs to generate multiple IRNs via an e-invoicing portal?
Or even confused about whether it's applicable for you or not?
eAuditor is here for you.
eAuditor offers best-in-class e-invoicing service for businesses. eAuditor will provide you with a safe and secure path to enable the new e-invoicing under GST without any hassle.
Now, let's get to it.
Ever since the GST system came into being, the GST intelligence has unearthed numerous frauds involving fake invoices, bogus credits, etc. This flows from one fundamental flaw in the GST system - there is a time gap.
In this context, the time gap is between when an invoice is generated and how & when the invoice is uploaded in the GST returns. This time gap is used for tax evasion.
To avoid such tax evasion, the government-mandated e-invoicing under GST. A committee (CoO on generation of electronic Invoice through GST Portal) was set up on Apr 2019 to examine the applicability of e-invoicing and suggest its implementation plan in India.
Since then, CBIC has released several notifications in a phased manner to bring effective integration between the business and the government's Invoice Registration Portal (IRP) that allows businesses to generate Invoice Reference Numbers (IRN) for every B2B invoice.
Now that you know the purpose of the new e-invoicing system. Before we learn about the invoice turnover limit and phased implementation, let's understand what e-invoicing is.
What is e-invoicing under GST?
E-invoicing under GST means uploading an already generated invoice using your own ERP software like Tally, Quickbooks, SAP, Oracle, etc., to the Invoice Registration Portal (IRP).
This portal will ensure the uploaded invoice is validated, verified, and authenticated by the government before it is shared with the customer/buyer.
The government has created an exclusive portal solely to administer, generate, and monitor e-invoices.
Kindly note that the E-invoicing does not mean generation of invoice by a Government Portal.
In a nutshell, the process of electronic invoicing under GST goes like this:
Step 1: Generate your invoice in the same way as before using your ERP software.
Step 2: Upload the already generated invoice to the IRP portal (Not GST Portal).
Step 3: The portal will perform certain mandatory verification and validation procedure based on a defined set of parameters.
Step 4: Once your invoice gets validated and authorized, the portal will allot a unique reference number to your invoice, i.e., Invoice Reference Number (IRN).
This becomes an e-invoice.
The IRN Number is generated along with QR Code & E-way Bill. This QR Code must be provided in the invoice provided to the buyer/customer.
Complete Detail About Implementation of E-invoicing:
The Government has released several notifications to implement e-invoicing under GST in a phased manner.
It covers schema or standardized format, the effective date of implementation, updated e-invoice GST limit for businesses that need to generate e-invoices, exemptions, etc.
The below listed of notifications were issued on e-invoicing under GST:
Notification No.

Key Contents

Applicable from

The invoice shall be prepared by registered taxpayers in the recommended format as Form GST INV-01 and upload the information to obtain IRN.

Invoice issued in any other manner shall not be treated as an invoice.

Related to Turnover Limit

The government notified every registered person whose aggregate e-invoice GST turnover limit in a financial year exceeds INR 100 crore shall prepare an e-invoice concerning the supply of goods and services.

01st April 2020

Registered Person, other than those referred to in sub-rules (2), (3), (4), and (4A) of rule 54, whose aggregate turnover in a financial year exceeds INR 100 crore shall prepare an e-invoice in respect of the supply of goods or/and services.

01st October 2020

Aggregate Turnover of registered persons required to prepare invoice in terms of Rule 48(4)) enhanced to INR 500 crore from INR 100 crore.

30th July 2020

To accommodate more and more businesses under e-invoicing, CBIC lowered the turnover threshold limit from INR 500 Cr to INR 100 CR.

01st January 2021

05/2021 Dt.08 Mar 2021

Taxpayers having annual aggregate turnover with more than INR 50 crore are required to prepare an e-invoice

01st April 2022

E-invoicing was made mandatory for taxpayers with more than INR 20 crore annual turnover.

01st April 2022

Related to Implementation of E-invoice

Government notifies 10 different Common GST electronic invoicing portals for the preparation of Invoice.

Ex:

So on and so forth up to https://einvoice10.gst.gov.in/

FORM GST INV-01 shall be substituted for Format/Schema for e-invoice.

Once the invoice is validated in the IRP, the invoice must contain the QR code embedding the IRN number.

An electronic copy can be used for verification if the proper officer asks for it in place of the physical copy of such a tax invoice.

On the council's recommendation, the GST commissioner can exempt a person or a class of taxpayers from issuing invoices for a specified period, subject to conditions and restrictions specified in the said notification.

30th September 2020

Taxpayers who filed invoices from the 1st day of October 2020 to the 31st day of October 2020 in a format other than the format prescribed by the council should upload particulars in FORM GST INV-01 on the IRP portal within 30 days from the date of such invoice to obtain an IRN.

Related to Exceptions

Special Economic Zone (SEZ) units excluded from e-invoicing mandate.

30th July 2020

The government departments and local authorities have been exempted from E-invoicing under GST.

01st June 2021

17/2022 dt. 01-08-2022
E-invoicing was made mandatory for taxpayers with more than INR 10 crore annual turnover
01st October 2022

Other Notifications

The words financial year notified in 13/2020 substituted with "any preceding financial year from 2017-18 onwards".

E-invoicing is made applicable for exporters along with the supplier of goods and/or services.

30th September 2020
Various Modes to Generate IRN
A GST registered taxpayer who falls under the government prescribed turnover limit has the following options to generate IRN.
Multiple modes are available so that taxpayer can use the best mode based on his/her need:
API based (integration with Taxpayer's System directly)

API based (integration with Taxpayer's System through GSP/ASP)

Free Offline Utility ('Bulk Generation Tool', downloadable from IRP)
Web-based / mobile app-based modes will also be provided in future.
Author : Dharani
Date : 29-Jun-2022

GET HELP