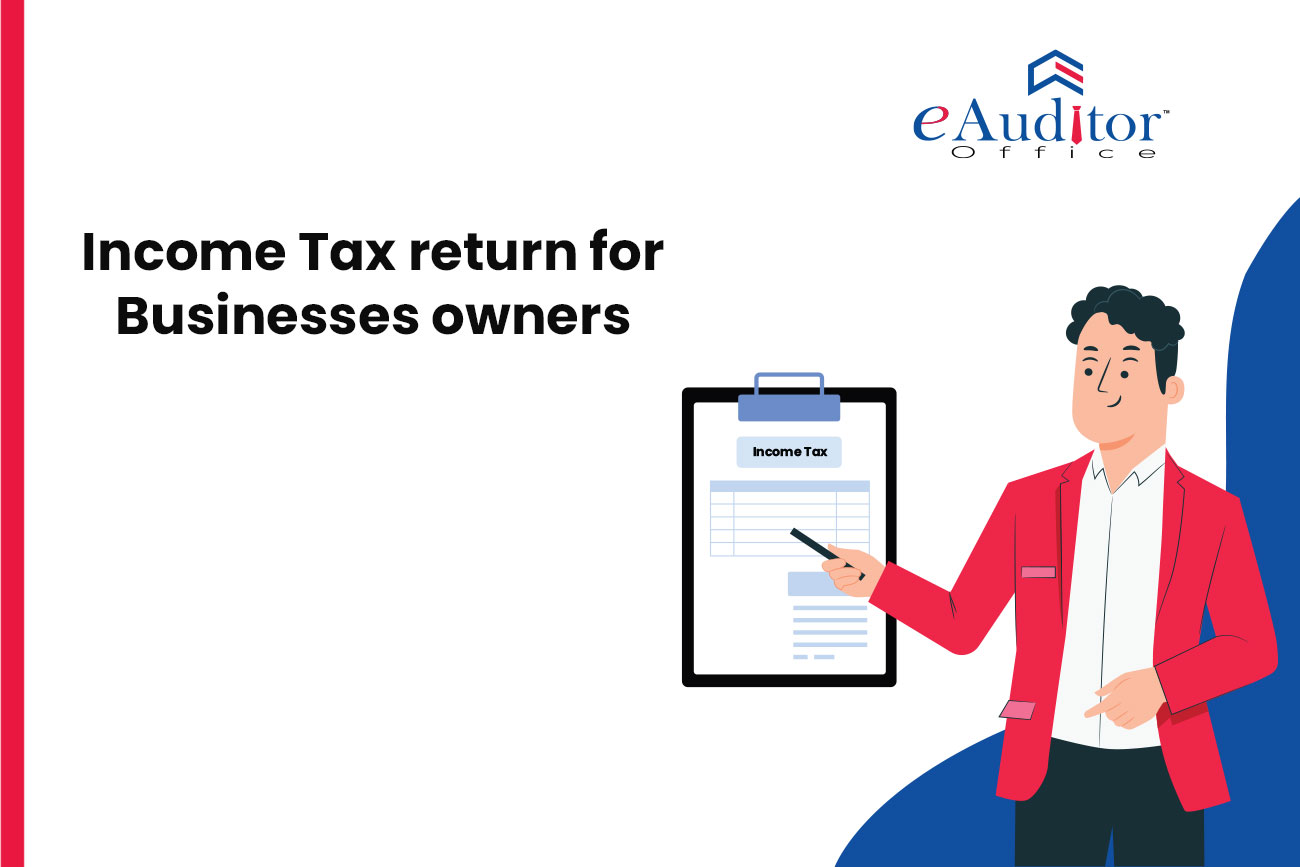 Income Tax return for Businesses owners
Overview
Income tax return filing for businessmen and professionals is of much relevance. We know that certain documents that are related to loan sanctioning involve Income tax returns, and various certificates are issued to business owners on the basis of the proof of their income in ITR. Filing returns on time has many advantages regardless of whether we draw the prescribed level of income necessary to file returns.
Various losses incurred by a business, both speculative and non-speculative, short-term and long-term capital losses. The business losses which are not stated in the tax return cannot be subsequently claimed for next years. It is therefore a healthy practice to file returns regularly, to claim an adjustment against past losses.
Not only for compliance purposes the businessmen who file ITR are well aware of their financial position because due to ITR filing the book of accounts is maintained and updated accordingly.
Income tax laws and rules have introduced two ITR forms for Businessmen and professionals. The details of the same are given below:
Income Tax Return 3
For Assessment Year 2022-2023, this ITR is applicable for Individuals and HUFs having income from business and profession.
Income tax returns basically have five heads namely:
1. Income from salary
2. Income from House Property
3. Profit and gain from business and profession
4. Income from capital gain
5. Income from other sources
The ITRs are categorized on the basis of amount and heads of income, so businessmen who are deriving their income from the head of Business and profession are to file ITR 3.
Things to remember while filing ITR 3:
1. The deductions under sections 30 to 37 should be taken care of.
2. Provision related to accounts and audit of the business.
3. Remember that presumptive income-related businesses would be reported under ITR 4, not ITR 3.
4. The expenses which are payable on an actual payment basis.
Income Tax Return 4 (SUGAM)
This return is to be filed by the individuals, HUF, or partnership firm who have opted for the presumptive income scheme as per Section 44AD, Section 44ADA, and Section 44AE of the Income Tax Act. It is to be noted that if the turnover of the business exceeds ₹ 2 crores, the taxpayer will have to file ITR-3. The due date of ITR-4 is 31st July 2022 for Assessment Year 2022-2023.
The following persons are disallowed to file ITR 4:
a. A person who is a director in a company.
b. A person holding shares of an unlisted company during the previous year.
c. A person who has any asset (including financial interest in any entity) located outside India.
d. A person who is a signing authority of a bank account held in a foreign country.
e. A person whose income is from any source outside India.
f. A person whose TDS or TCS payments have been delayed on ESOP.
g. A person having brought forward losses from any head or any losses to be carried forward.

Note should be taken that ITR-4 (Sugam) is not mandatory. It is a simplified return form to be used by an Assessee, at his option, if the assessee is eligible to declare Profits and Gains from Business or Profession Under section 44AD, 44ADA, or 44AE (Commonly known as presumptive basis taxation).
An Individual or HUF opting for a "new tax regime" u/s 115BAC has to mandatorily file Form 10-IE before the due date of filing of return u/s 139(1). After filing Form 10-IE, an original return or revised return is required to be filed mandatorily to avail the benefit of the new tax slab u/s 115BAC. The mandatory fields in ITR 4 are the Acknowledgment number and date of filing 10IE form.
Presumptive basis income under ITR 4
The presumptive taxation scheme of Section 44ADA can be adopted by a resident in India carrying on a specified profession whose gross receipts do not exceed ₹ 50 Lakh in a financial year. The following professions are specified professions:
Legal
Medical
Engineering or Architectural
Accountancy
Technical Consultancy
Interior Decoration
Any other Profession as notified by CBDT
Whereas the scheme of Section 44AD is proposed to give relief to the taxpayers engaged in any business, except the following businesses:
Business of leasing, plying along with the hiring of goods carriages mentioned in sections 44AE.
A person carrying on any agency business
Any person whose income arises from commission or brokerage (insurance agents etc).
A business having a total turnover of above ₹ 2 Crore, or in the case of profession gross receipts exceeding ₹ 50 lakhs.
Apart from the above, a person who is required to maintain books of accounts as referred to in Section 44AA (1) is not eligible for a presumptive taxation scheme u/s 44AD.
The scheme u/s 44AE is designed to give relief to every person who is engaged in the business of plying, hiring, or leasing goods carriages and also who does not have ownership of more than 10 goods carriage vehicles at any point of time in the year.
Author : Aditi
Date : 05-Sep-2022

GET HELP