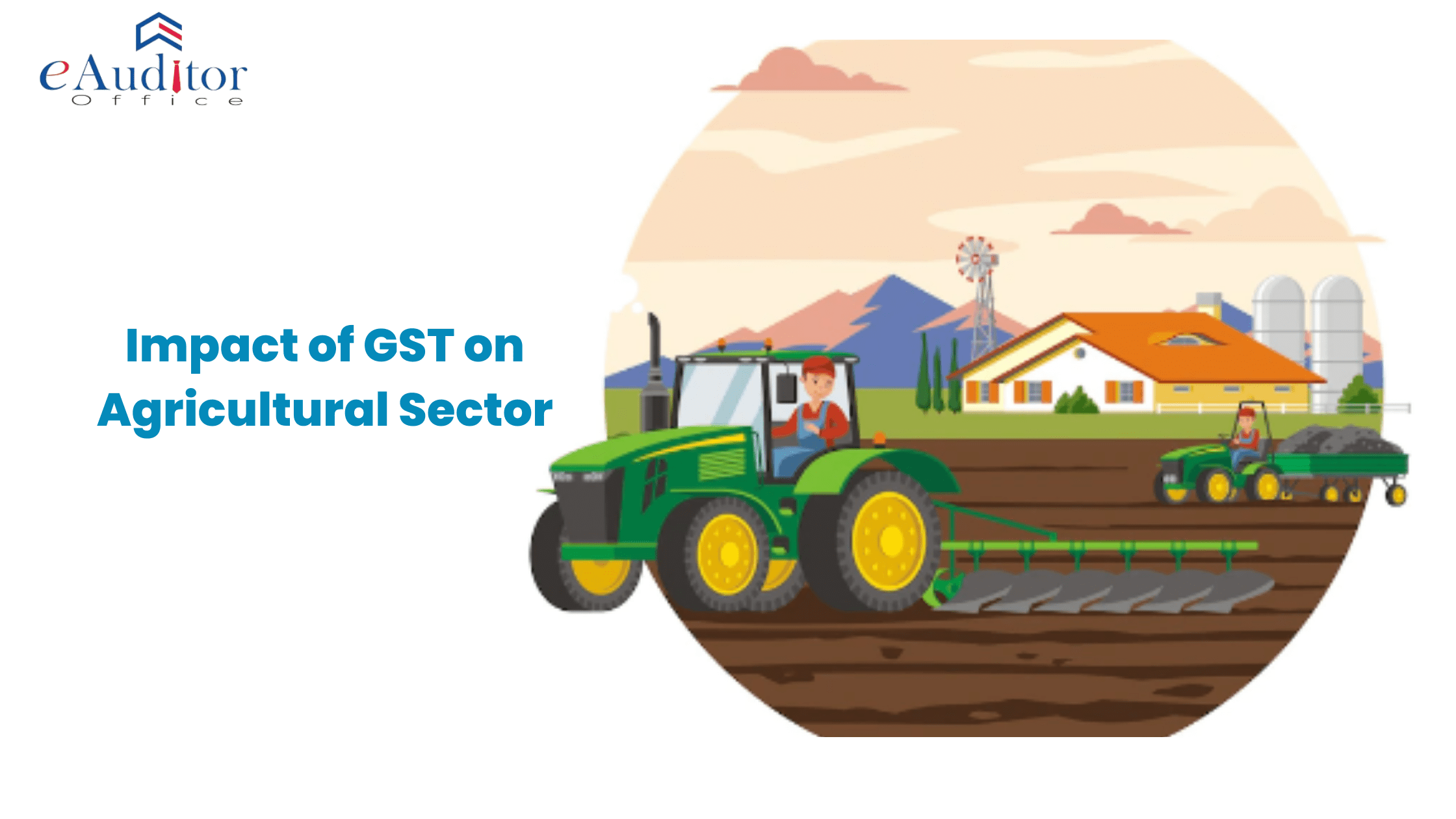 Impact of GST on Agricultural Sector

The Agricultural sector is of utmost importance in India as it is the main source of sustenance for a vast majority of the population. Indian agriculture is heavily reliant on rain-fed irrigation and floods account for almost 60% of the country's annual rainfall. The sector employs around 54% of India's workforce and is responsible for around 18% of the country's GDP.

As the goods traded in agriculture are usually perishable, a supply chain that can move quickly is essential to avoid wastage and obtain a fair price for products to the farmers. GST is expected to help with this as it will lead to the setting up of a unified market for agricultural products across the country by removing state-level taxes and other barriers. This will result in a more efficient distribution system, benefiting both farmers and consumers.

The implementation of GST is also expected to lead to lower transaction costs and an overall reduction in the cost of doing business in the agricultural sector. This is expected to make the sector more competitive and attract investments.

GST Liability for Farmers/Agriculturalists

Agricultural income is money that people get from farming. Agricultural income is defined as any income or revenue produced from sources such as farming lands, structures developed on or identified with agricultural land, and commercial produce received from agricultural land.

According to GST law, small farmers and agriculturalists will not be taxed on their income/revenue derived from the sale of agricultural produce. An agriculturist, whether an individual or a Hindu Undivided Family, who engages in agriculture or land cultivation by own labour, family labour, or servants on wages payable in cash or hired labour or in-kind under personal supervision or the personal supervision of any family member are exempt from registering under GST.

In other words, a farmer is exempt from GST registration if he sells agricultural products grown on his land.
If an agriculturalist carries out the trading of agricultural goods through a formal business structure (like a private limited company or limited liability partnership), they are required to do GST registration online when they cross the annual turnover criteria at the given time in their state.


GST on Agricultural Inputs
The persons doing dairy farming, poultry farming need to register under and comply with GST regulations, they are still liable to pay the GST applicable on the raw materials needed for carrying out agriculture like fertilisers and machinery.
This is because agricultural inputs are not exempt from GST, though the tax rate on fertilisers is 12%. Previously it was taxed at 6%.
As far as agricultural tools are concerned, they are taxed at various rates under different categories:
Basic hand tools and animal-driven tools like ploughs, sickles, and spades: NIL
Other non-power-driven tools like solar-powered tools and handpumps: 5%
Power-driven implements and machinery used in the field of agriculture for ploughing, milking, composting, harvesting, irrigating, etc: 12%
Ceramic wares used to store, transport, or for other technical purposes: 28%
However, there is no GST applicable on seeds.

GST Rates on Agriculture Products

Fresh and unprocessed agricultural produce such as vegetables, fruits and milk are exempt from GST. Different rates of GST will apply to processed agricultural products like cheese, rice, sugar, etc.
However, since GST has eliminated most of the state-level taxes on agricultural products, it is expected that these costs will be offset by the reduction in prices for consumers.
Things That Don't Fall Under Agriculture Sector
The following are not considered as a part of the agriculture sector and hence have their own GST rules:
Horticulture: fruits and vegetables that have undergone some processing or value addition (like pickles, canned food, etc.)
Processed meat and poultry products: sausages, ham, etc.
Dairy products: condensed milk, ice cream, etc.
Poultry farming: ducks, quails, etc.
Stockbreeding
The GST regime is expected to bring much-needed transparency and efficiency into the agricultural sector by eliminating multiple state-level taxes.
Overall, the impact of GST on the agricultural sector has been largely positive. Due to the reduction in taxes and removal of multiple state-level taxes, it is expected that prices for consumers will decrease, making agricultural products more competitive in the marketplace. Additionally, by making the sector more efficient and easier to do business in, GST is expected to attract more investment into the agricultural sector.


Author : Nivetha
Date : 09-Jul-2022

GET HELP