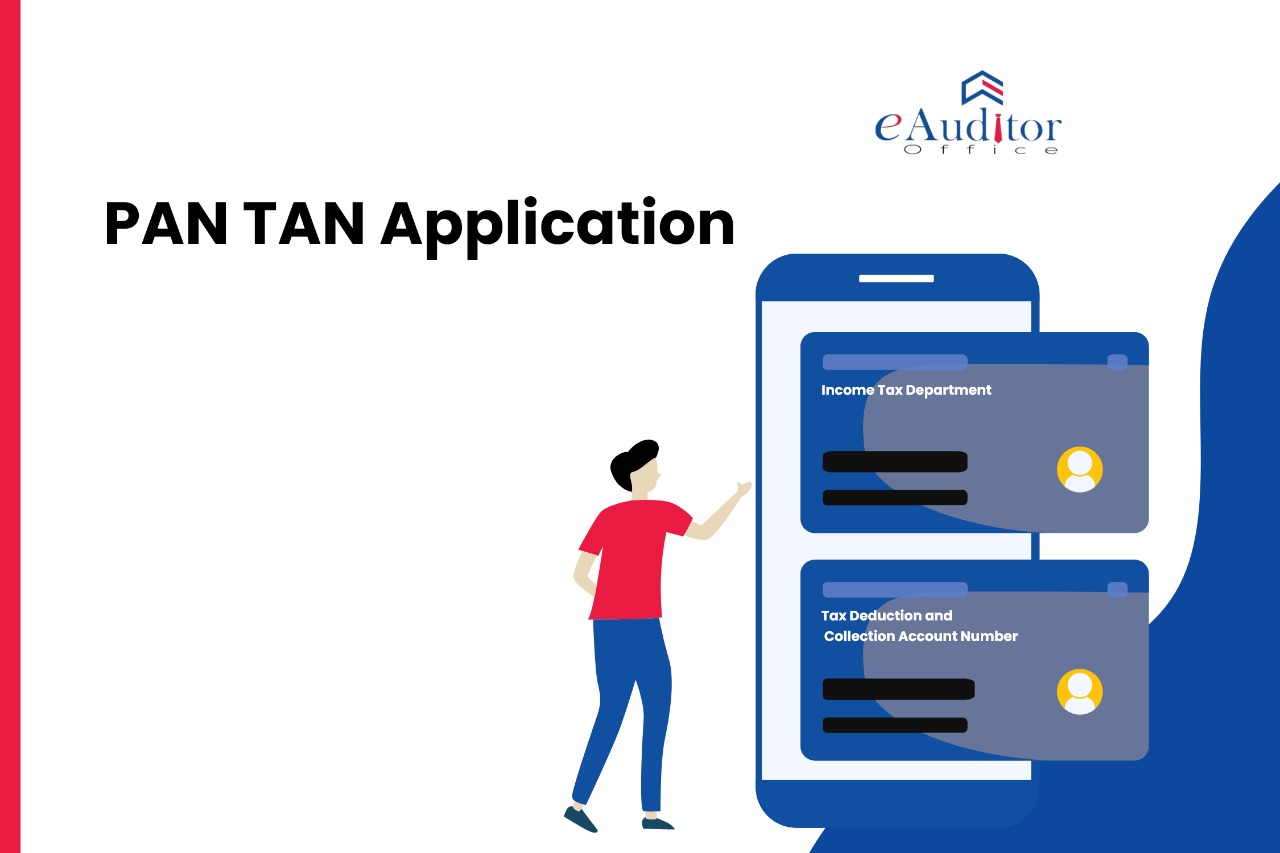 PAN TAN Application
Overview
PAN is abbreviated from Permanent Account Number; PAN is a ten-digit unique alphanumeric number issued by the Income Tax Department. Section 139A of the Income Tax Act, 1961 needs the following person to make an application to PAN:
A person whose total income exceeds the basic exemption limit.
Every businessman, whose turnover is likely to exceed ? 5 lacs in any previous year.
Trust required to file return under section 139(4A).
Any resident individual entering into specified financial transactions in a financial year.
PAN number is to be quoted on the following documents:
All the returns which are filed by the person to Income Tax Authority.
All the challans for the sum due under Income Tax Act, 1961.
All the documents pertaining to such transactions in which the PAN should be mentioned according to Income Tax Act.
For the purpose of TDS, PAN of payee should be intimated to the payer to avoid excess TDS deduction.
TAN is abbreviated from Tax Deduction and Collection Account Number. This number is an alpha-numerical 10-digit code. It is generally obtained by persons who are responsible for deducting tax at source (TDS) or who are required to collect tax at source (TCS).
Section 203A of Income Tax Act, 1961 state that it is mandatory to quote TAN on the following documents:
TDS statement or we can say TDS returns
TCS statement or we can say TCS returns
TDS/TCS certificate
Other documents prescribed by the law
PROCEDURE
1.PAN Application
Form 49A is PAN application form which can now be filed online. The documents which are needed to be attached with this form are:
Legal ID proof such as Voter Id, Aadhar Card, Driving license etc.
Date of Birth Proof such as Birth certificate, Aadhar Card, passport etc.
Address proof like driving license, Aadhar card, Passport.
Photograph in required format, if the Aadhar card image is not used.
The Category for applying for PAN has Individuals, AOPs, BOIs, companies, trusts or Limited Liability Partnership firms. By filing an online application, PAN would be allotted in the prescribed time by Income Tax Department after paying the requisite fees.
2.TAN Application
The TAN Application can be filed upon NSDL-TIN portal where form 49B is to be filed online. The category of Deductor is to be selected as per the applicant status, that is individual, HUF, Company, firm, AOP, BOI etc. The basic details are to be filed along with the prescribed fees and thereafter TAN acknowledgment is generated by Income Tax Department. The applicant shall save and print the acknowledgment and send it to NSDL along with requisite documents at ( DD also in case the payment option of Demand draft is selected by assessee) :
NSDL e-Governance Infrastructure Limited,
5th floor, Mantri Sterling,
Plot No. 341, Survey No. 997/8,
Model Colony,
Near Deep Bungalow Chowk,
Pune – 411016
The envelope should be superscribed as 'APPLICATION FOR TAN - Acknowledgment Number' (e.g. 'APPLICATION TAN - 88301020000244').?
Conclusion
PAN and TAN numbers are necessary for the smooth running of Business and if the rules related to PAN and TAN are not complied with, then a penalty upto ? 10000 can be imposed by Income Tax Department.
FAQs
1.Are Government deductors also liable to apply for TAN?
Like Non-Government deductors, the Government deductors are also required to apply for TAN.
2.Can we hold more than one PAN/ TAN?
No, it is illegal to hold more than one PAN or TAN.
3.Does Aadhar linking with PAN is mandatory?
From 01.07.2017 it is mandatory for eligible person to mention their Aadhar while filing their return and in the application form of PAN. It is compulsory to link Aadhar to PAN, the deadline is extended till 31st March 2023.
4.Can the application of PAN can be made on plain paper?
No, the prescribed form 49A or form 49AA is only used to obtain PAN.
5.Who allots the TAN?
TAN is allotted by the Income Tax Department on the basis of the application submitted online at e-Gov -TIN website or to TIN-FCs.

Author : Aditi
Date : 21-Jul-2022

GET HELP