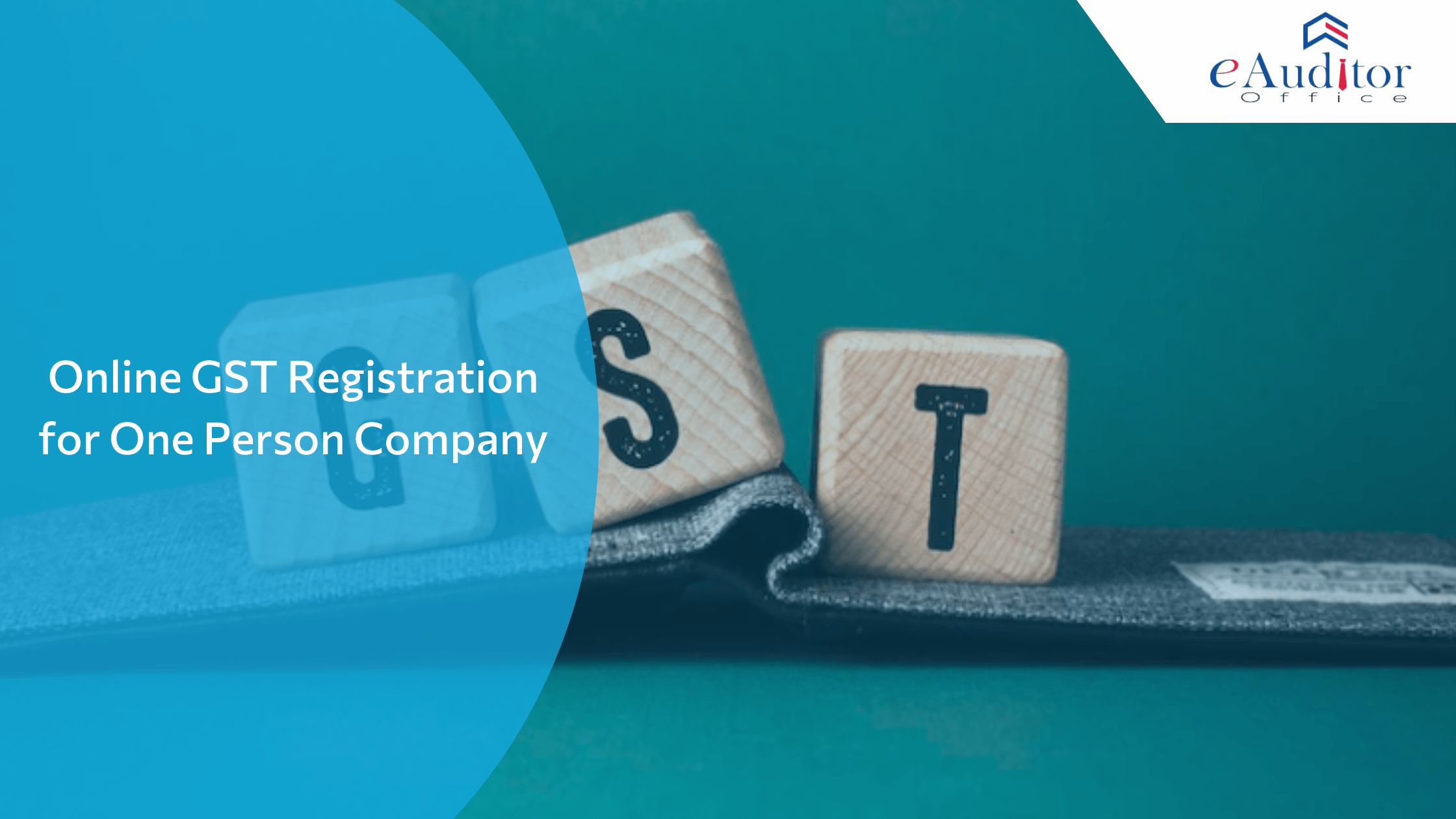 GST REGISTRATION FOR ONE PERSON COMPANY (OPC)
The contribution of "One Person Company" to the growing Indian economy has been on the rise for the past couple of years. This has reached new heights in the growing business ecosystem of the nation.
Though it's a welcoming scenario for the upcoming entrepreneurs, there are certain doubts regarding the topic of GST Registration for One Person Company in the business environment that needs to be clarified.
Through this blog, let us understand a little deeper regarding GST Registration for OPC, its procedures, rules, eligibility criteria, etc.
What Is One Person Company?
The concept of One Person Company is an innovative idea incorporated by the Government of India that primarily aims to encourage entrepreneurship in the business environment.
A One Person Company is a legal entity owned/incorporated by only one person. That is, both the director and member can be the same person. Any person, be it a resident of India or an eligible Non-resident Indian (NRI), can incorporate their business and enjoy all the benefits of a sole proprietorship.-
The scenario was different before the enforcement of the Companies Act, 2013. Earlier, a single person could not establish a legal entity or company on his own.
The following are some of the common points to be noted regarding OPC GST Registration.
Why does OPC need GST Registration?
Registration of any business entity under the GST Law implies obtaining a unique 15-digit GSTIN (Goods and Services Tax Identification Number) from the concerned tax authorities for all business-related transactions.
Without registration, a person can neither collect tax from his customers nor claim any input tax credit (ITC) on the tax he paid.
GST registration can be taken voluntarily at any point of time. However, businesses in the below mentioned states should take mandatory registration as a normal tax payer under GST when their annual aggregate turnover exceeds the turnover limits mentioned against their state of operation.
Advantages of GST Registration by OPC:
The person/company is legally recognized as a supplier of goods or services.
He is legally authorized to collect tax from his customers and pass on the credit of the taxes paid on the goods or services supplied to the purchasers/ recipients.
He can claim an Input Tax Credit of taxes paid and utilize the same for payment of taxes due on the supply of goods or services.
When should an OPC apply for GST Registration?
Suppose you own a company registered as an OPC and presume that the turnover from supply of goods and services of your firm exceeds the following limits:
| | | |
| --- | --- | --- |
| States | For Goods | For z |
| Mizoram, Tripura, Manipur and Nagaland | 10 lakhs | 10 lakhs |
| Arunachal Pradesh, Meghalaya, Puducherry, Sikkim, Telangana, Uttarakhand | 20 lakhs | 20 lakhs |
| Jammu and Kashmir, Assam, Himachal Pradesh and all other States | 40 lakhs | 20 lakhs |
Supply outside the state (i.e., Interstate supply )
GST Registration for OPC Company is mandatory if the company is in the business of supply of goods or services outside the state (Primary business location), irrespective of annual turnover.
(Example: A company X from Tamil Nadu is selling its finished goods/ services to Kerala must surely register in GST)
Existing VAT / Service Tax / Excise registration
An Existing OPC having service tax / VAT / Excise registration must be required to enroll for GST Registration.
The GST department will initially provide a provisional ID and Password for GST Migration.
An OPC supplying goods or services through e-commerce platforms (like Flipkart, Amazon, and Paytm) must apply for GST Registration mandatorily.
However, the finance ministry, in consultation with the GST council, has recommended turnover based registration criteria for suppliers supplying through e-commerce operators.
A casual taxable person occasionally undertakes a supply of goods or services with no fixed place of business.
(An example of a casual taxable person can be someone setting up a temporary fireworks shop during Diwali festival time, selling fireworks.)
Documents Required for GST Registration for OPC:
A copy of the Company's PAN card
Company's registration certificate
Memorandum of Association /Articles of Association
PAN card, photo, and Aadhar details of all directors
Regarding Bank details – a copy of the canceled cheque or bank statement
Proof of appointment of authorized signatory- letter of authorization
Proof of address for the primary and secondary places of business
Copy of electricity bill/landline bill/water bill/municipal khata (revenue document) copy/property tax receipt from your office.
In the case of a rented office, the owner's no-objection certificate (NOC) is required.

Note: The entire GST Registration process is 100% online, and there is no requirement to submit physical documents to GST Department.
To complete the GST registration procedure, it is essential to organize all records as the government prescribes.
For GST Registration, the OPC must file an application in Form GST REG-01 at the common GST portal www.gst.gov.in with all the documents and details.
How to Proceed towards GST Registration?
It takes ten simple steps, and since the registration of GST is an online process, you will finish your registration procedure in no time.
Step-1:
Login to the GST Online Portal.
Step-2:
Fill up Form Part-A (PAN, Mobile No., and E-mail).
Step-3:
The Portal verifies your detail by OTP/E-mail.
Step-4
Upload the required documents.
Step-5
Access and fill in Part B using the received Transaction Reference Number.
Step-6
You will get the Application Reference Number.
Step-7
The GST Officer starts verifying your documents.
Step-8
The GST Officer either rejects or accepts your application within seven working days.
Step-9
In case of any further proofs or clarifications are required, one must provide the same.
Step-10
After all the clarifications, a GSTIN number shall be allotted to you.
Remember, if you are one eligible company that comes under the purview of GST, then do not hesitate to register your firm under GST so that you can avoid the unnecessary penalties associated with the GST rules of Govt of India.
For hassle free compliances and registration formalities, contact our tax experts via e-mail at connect@eauditoroffice.com or call us at +91 96297 34296.
Author : Dharani
Date : 06-Jul-2022

GET HELP