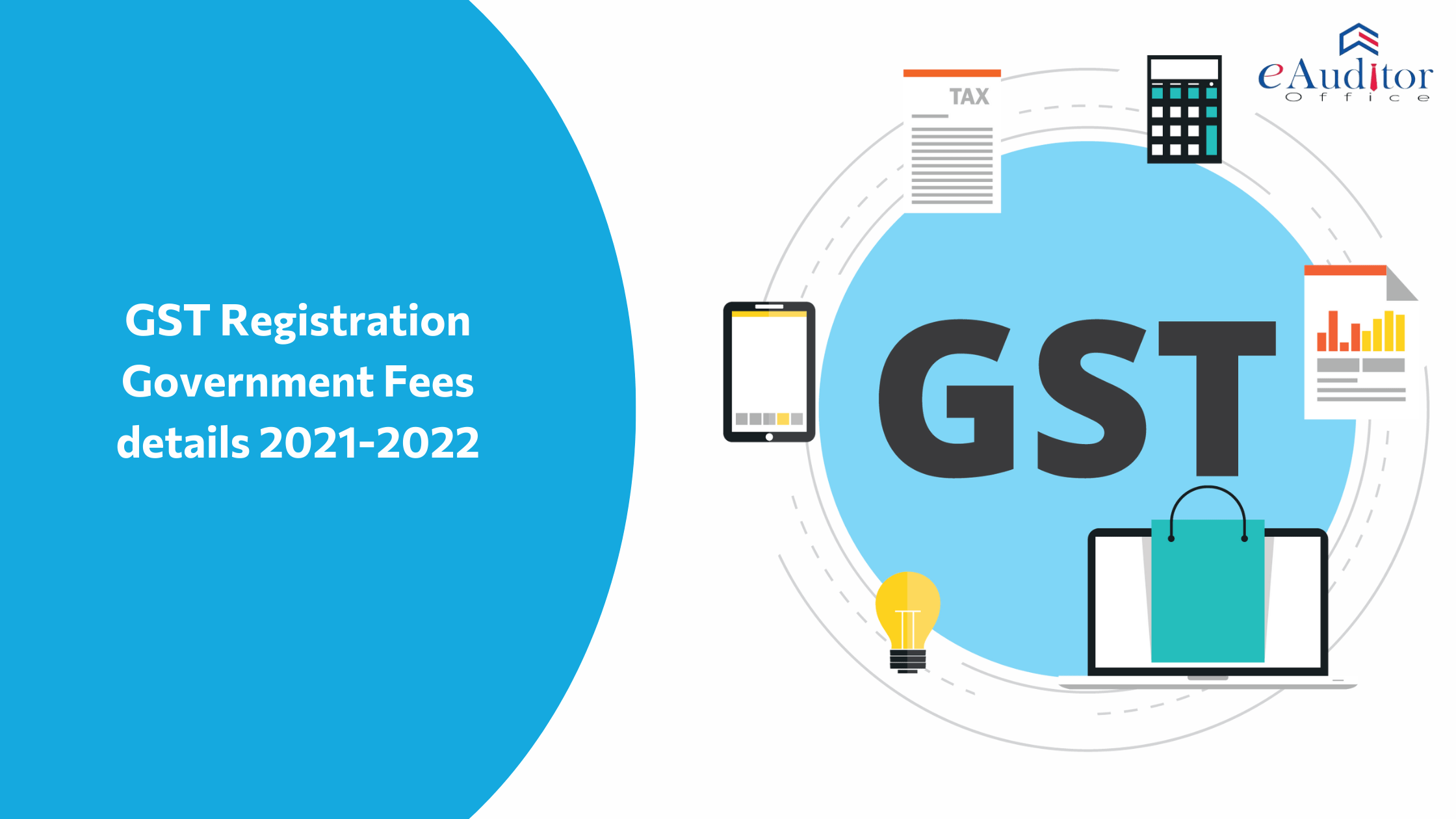 GST Registration Government Fees details 2021-2022
Are you looking for information on GST registration fees in India? Do you wish to accelerate your mental horizon with the nitty-gritty of GST Registration Government Fees details? It's time to stop worrying. We are right here with all the relevant and up-to-date information you need about GST Registration Government Fees details.
Let's start with GST registration:
GST Registration is the procedure by which a taxpayer registers with the GST Council as a taxpayer by using the official government-run portal dedicated to the tax regime. After the completion of the GST Registration procedure, taxpayers are given a Goods and Service Tax Identification Number (GSTIN).
The pertinent question is, who should opt for GST Registration?
Any business with a turnover of Rs 20 lakhs or 40 lakhs or more must register themselves with the GST council using their portal. The GST registration process is the name of this act. However, it is worth noting that the turnover criterion for firms located in the country's northeast is Rs. 10 lakhs. It takes only six working days to register for GST.
Before discussing GST Registration Government Fees details, every business Should know about GST registration charges and GST Registration Government Fees in India.
The government does not charge any fees for GST registration. However, the process has to be conducted online through the government portal. In general, the sorts of GST Registration Fees or Charges are determined by the type of business. The following are the three forms of GST that have been implemented in India:
The State Good and Services Tax (SGST)
The Central Goods and Services Tax (CGST)
The Integrated Goods and Services Tax (IGST)
The Union Territory Goods and Services Tax (UTGST)
1. The State Goods and Services Tax
This is one of the two taxes imposed on goods and services transactions in each state. Every state's state government imposes this tax, which replaces all existing state taxes such as entry taxes, sales taxes, entertainment taxes, VAT, etc. Therefore, the revenue collected under the SGST falls under the jurisdiction of the state government.
2. The Central Goods and Services Tax
This is a federal tax imposed on goods and services transactions and commercial operations inside a particular state. As a result of the imposition of CGST, all other Central taxes are replaced, such as State Tax, SAD, and CST.
3. The Integrated Goods and Services Tax
This tax has been levied on interstate goods and services transactions or business dealings. This tax also applies to goods and services imported into other states for sale. When goods and services are transferred for purchase from one state to another, the IGST is applied.
4. The Union Territory Goods and Services Tax
The intra-UT supply of items and services is subject to the UTGST. Levying this tax is to collect taxes to provide advantages similar to SGST. Chandigarh, Lakshadweep, Dadra, Nagar Haveli, Daman, Diu, and the Andaman and Nicobar Islands are all subject to the UTGST under the GST regime.
Now that you know about the different types of GST, let's show you the various types of GST Registration.
GST Compulsory Registration
In certain circumstances, regardless of the business's sales, the dealer and business owners must register under the GST Compulsory Registration category. Interstate sales of taxable services and goods, as well as e-commerce sellers and operators, are covered by this sort of registration.
GST Voluntary Registration
According to the GST regime, a business that does not fall within the mandatory registration category may register under the Voluntary Registration category.
GST Registration Fees under Composition Scheme
The Composition Scheme is available to taxpayers having annual revenue of more than 40lakhs but less than Rs 1.5 crore. The ceiling has been reduced to Rs. 75 lakhs in the North-Eastern regions and Himachal Pradesh.
GST Registration Exemption List
There are a few exceptions to everything, including the kind of people/businesses/entities that must register with the GST council. The following is a list of the same:
Businesses that make supplies are subject to the GST law's reverse charge section.
Activities that aren't classified as transactions involving the supply of an item or a service. Conducting funeral services, selling a piece of property, and the services offered by employees as professional responsibilities to the firms they work for are all examples.
Ventures that produce supplies that are considered non-GST and non-taxable. Electricity, aircraft turbine fuel, natural gas, petrol, and high-speed diesel, for example, are all examples of this.
Establishments/Manufacturers manufacture supplies that are either GST exempt or attract 0% GST.
Entities are subject to the "Threshold Exemption Limit."
People who are involved in farming.
Penalty for not registering under GST
In the event of fundamental errors, non- or late Registration of an individual's business with the GST council will result in a penalty of 10% of the due amount. The minimum penalty is fixed at Rs. 10 000. If the authorities determine that an individual is attempting to evade tax on purpose, the penalty will be 100 percent of the due tax amount. As a result, it is critical for an individual to conduct due diligence as quickly as possible.
Online Gst Registration Fees For Products And Services
The online GST Registration Fee or Charges for Products and Services that can be charged are divided into four tax slabs: 5%, 12%, 18%, and 28%. The GST rate on essential foods has been set at zero or inadequate. This is due to the fact that food items are an important part of the consumer basket. It also has a vital role to play in ensuring that inflation is kept in line. To maintain revenue neutrality for the federal and state governments, luxury products are taxed at a higher rate.
1. 5 percent Slabs:
The following are some of the products and services that fall within the 5% GST rate slab: Creams, Milk powder, frozen vegetables, coffee, Rusk, Pizza bread, Sabudana, cashew nut, spices, fish fillet, kerosene, raisin, medications, fertilizers, LPG supplies, small eateries, etc.
2. 12 percent slabs:
The following products and services are subject to a 12 percent GST rate: Butter, cheese, almonds, animal fat, sewing machines, packaged dry fruits, biodiesel, mobile phones, biopesticides, business class airline tickets, and so forth.
3. 18 percent slabs:
Cameras, biscuits, instant meal mixes, tissues, cornflakes, jams, telecom services, pastries and cakes, printers, restaurants in hotels with room rents of Rs.7500 or more, soups, and so on are subject to 18 percent GST rates.
4. 28 percent slabs:
The following items and services are subject to a 28 percent GST. For instance, 5-star hotels, small vehicles, pan masala, cigarettes, personal aircraft, race club betting and gambling, luxury and sin things, high and motorcycles, small automobiles, consumer durability products such as refrigerators, air conditioners, and so on
Essential facts about GST Registration
Let's show you some crucial facts about GST Registration to help you understand it better.
There is no cost associated with registering for GST. It signifies no fee or payment for GST registration on the official Government portal.
If you are a director of a Private Limited Company, then you must apply for Digital Signature for GST Registration. You will have to bear the cost of obtaining the DSC certificate in that case.

In India, 11 states of the northeast have been given special status. If a company's yearly turnover exceeds Rs. 10 lakhs in any of these special category states, it will have to opt for GST registration.
Concluding Remarks:
Hope this content will guide you with the right course of action regarding all you need to know about GST Registration Government Fees Details 2021-2022. Make your GST registration process easy and avoid unwanted issues and errors. With all this crucial information in mind, proceed with GST Registration in a hassle-free and convenient manner.

Author : Sakshi
Date : 06-Jul-2022

GET HELP