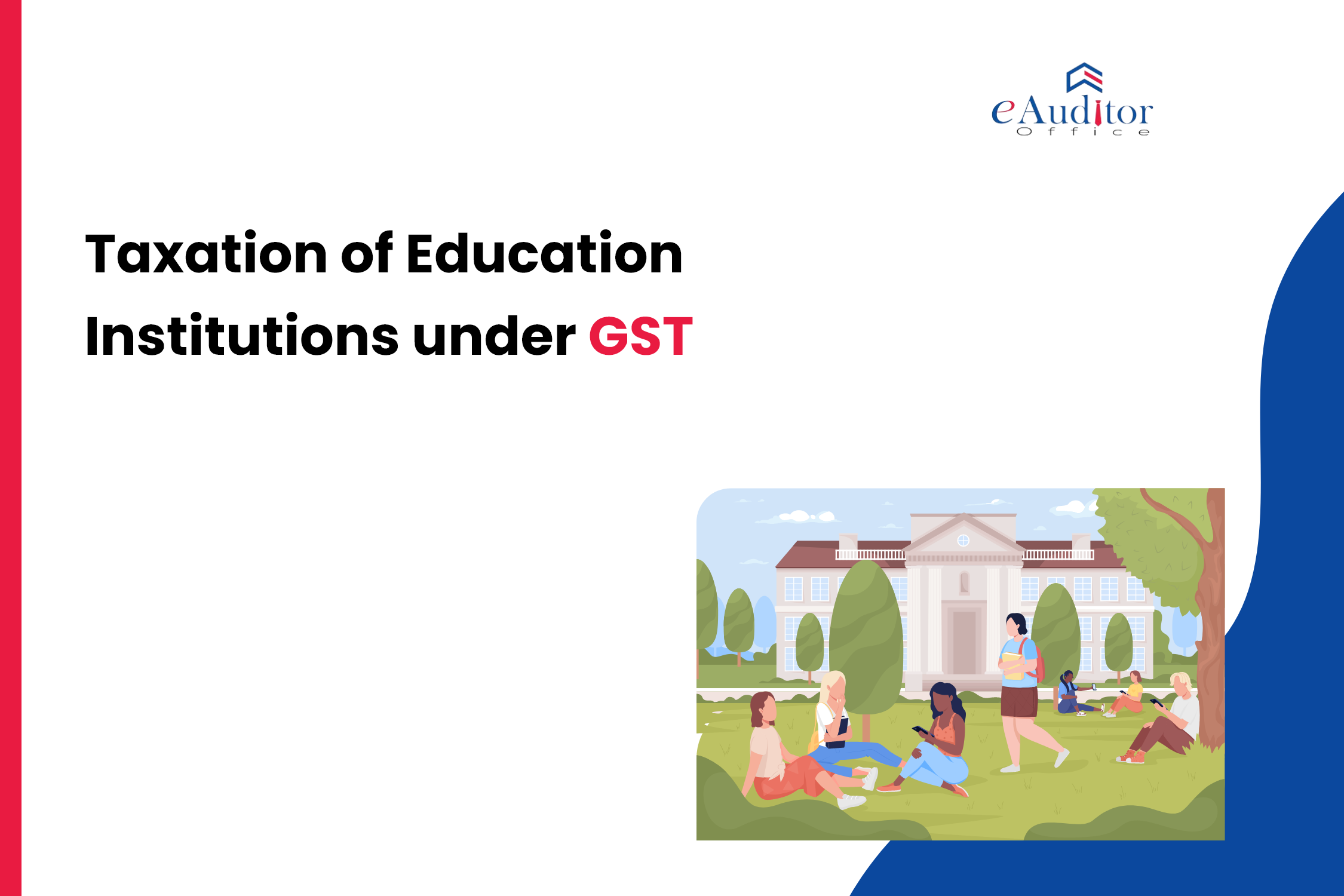 Taxation of Educational Institutions under GST

Are you looking for taxation scheme information of Educational Institutions under GST? Do you want to avail the tax exemption credit in the education domain? That's exactly we are here, to provide you with informative insights about the present taxation scheme that the new GST regime has imposed on educational institutions.
As you know that every kid is entitled to free and obligatory primary education, according to the Constitution. Educational institutions provide the pathway for children to grow and nurture their skills. Thus, tax exemption for educational services would be advantageous to promoting education. However, it is essential to realize that taxing the education industry has long been a touchy subject because education is considered more social than a corporate activity.
Despite this, the Commercialization of Education is a ground reality that we can't evade. So you might be wondering why GST Act to be levied on education?
The GST Act seeks to achieve a fine balance in the field of education. It provides tax exemptions on essential educational services that educational institutions deliver. A regular 18% GST is levied on other services.

You might have a query as to

What is an Educational Institution under GST?

"Educational institution" is defined as an establishment that provides the following services under GST:
Early childhood education and schooling through high school or equivalent;
Education as part of a program for obtaining a credential recognized by any current law;
Education as part of a recognized vocational training program
Implications of the GST Era

Following GST implementation, the situation remained similar, with tax exemptions for the sector remaining in place. According to the proposed law (GST), services provided by educational institutions are exempt from the Goods and Services Tax. Later, with effect from April 1, 2014, the exemption for services provided to educational institutions was modified. The scope of the exemption for services provided to educational institutions was limited to certain specified services.
Now the pertinent question is

Are educational services considered a supply, and if so, are they taxable?
A taxable supply includes both goods and services and is subject to GST. However, GST is not imposed on the following services provided by educational institutions:
Transportation of students, instructors, and staff; catering, including any central government, state government, or union territory-sponsored midday meal program.
In such educational institutions, security, cleaning, and housekeeping services are provided.
Services connected to admission to or examinations conducted by such institutions up to and including the higher secondary.
Any service offered to an educational institution other than one that provides preschool education up to higher secondary school, or equivalent, is taxable.\
Coaching centers, tuitions, and private tutorials provide services not covered by approved vocational education courses or government regulations. They have to give an 18% GST charge.

Now, let's show you the list of services that enjoys the privilege of GST exemption.

The following education-related services enjoy GST exemption:
Course resources or curriculum-related materials.
Fees for assessments and exams.
Academic transcript printing, Registration, providing or replacing student cards, library administration, late fee payments, and other student administrative services.
Excursions and field trips related to the course of study or a requirement of the curriculum, excluding food and lodging provided on those visits.
Educational institutions give services to students, teachers, and employees.
Students, faculty, and staff transportation.
Catering includes any government-sponsored midday meal program.
In such an educational institution, security, cleaning, or housekeeping services are provided.
Services pertaining to admission to, or the conduct of examinations by, such institution; up to higher secondary Entrance exam fees are GST exempt.

The exemption also applies to services provided by IIM–
Two year full-time residential PG programs in Management for Post Graduate Diploma in Management, entrance to which is awarded via CAT.
Fellowship programs in Management.
Five Year Integrated Programs in Management Studies.
The following educational services are also GST-free:
The Indian government established a national skill development corporation.
The National Skill Development Corporation has approved sector skill councils.
Assessment agencies are certified by the National Skill Development Corporation.
The NSDC-approved national skill development programs.
A national skill certification and monetary reward plan have authorized a vocational skill development program.
Any scheme that NSDC implements with training partners
Apart from the aforementioned, GST does not exempt educational instruction and coaching given by coaching centers.

List of Services not exempted from GST
Following is the list of services that are not exempted from GST:
Supplies given by third parties, such as musical instruments, computers, and sports equipment, are not GST exempt.
Third-party after-school activities are available.
Food and lodging for the excursion are provided as indicated above.
Uniforms, stationery, and other things not related to academics.
If the school offers summer camps or coaching classes to students who are not students at the institution.
If the school rents out the school for weddings and other events.
Now that you know the list of services that are not exempted from GST let's how you whether GST is applicable to Private Educational Centres.
Education provided by Private Institutions
Coaching Institutes:
In today's competitive environment, coaching institutes play a critical role. The majority of students enroll in coaching institutes to pass competitive exams. Previously, the government levied a 14 percent tax on all such educations; however, this has now been raised to 18 percent, discouraging students from studying for government examinations, IITs, banking, and other professional courses.
In order to make the GST more user-friendly

Various Universities Offering GST-Certified Courses

It has become challenging to comprehend the new indirect tax regime by adopting the goods and services tax, although certain universities provide GST-specific courses. For instance, Dr. Bhimrao Ambedkar University, Lucknow University, and Delhi University offer certified GST Courses. Candidates may not understand how GST works, but by enrolling in these courses, they would be able to obtain work under the new GST regime.
Let's dive beneath with the following insights for deeper understanding:
Contemporary Realities on GST Scenario

The Indian Institutes of Management Act, 2017 exempts certain courses delivered by IIMs from paying taxes. Executive programs do not enjoy this privilege.
The MP AAR responded to IIM Indore's application by saying that the Executive Post-Graduate Program in Management is unquestionably taxable under GST. However, other services are GST-free.
As a result, it is evident that only some IIM courses are free, while others are taxable under the judgment. Before admissions, students should examine whether their course is taxed or not.
The Gujarat High Court has granted GST exemption concerning the ASSET test to schools or education organizations, in the case of M/S Educational Initiatives Pvt. Ltd
The Karnataka AAR has issued a ruling imposing an 18 percent GST levy on income received from guest lectures.


Concluding Remarks:
Education is vital for a nation to move forward. The economics of a country is determined by how well its kids are educated. Education fosters people's understanding, vision, and creativity. Thus many sectors in the education sector enjoy the privileges of tax exemption. March forward with a deeper and detailed understanding of the taxation structure pertaining to the educational institutions under GST. Hope this content will be able to provide the inside scoop on anything you need to know about Taxation of Educational Institutions under GST.

Author : Sakshi
Date : 13-Jul-2022
Frequently Asked Questions

GET HELP