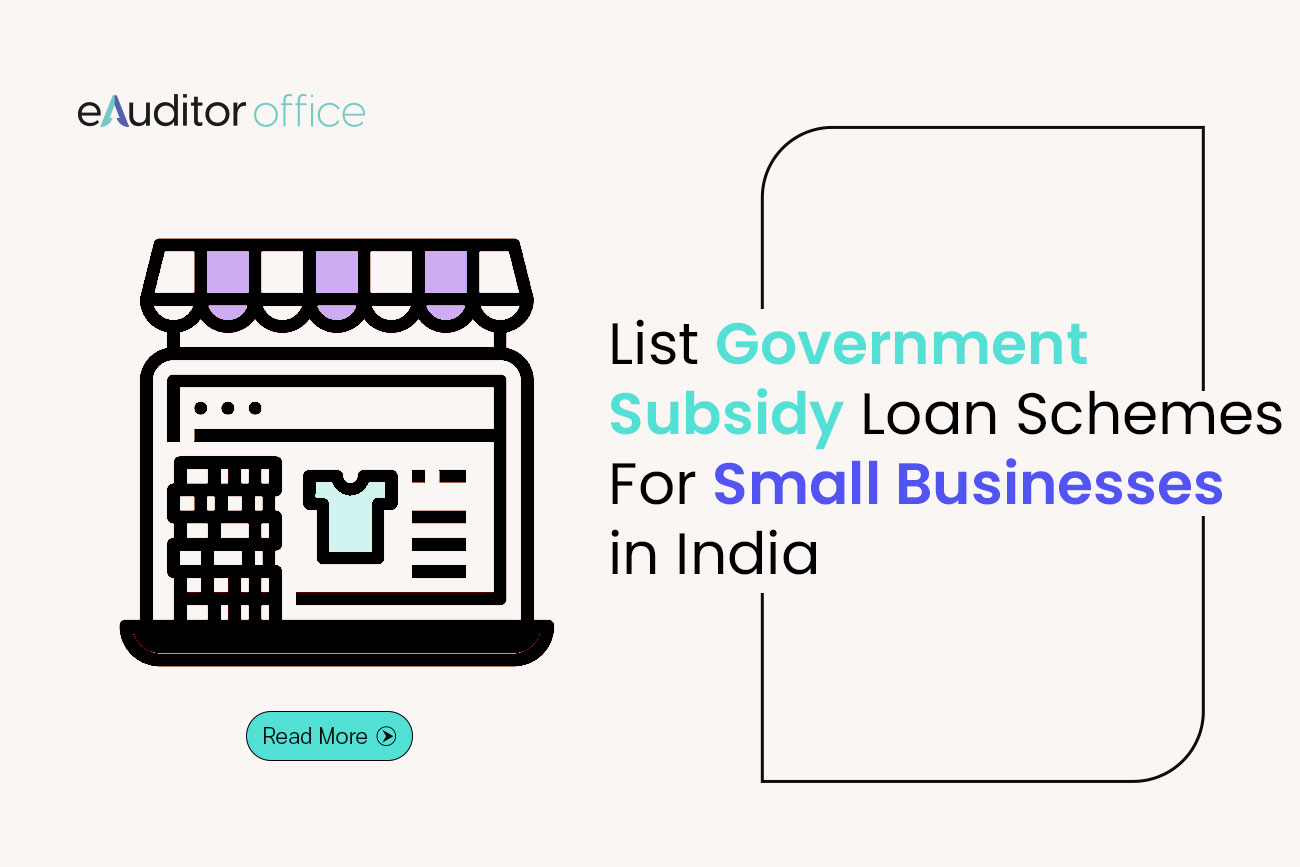 Top Government Loan Schemes For Small Businesses (MSME) In India
Small and Medium Enterprises (SMEs) in India contribute 40% of the country's total Gross Domestic Product (GDP). SMEs play a significant role in providing employment opportunities to many people.

With a total estimated 26 million micro and small enterprises, around 60 million persons are estimated to be employed. Out of all problems faced by the MSME sectors, the massive competition from privately-owned businesses and growth constraints due to lack of access to funds are the two significant problems.
Of that, the non-availability of timely and adequate credit facilities leads to difficulty in facing market competition.

Every business needs much more financial support than you anticipate. Whether you are a first-time entrepreneur or a seasoned businessman, maintaining a steady cash flow for the company is stressful.

Understanding the importance of SMEs to the economy and realizing the need to address the difficulties small businesses face in access to funding, the Indian government came up with many loan schemes to finance the small-scale business sector.

All eligible SMEs can avail of the loans to fund their day-to-day business operations and meet their capital asset expansion requirement to scale their business.

This article will teach you about the key Indian government loan scheme specially catered to small business (MSME) requirements.

If you are looking for assistance and professional guidance for registering your business as an MSME under UDYOG AADHAR Registration, reach out to our business experts at the eAuditor Office. We are a call away from meeting your business requirement.
Here is the list of important government business loan schemes in 2022:
59 Minutes MSME Loan Scheme
Credit Guarantee Fund Scheme
SIDBI Make India Loan Entreprises

59 Minutes MSME Loan Scheme

One of the well-known business loans by the government is the 59 minutes MSME loan scheme. It focuses explicitly on providing MSME loans to meet the working capital requirement for various industries in the MSME sector.

Through this MSME loan scheme, small business owners can avail of instant business credit approval in 59 minutes from the consortium of Public Sector Banks (PSBs). The loan amount range between Rs. 1 lakh to Rs. 5 Crore under this scheme.

The entire loan processing time takes 8 to 12 days.

This MSME loan scheme attracts an interest rate of 8% or 8.5%, and reservation for women entrepreneurs stands at 3%. The repayment tenure of the loan is as per the lending bank.

List of Scheduled Commercial Banks and Other Finicail Institutions that are part of the consortium offering MSME loans in 59 Minutes:
| | | |
| --- | --- | --- |
| Union Bank | Federal bank | IndusInd Bank |
| Kotak Bank | Punjab and Sind Bank | Indian Overseas bank |
| SIDBI | ICICI Bank | Central Bank of India |
| Bank of Maharastra | Canara bank | UCO Bank |
| IDFC Bank | Saraswat Cooperative Bank | Punjab National Bank |
Benefits of MSME Loan in 59 Minutes:
Availability of Immediate Capital
Making sure of the immediate availability of business loans to the MSME sector without any procedural delay and reducing the loan approval period enables business owners to conduct operations smoothly.

Collateral-Free Loans
The collateral-free loans with attractive interest rates for business owners are a boon to scale their business at the right time without delay and stay competitive in the market.

Minimal Paperwork
Earlier, the procedures to obtain bank loans and paperwork were inseparable. Now, with the advent of digital loan procedures, the availing of business loans has been simplified significantly. Business owners can do the "59 minutes MSME loan" approval work online by filling out a few basic details of the applicant and submitting a few documents for KYC.

Positive Contribution To The Economy
There are many challenges for micro, small and medium-scale businesses to get their hands on the ideal finance through loans or funding at the right time of their business cycle. Major contributing factors are the nature of business operations and low annual turnover.

However, introducing the "59 minutes the MSME loan scheme" helps the business and contributes to the economy.

MUDRA YOJANA - (PMMY - Pradhan Mantri Mudra Yojana)

MUDRA YOJANA stands for Micro Unit Development and Refinance Agency. This loan scheme is explicitly targeted at MSME/SME business ventures across the country. Mudra loans are extended to business entities for various purposes leading to income generation and employment creation.

MSMEs and SMEs can avail of this loan through Banks/NBFCs/MFIs. The MUDRA scheme has been classified as Shishu, Kishor and Tarun.
It signifies the growth/development and funding needs of the beneficiary micro unit/entrepreneurs. It provides a reference point for the next phase of business growth.
| | |
| --- | --- |
| Classification of MUDRA Loan | Quantum of Loan Amount (INR) |
| SHISHU | Loans upto Rs.50,000 |
| KISHORE | Loans from Rs.50,001 to Rs.500,000 |
| TARUN | Loans from Rs.500,001/- to Rs.10,00,000/- |
Under the MUDRA scheme, the upper limit of the loan amount the banks can disburse to the MSME is Rs.10 lakhs. The loan is mainly given as working capital and term loan.

The MUDRA loan's interest rate and repayment period vary from bank to bank. No collateral or security needs to be provided to avail of the MUDRA loan.

STANDUP INDIA SCHEME:

Standup India Scheme is for all aspiring entrepreneurs to get the much-needed fund as collateral-free bank loans and other support they need to succeed in their business journey. The program recognizes the challenges Scheduled Caste (SC), Scheduled Tribe (ST) and women entrepreneurs face in setting up enterprises, obtaining loans and other support needed from time to time for business success. This loan is strictly for greenfield projects.

In the context of this scheme, all the first-time ventures in manufacturing, services or the trading sector and all agriculture-allied activities are referred to as Greenfield Projects.

Banks should provide loans with a minimum of Rs. 10 lakhs to up to Rs 1 Crore to at least one SC or ST or Women's borrower per bank branch.

Along with collateral-free bank loans, the scheme offers handholding support with the help of agencies to the entrepreneurs, depending upon the requirement.

Credit Guarantee Fund Scheme for MSE :

The Credit Guarantee Fund Scheme (CGMSE) allows both new and existing enterprises to avail of collateral-free credit. The Ministry of MSME and Small Industries Development Bank of India (SIDBI) established a Trust named Credit Guarantee Fund Trust for Micro and Small Enterprises (CGTMSE) to implement the Credit Guarantee Fund Scheme for Micro and Small Enterprises.

The CGMSE covers the working capital and term loan of businesses up to Rs.100 lakh per borrowing unit without any third-party guarantee or collateral security.

Financial Institutions to Approach for CGMSE Loan Scheme:
To avail of financial credit under this scheme, one can approach
Any Scheduled Commerical banks (Public Sector Banks/Private Sector Banks/Foreign Banks) and select Regional Rural Banks which come under the "Sustainable Viable" category as per NABARD classifications.
National Small Industries Corporation Ltd. (NSIC)
North Eastern Development Finance Corporation Ltd. (NEDFi)
SIDBI.

CREDIT LINK CAPITAL SUBSIDY SCHEME (CLCSS):

Technology has become an essential part of any business to meet the needs of modern-day customers. A product that doesn't meet the current customer requirement suffers a loss of revenue; it is more in the case of SMEs and MSMEs.
Most importantly, it is much required to conduct a technological upgrade to survive the cut-throat market competition. But, to do that, businesses need finances to build the capital infrastructure to upgrade with technical applications.

The business can meet this requirement with the Credit Linked Capital Subsidy Scheme. It aims at facilitating Technology Upgradation of Micro and Small Enterprises by providing capital subsidy on institutional finance availed for induction of well-established and improved technology in approved sub-sectors/products.

BENEFITS OF THE CLCSS SCHEME:

For General Category under Entrepreneur:
15% of Term Loan (only plant & machinery component) for eligible business.
The upper limit of Loan Amount - is Rs. 15 Lakhs.

For Entrepreneurs in SC / ST Category:
Additional 10% under the SCLCSS scheme

Type of Business Structure Eligible for CLCSS Loan:
Proprietorship business
Partnership firm
Co-operative or private and public limited company

A valid UdyogAadhar Memorandum (UAM) number and entry of the MSE into the MSME Data Bank are mandatory for availing the subsidy under CLCSS.

The loan approval under the CLCSS scheme is demand driven without any maxim limit on the overall annual spending on the subsidy disbursal.

SIDBI MAKES INDIA LOAN ENTERPRISES:
This scheme is also known as SMILE. It is a flagship scheme of the Small Industries Development bank of India (SIDBI).
The objective of the SMILE scheme is to provide soft loan credit to MSMEs for short and medium to cover the financial need to execute the business order.

Eligibility For SMILE Credit Scheme:
Valid UAM number.
Minimum 3 years of business operation.
Should have Operating profit during the previous two years of business operation.
It shouldn't be a defaulter of repayment of the loan amount to any banks and financial institutions.
Standard Scheme Norms apply (CIBIL / CMR, due diligence checks etc.)

CONCLUSION:
If you are running an MSME that needs funds through government-authorized credit facilities to grow, expand and upgrade your business to meet future requirements, some of the credit schemes mentioned above might be helpful for you. Reach out to the banks with a clear understanding of credit requirements.

Author : Dharani
Date : 31-Oct-2022

GET HELP