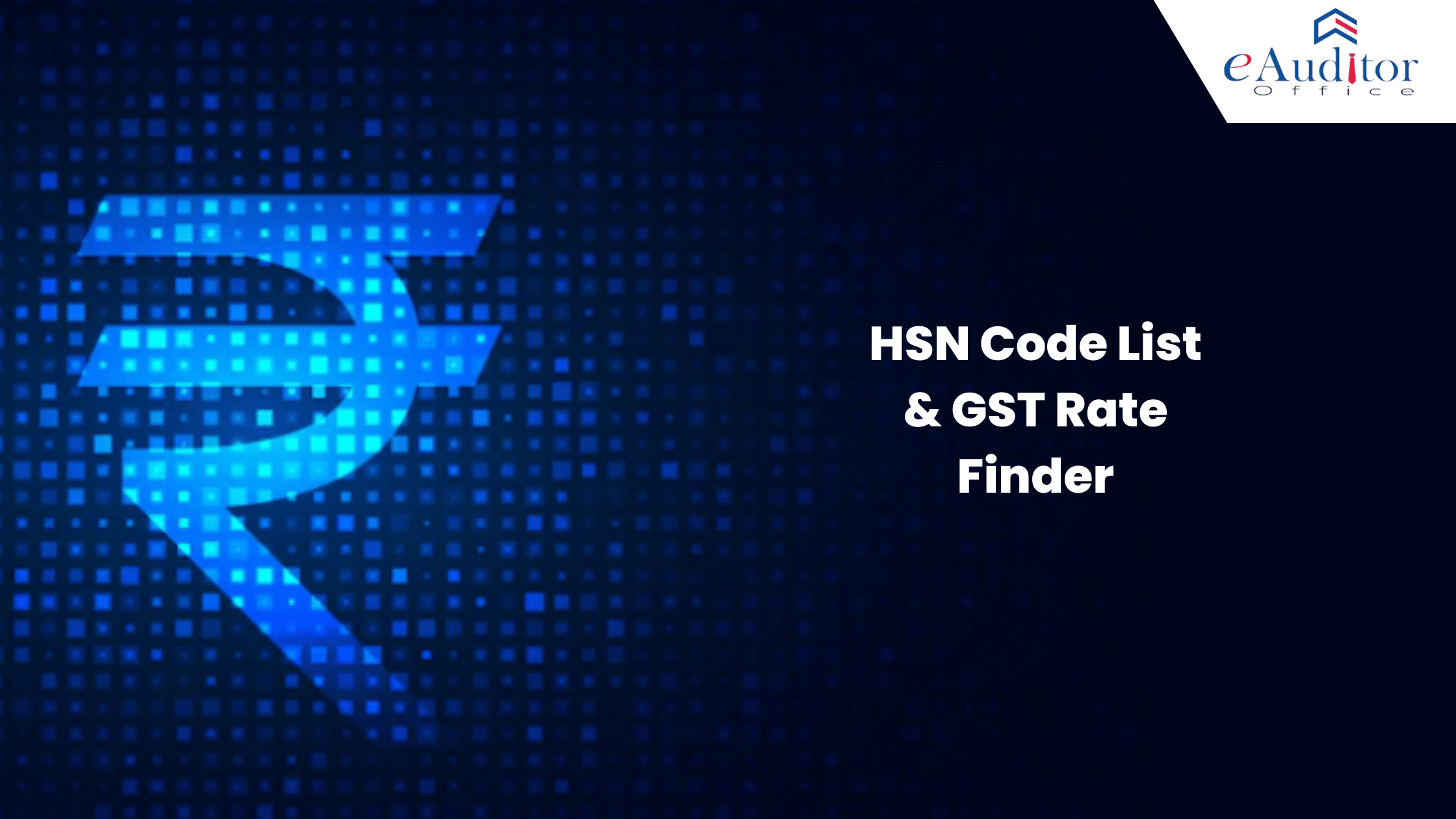 HSN CODE LIST & GST RATE FINDER
Do you know that GST for goods and services is determined based on the HSN code of an item? All goods and services sold in India are classified using the HSN code system under GST. The HSN Code is used to classify goods. GST rates are divided into five slabs based on the HSN with NIL, 5%, 12%, 18%, and 28%. The obvious question here is: what is HSN Code?
HSN stands for "Harmonized System of Nomenclature." This adaptable global item terminology was designed by the World Customs Organization (WCO). It was implemented for the first time in 1988.
The HSN code is a six-digit universal number that connects over 5,000 different items and is recognized all over the world. This type of categorization is used in tax collection to determine the proper duty rate for an item in a jurisdiction. The volume of products transported or imported across a country is likewise determined by this code.
Why HSN Code?
The following are some of the benefits of the Harmonized System of Nomenclature:
It aids in ordering products for Customs and Central Excise throughout the country.
It establishes a globally consistent structure for tax assessment.
More simplicity in global collaboration.
It can also keep track of returns, solicitations, and other paperwork.
Before we delve deep into further details, let's show you some facts to help you understand the rising popularity of the HSN Code.
Surging Popularity of HSN Code
More than 1211 products have been classified into six general assessment sections under the Indian taxation system. 0%, 5%, 12%, 18%, and 28% are the options.
As goods recognition gets less sophisticated, there are fewer chances of billing and reconciliation errors. HSN code is necessary to supply products when recording GST returns on the web. It also ensures that the correct tax amount is charged against the goods.
HSN is used to classify nearly 98 percent of international trade stock, confirming its reputation as the best form of international classification.
WCO (World Customs Organization) created the HSN code for cross-border exchange. As a result, HSN codes were created to represent one article code in number for each item available worldwide.
It's also been used to determine the amount of an item exported or imported from a country. In addition, the HSN code allows you to track merchandise progress all across the world.
HSN code is a most exemplary intelligent following framework for identifiable proof and arrangement of products under home and universal exchange, and over 200 countries around the world have adopted it. More than 99 percent of the stock traded on the global exchange is sorted down to the HSN code.
Understanding the HSN Code
The HSN structure is divided into 21 sections containing 99 chapters, 1,244 headings, and 5,224 subheadings.
First, let's show you the 21 sections of the HSN code:


Sr No

Section

Products List

1

Section 1

Live Animals

2

Section 2

Vegetable and its products

3

Section 3

Animal or vegetable fats

4

Section 4

Prepared foodstuffs, Manufactured tobacco

5

Section 5

Mineral products

6

Section 6

Chemical products

7

Section 7

Plastic and rubber products

8

Section 8

Raw hides and skins, Leather, Furskins and articles thereof, saddlery and harness, travel goods, handbags and similar containers, articles of animal gut ( other than silkworm gut )

9

Section 9

Wood and articles of wood, Wood charcoal, Cork and articles of cork, Manufacturers of straw, of Esparto or of Other Plaiting Materials

10

Section 10

The pulp of wood or of other Fibrous Cellulosic Material, Recovered ( Waste and scrap ) paper or paperboard, paper and paperboard and articles thereof

11

Section

11

Textile

12

Section 12

Footwear, Headgear, Umbrellas, Sun Umbrellas, Walking-sticks, seat-sticks, whips, riding-crops, and parts thereof, Prepared feathers and articles made therewith, Artificial flowers, Articles of human hair

13

Section 13

Articles of stone, plaster, cement, asbestos, mica, or similar materials, ceramic products, glass and glassware

14

Section 14

Natural or cultured pearls, precious or semi-precious stones, precious metals,HSN CODE Metal clad with precious metal and articles thereof, Imitation Jewellery, Coins

15

Section 15

Base Metals and Articles of Base Metal

16

Section 16

Machinery and mechanical appliances, electrical equipment, parts thereof, sound recorders and reproducers, television image and such recorders and reproducers, and Parts and Accessories of such article

17

Section 17

Vehicles, Aircraft, Vessels, and Associated Transport Equipment

18

Section 18

Optical, Photographic, Cinematographic, measuring, checking, precision, medical or surgical instruments and apparatus, clocks, and watches, musical instruments, parts and accessories thereof

19

Section 19

Arms and ammunition, parts and accessories thereof

20

Section 20

Miscellaneous Manufactured Articles

21

Section 21

Works of art, Collectors' Pieces a, d Antiques
HSN code structure
Now that we've grasped the fundamental concept of HSN, let's look at its structure.
HSN Codes under GST
1. The 4-digit HSN code requirement for products
Businesses having an aggregate turnover up to Rs. 5 crores in the previous financial year must enter HSN codes at the 4-digit section level.
2. The requirement for products to have a 6-digit HSN code
Business enterprises whose aggregate turnover amounted to more than Rs. 5 crores in the previous financial year would be required to have a 6-digit HSN code.
3. For fares and product imports, an 8-digit HSN code is required.
If there is an incident of fare and goods imports, HSN codes of 8 digits are required.
An e-Way Bill must also be produced before moving or distributing goods valued at more than INR 50000 between the states.
How to search HSN Code?
The process is very easy. Let's take an example:
The HSN is divided into 21 parts, containing 99 chapters, 1,244 headings, and 5,224 sub-headings. Natural commodities, such as vegetables and fruits, are grouped in one area. For instance,
Potato seeds, for example, have the HSN code (0701 10)
Potato's chapter number will be represented by the first two digits (07).
The heading number for Potatoes Fresh or Chilled is represented by the third and fourth digits (01).
The product code for Seeds is the last two numerals (10)
Concluding Remarks:
While the HSN code's primary purpose is to classify items in a systematic manner, it also helps in gathering data and solving problems that would otherwise be impossible to solve. As a result, the international trading system has become more efficient. Hope this content will be able to provide you with the inside scoop on anything you need to know about the HSN Code List and GST Rate Finder.

Author : Sakshi
Date : 09-Jul-2022
Frequently Asked Questions

GET HELP