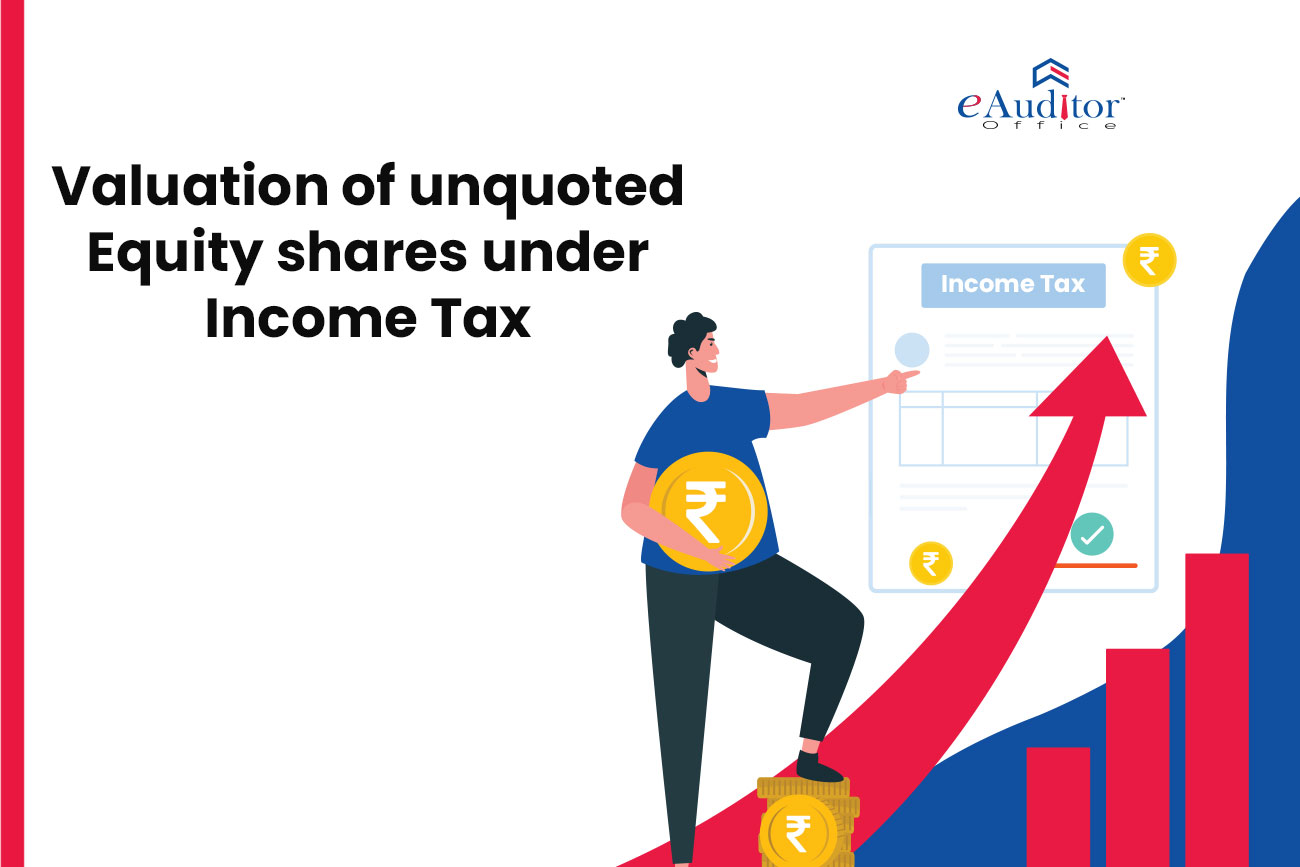 Valuation of unquoted equity shares under Income Tax
Overview
The valuation of quoted equity shares in the stock market is easily determinable. For capital gain tax calculation, the sales consideration and cost of acquisition are the primary elements that should be known to the seller of the capital asset.
Rule 11UA of Income tax rules helps us in ascertaining the value of various capital assets. This rule aids in determining the Fair Market Value for section 56 of the Income Tax Act, 1961.
The asset covered under this rule are:
Jewellery
Archeological collections, drawings, paintings, sculptures, and any other work of art
Quoted shares and security
Unquoted shares and securities other than equity shares
Unquoted equity shares
Valuation of Unquoted equity shares
The Fair Market Value of unquoted equity shares is determined with help of a formula which is:
(A+B+C+D-L) × PV / PE
Where,
A = Book Value of all the assets (other than jewelry, artistic work shares, securities, and immovable property) in the balance sheet. Reducing the following :
Any amount of Income Tax Paid like TDS/ TCS or Advance tax.
Unamortized amount of deferred expenses.
B = The Fair market value of the jewelry and other art-related work on the basis of a valuation report obtained by a registered valuer.
C = Fair Market value of the shares and securities which is the transaction value recorded in the recognized stock exchange, if purchased through the recognized stock exchange.
D = Stamp Duty Value in respect of Immovable property.
L = Book value of liabilities in balance sheet excluding the following:
Paid-up equity capital,
Amount kept aside to pay dividend on preference & equity where they are not declared before transfer at the annual general meeting
Reserves and surplus, by whatever name called, even if the resulting figure is negative, other than those set apart towards depreciation
Provision for taxation
Provision for any other unascertained liability
Contingent liabilities other than the arrears of dividend payable for cumulative preference shares.
PV = Paid-up value of such equity share
PE = Total amount of paid-up equity share capital as shown in the balance sheet.
Valuation Determined by Merchant Banker
If any closely held company issues shares to any Resident shareholder on premium then the difference between the Issue Price and Fair market value of such shares shall be taxable in the hands of the company under "Income from Other Sources". This is mentioned in section 56(2)(viib) of the Income Tax Act,1961. In routine terms, we refer to it as angel tax.
For the purpose of this section, the assessee (private companies) can consider the fair market value of the unquoted equity shares determined by a merchant banker as per the discounted free cash flow method.
Author : Aditi
Date : 30-Aug-2022

GET HELP