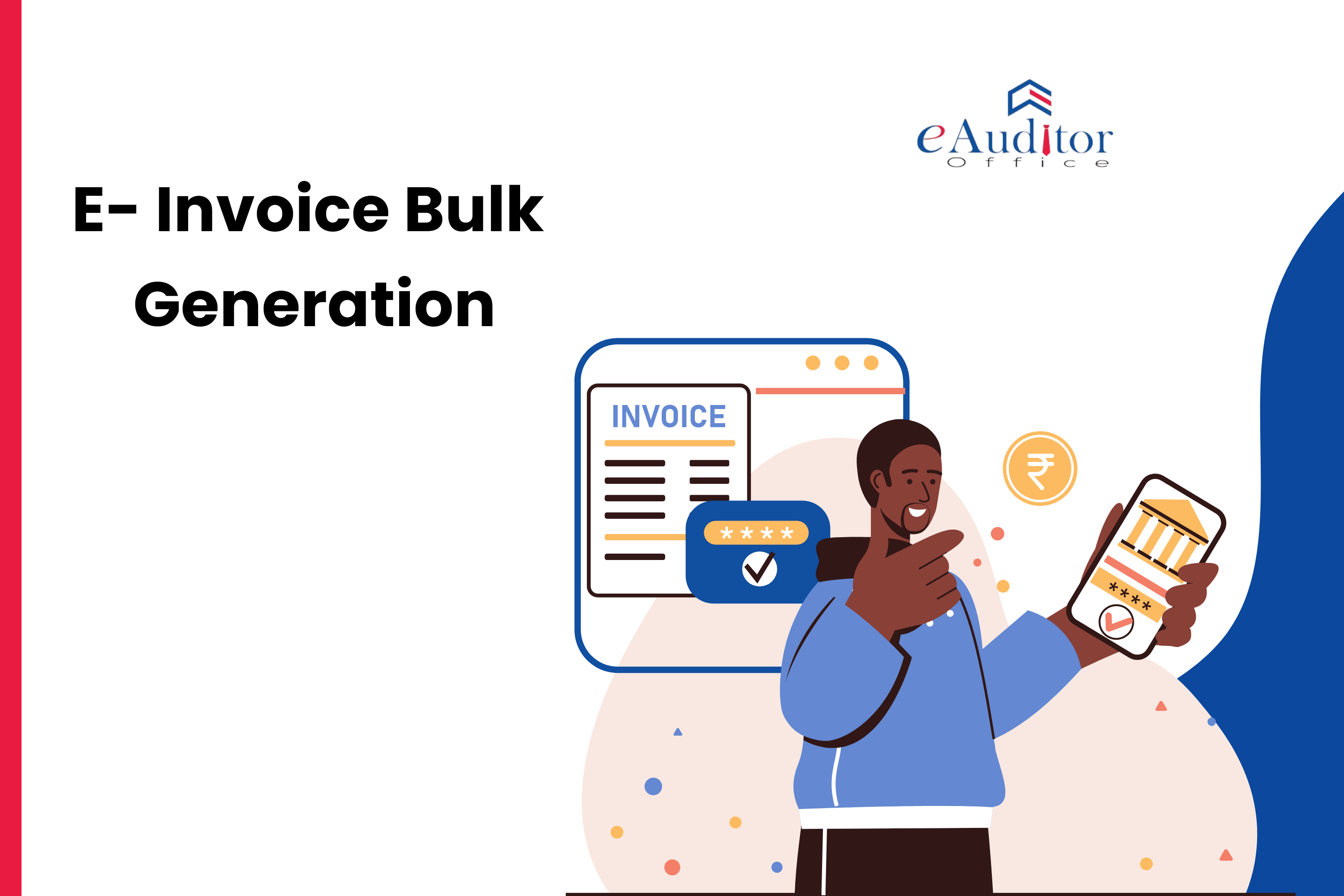 E-invoice Bulk Generation
E-invoice has become mandatory for the taxpayers with turnover exceeding Rs.10 crores from 1st October 2022. While e-invoice standardizes the issue of invoice and inter-operability between systems, the concern arises regarding generation of numerous invoices. And that's where bulk e-invoice generation concept comes in. What is e-invoice bulk generation and how it can be done? Find out here!
What is E-invoice Bulk Generation?
The responsibility of generation of the invoice and reporting the same to the Invoice Registration Portal (IRP) is of the taxpayer. Once the invoice details are uploaded in the IRP, it will validate the same and generate the unique Invoice Reference Number (IRN). The e-invoice will be digitally signed and by the IRP along with the generation of the QR Code and IRN and the seller will be provided the same. For taxpayers with numerous invoices, it can be a tedious task to repeat this process numerous times. Therefore, they have been provided with bulk generation tools to record all the invoice data in a single sheet and upload all the invoices at once. This is known as e-invoice bulk generation.
Formats for Bulk Invoice Generation
For the bulk generation of e-invoices, you need to have an EINV bulk converter installed which is essentially an excel based offline utility that facilitates the conversion of multiple invoices into a single JSON file. You can download the same from the e-invoice portal in Help >> Tools >> Bulk Generation Tools. Select the tool that best suits your need.
This tool will facilitate you to enter the request for bulk generation of invoices in the excel file and validate and convert it to the JSON file. This tool comes in 4 different formats. Following is the description of the 4 formats from which you shall select the most appropriate one as per your needs.
Format-A
It consists of a single worksheet in which the invoice and item details can be entered. Thereafter, a JSON file will be prepared for uploading all the invoices in a single upload to the IRP. This format is feasible for those businesses having one or two items for B2B transactions. However, in Format-A, the payment details and references cannot be entered.
Format-B
It consists of two worksheets – one each for invoice and item details. This specially caters the needs of businesses dealing with multiple items. In this format, while entering the item details, you should refer each item with invoice number, invoice date, and invoice type. Details of the exports can also be entered in the invoice worksheet. In case you need to generate the e-way bills, then details of Part-B can also be entered into the invoice worksheet. However, payment details and references cannot be entered in Format B as well.
Format-C
Format-C is a detailed format containing 5 worksheets – one each for invoice details, item details, reference details, payment details, and other additional details that can be added separately. This specifically suits those businesses that have multiple items in their invoice along with payment and reference details.
The remaining things are similar to Format- B viz. referencing of item details with invoice number, date, and type; insertion of export details in invoice worksheet and insertion of details of Part-B to generate e-way bill.
Format-D
It consists of a single worksheet for entering the invoice details, item details, reference details, payment details, and other additional details. It caters to the needs of businesses with a large number of items in their invoices with payment and reference details. In this format as well export details as well as information about Part-B to generate an e-way bill can be entered.