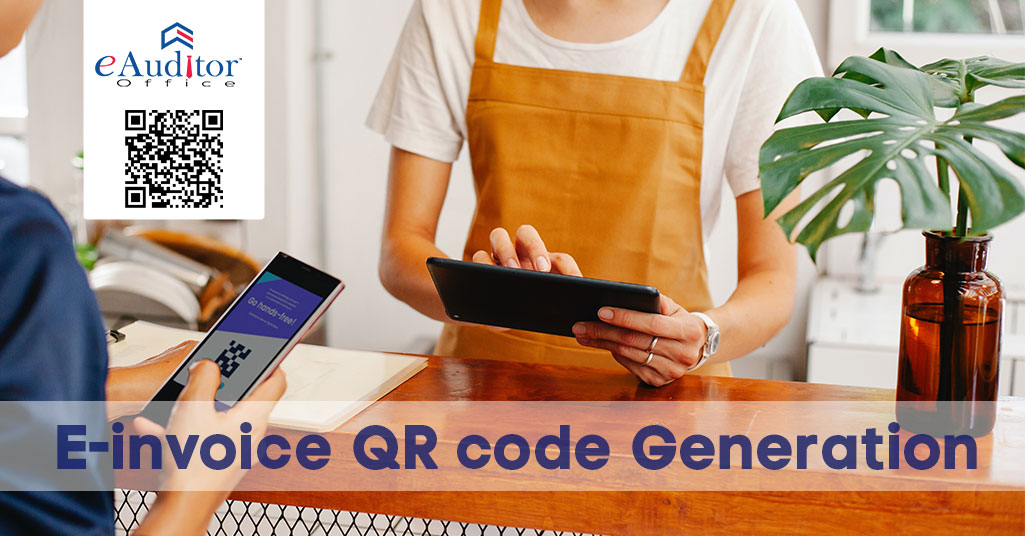 E-Invoice QR Code Scanner
Under the e-invoicing system, a QR Code or Quick Response Code is issued by the Invoice Registration Portal, along with the IRN. QR code is a two-dimensional barcode that needs to be displayed on all the B2B invoices issued by the supplier. It can be easily read by an e-invoice QR code scanner or the QR code verification app launched by the government.
Under the e-invoicing system, a registered person generates an invoice on his accounting software and uploads it on the Invoice Registration Portal. The IRP then verifies the details furnished in the invoice and issues an Invoice Reference Number and a QR code along with a digitally signed e-invoice. The QR issued by the IRP needs to be mandatorily displayed on the invoice before issuing it to the recipient. The Invoice issued to the recipient without a QR code would be treated as invalid.
Contents of QR Code
A QR Code shall consist of the following details:
GSTIN of the supplier

GSTIN of the recipient

Invoice number as generated by the supplier in his accounting software

Invoice type (whether Tax Invoice, Debit Note or Credit Note)
Date of issuance of the invoice

The transaction value of the invoice

Number of line items

HSN code of the main items i.e. line items with the highest taxable value

Invoice Reference Number
Digital signature of the IRP
Verification of QR Code
Verification of QR code is necessary to authenticate the details furnished in the invoice. There are two ways with which a QR code can be verified. Those ways are as follows:
Scanning the e-invoice QR code and

Uploading the JSON file
How to Download and Use the QR code Verifying App
The step by step process to download and install the QR code Verifying App is as follows:
Step 1: Visit the https://einvoice1.gst.gov.in/Others/QRCodeVerifyApp, select the type of OS on the mobile device (whether Android or IOS) and enter the mobile number.
Step 2: An OTP will be generated on that entered mobile number. Enter that OTP in the space given on the system and click on "Verify OTP."
Step 3: On successful verification of the OTP, the system will send a QR code to that entered mobile number to verify the App APK.
Step 4: After this, the taxpayer can download and install the app on his mobile number.
Step 5: On successful installation of the QR code App, click on the "Verify QR code" option on the app.
Step 6: Scan the QR code displayed on the invoice and the taxpayer will get all the details of the invoice.
Step 7: Or the taxpayer can also use the uploading of the JSON option. For this, click on the "Verify signed e-invoice" option from the home screen of the app.
Step 8: Browse the JSON file on the mobile and upload it on the app. After this, the taxpayer will get all the details of the invoice

Author : Simran
Date : 24-Jun-2022

GET HELP