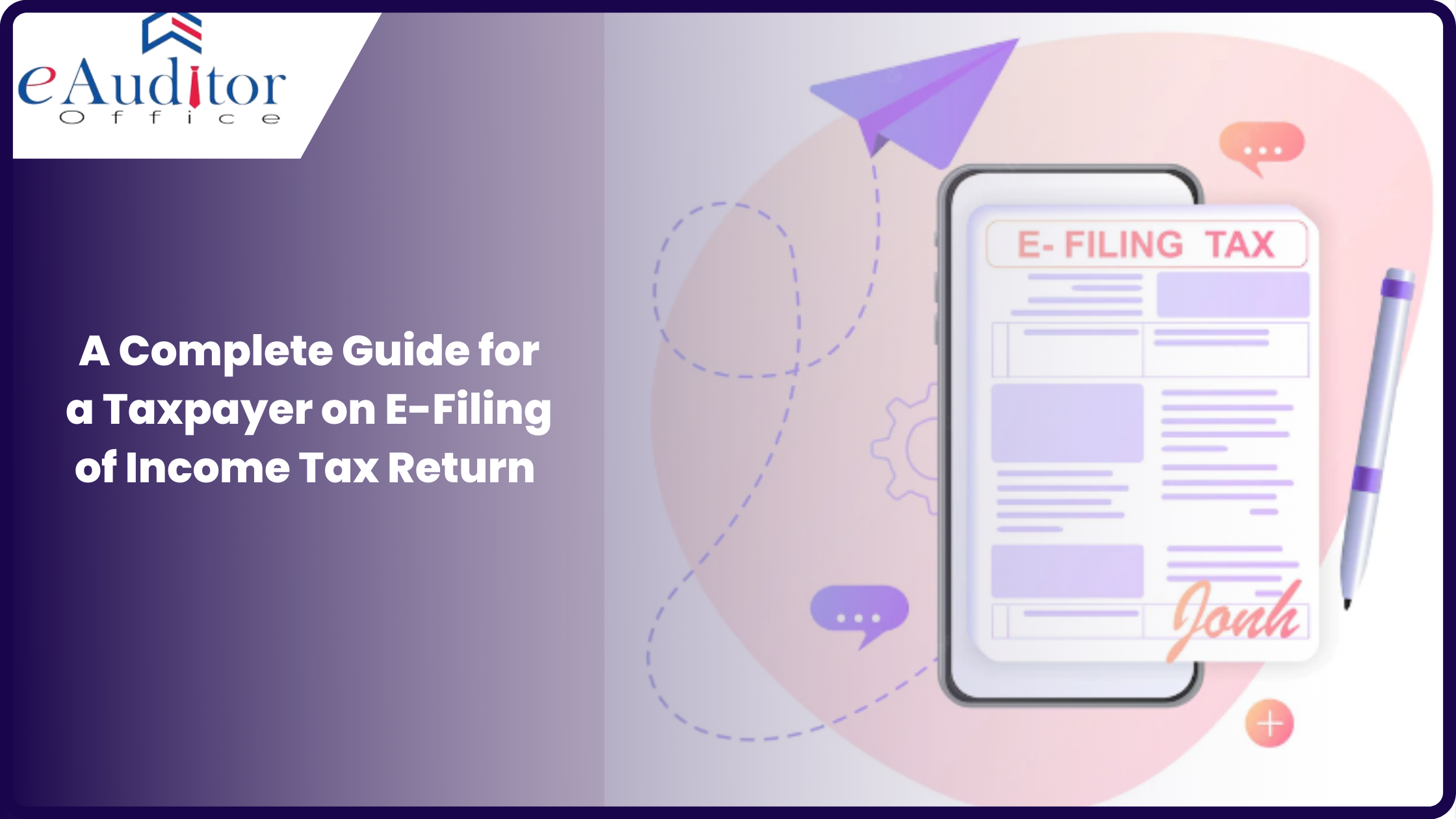 A Complete Guide for a Taxpayer on E-Filing of Income Tax Return
An income tax return is a document that a taxpayer files to report all his or her earnings. This document contains information related to the taxpayer's income during the previous year. It enables a taxpayer to declare his income, expense, deductions, tax, etc. A taxpayer can record his or her total earnings, deductions, and tax paid during the financial year through an income tax return.

Under the Income Tax Act, the taxpayers have the facility to file their income tax returns electronically through the E-Filing portal. In this article, we will discuss the procedure for the E-Filing of income tax returns.

What is E-Filing of Income Tax Return?
E-Filing is short for Electronic filing of the income tax return. The Income Tax department provides the taxpayer an option to file their return electronically or online by logging in to the E-Filing portal. This online mode has made return filing so much easier for the taxpayers. The taxpayers no longer need to physically visit the Income Tax Department and submit their returns. Everything is now done in a matter of time by sitting at your home.

Step by Step Process for E-Filing of Income Tax Return

The taxpayers can follow the following steps to file their return electronically:

Step 1: Register yourself on the E-filing portal
To file the income tax return, the taxpayer needs to first register himself or herself on the E-filing portal provided by the Income Tax Department. For this, the taxpayer needs to enter information like his PAN number, his or her name, and date of birth. Once you enter these details, the portal will ask you to choose a password, after which your ID will be generated.

Step 2: Select the relevant ITR form applicable to you
Before income tax return filing, it is necessary to select the appropriate ITR form that is applicable to the taxpayers. There are various ITR forms that are provided by the Income Tax Department. These forms are as follows:
ITR 1: It is for taxpayers who have income from salary, one house property, and other sources, and their total income is up to Rs 50 lakh.
ITR 2: It is for directors of a company, individuals having a total income of more than Rs 50 lakh, individuals holding unlisted equity shares of a company, and HUF having income other than income from PGBP.
ITR 3: It is applicable to individuals working as a proprietor or running a business/profession and HUF having income from profit and gain from business and profession.
ITR 4: It is for individuals, HUF and firms (other than LLP) who have income for an amount up to rupees fifty lakhs, having income from business or profession which have opted for presumptive taxation schemes.
ITR 5: It is for firms, AOP/BOI, LLP, cooperative society, local authorities, or any artificial judicial person.
ITR 6: It is applicable for companies. However, it is not applicable to companies that claim an exemption under section 11 of the Income Tax Act 1961
ITR 7: is applicable to those individuals or companies specified under sections 139(4A), (4B), (4C), and (4D) of the Income Tax Act 1961.

Step 3: ITR Form filing and uploading
Once you have selected the relevant ITR form, you need to fill it either online or offline. For offline mode, download the form, save it in your computer system, and carefully fill in all the required details. After filling in all the details, create an XML file of the form. Then go on to the portal and select the "Upload XML" option. There you need to upload your saved file and click on submit.
For online mode, you do not need to go through the above steps of downloading and uploading the file. Simply fill the details online, carefully validate all the details filled from the preview option and then click submit.
Step 4: Acknowledgement and verification
After uploading the ITR form, an acknowledgment number (in case return submitted through digital signature) or form ITR-V (in case return submitted without digital signature) will be generated. You need to then verify this acknowledgment or form ITR -V and submit it to the income tax department either online or by post.

Documents required for E-Filing of Income Tax Return
While filing the income tax return, the taxpayer would need various information, hence it is advisable to the following documents nearby:
PAN card
Form 16
TDS details
Form 26AS
Aadhar card
Bank account details
Salary slips
Rent receipts (for house rent allowance)
Interest details of saving and deposit accounts
Insure and home loan details
Investment details

Conclusion
E-filing of income tax returns provides so much ease to the taxpayers as it saves a lot of time and money for both taxpayers and the income tax department. However, it is still advisable to consult experts or professionals before filing your returns. Consulting eAuditor Office can give you more clarity on return filings, tax savings, deductions, etc.
Author : Simran
Date : 30-Jun-2022

GET HELP