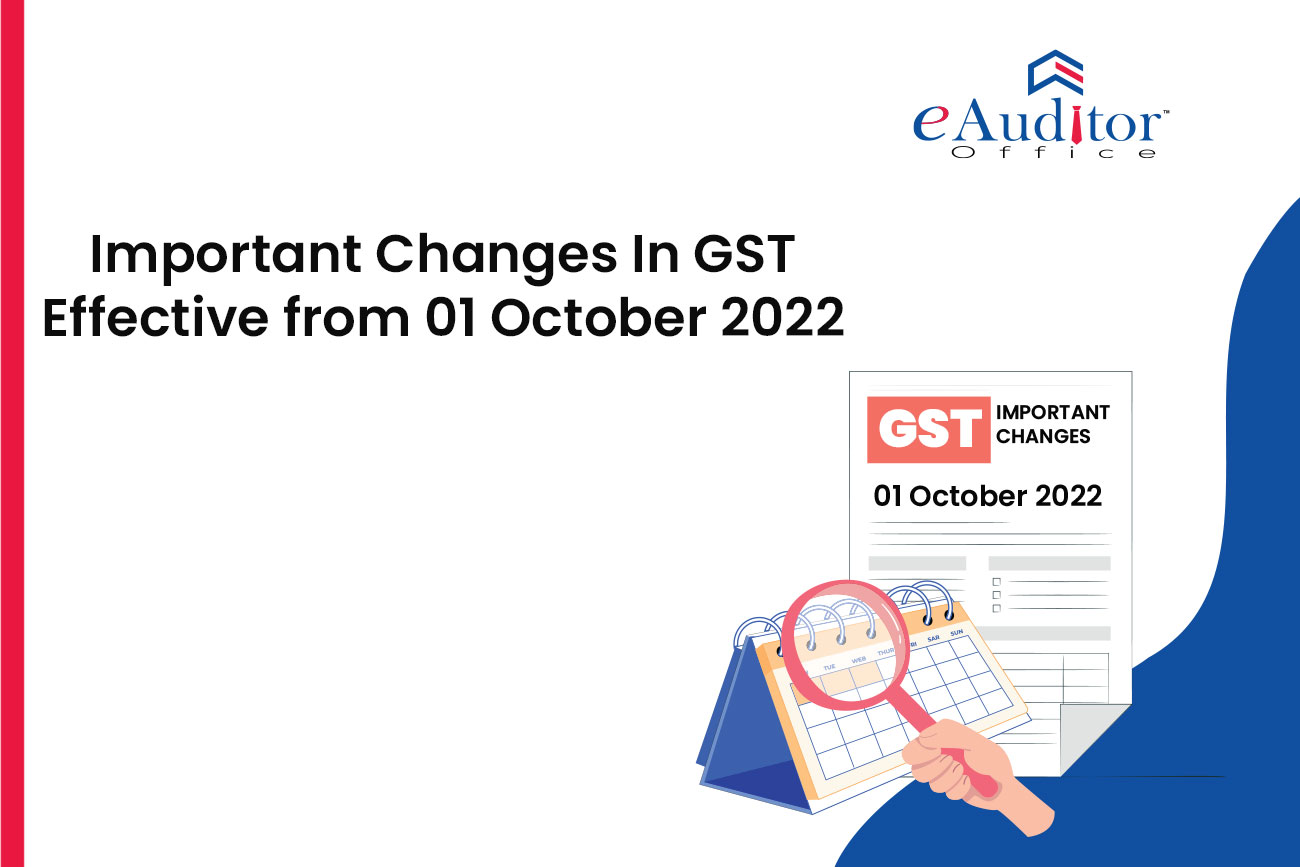 The Indian government, in its recent Good and Service Tax (GST) notifications, has set 01st October 2022 as the effective implementation of law and procedures as proposed in the Finance Act 2022.

A list of Recent GST notifications are:
All the above GST notifications talk about several key issues - reducing the e-invoice turnover limit , easing GST compliance by giving extra time to file ITC claims, giving procedural discipline in GST filing, and other measures to strengthen tax compliance.
In this article, let's learn about all the changes implemented from 01 October 2022.
1.Reducing the Turnover Limit:
Central Board of Indirect Taxes and Customs, as mentioned in its Notification 17/2022 dated 01 August 2022, has reduced the turnover limit from Rs.20 crore to Rs.10 crore for business e-invoicing. It is effective from the 01st of OCT 2022.
2.New Restriction On Claiming The Input Tax Credit (ITC):

According to notification no. 18/2022, availing ITC can be restricted by the government if the supplier/vendor:
pays less tax than required by a certain percentage or defaults in paying tax itself and happens continuously.
availed excess input tax credit in GSTR-3B than reported in the auto-drafted tax credit statement, GSTR-2B.
When the supplier is categorized under the prescribed class of persons.
When the supplier has taken GST registration within such period.
When the output tax paid in GSTR-3B is less than the output tax payable in GSTR-1.
Even though the government has listed the conditions for ITC restrictions, it is yet to finalize and fix periods, limits and percentages. It is expected to be done in due course of time. These newly laid out measures and changes indirectly emphasize dealing with vendors with proper supplier credentials so businesses can enjoy the ITC facility without litigation
3. Relaxation on Time Limit to avail Input Tax Credit (ITC):

For GST taxpayers, extending the time limit gives more elbow room to avail of their genuine ITC. So, to avail of the ITC a financial year, one can file for ITC in the following financial year. Let's see how it's been changed. The due date of the previous financial year has been extended from the earlier due date of 30 September to 30 November of the next financial year.
Section 100 of the Financial Act 2022 amends the CGST law Section 16(4) to give effect to the extension mentioned above of the time limit to file and avail ITC of a financial year.
4. Cancellation of GST For Non-filing of Tax Returns:
Tax officers can proceed suo moto cancellation of GST registration of a person:
If a composite taxpayer did not furnish the tax returns for an FY beyond three months from the due date.
A regular taxpayer, other than the composition taxpayer, has not filed the return for a continuous period as may be prescribed.
NOTE:
If a person who used to file monthly returns fails to file returns for a continuous period of six months.
(or )
Suppose a person who used to file quarterly returns fails to file returns for two straight quarters. In that case, the tax officers can initiate Suo Moto cancellation of the person's GST registration.
This change will effectively bring compliance discipline amongst the taxpayers, and ITC is linked to filing returns being on the right side of business compliance rules.
5. Change in Output Supply Statement - GSTR-1:

With the new notification update, GSTR-1 (The statement of outward supply) must be filed in chronological order. Why?
Unless the earlier return is not filed, you cannot file the current month's return. You may end up not getting ITC you paid to the government.

6. Other Changes in GST Returns:
A person cannot file GSTR-3B of the current period if the previous GSTR-1 is not filled.
Late fee for filing late GSTR-8 by Rs.100 per day, with the maximum late fee of Rs.10,000
7. Consequences of Not Paying Supplier on Time:
A taxpayer who has availed the Input Tax Credit and utilized it but failed to pay the supplier the amount towards the value of such supply along with the tax payable within the specified time limit of 180 days shall pay an equal amount of ITC along with the interest of 24%.
It should be done while furnishing the FORM GSTR-3B for the tax period immediately after 180 days.
8. Change in Time limit for Credit Limit:

Any GST registered tax person who issues a credit note concerning a supply of goods or services, or both, shall declare such credit note in return for the month during which such credit note has been issued but not later than 30 November of the following financial year in which the vendor made the supply.
So, earlier the credit note can be issued and reported on GSTR-1 and GSTR-3B by 30 November (earlier, it can be reported by 30 September of the following financial year).
Author : Dharani
Date : 13-Oct-2022

GET HELP