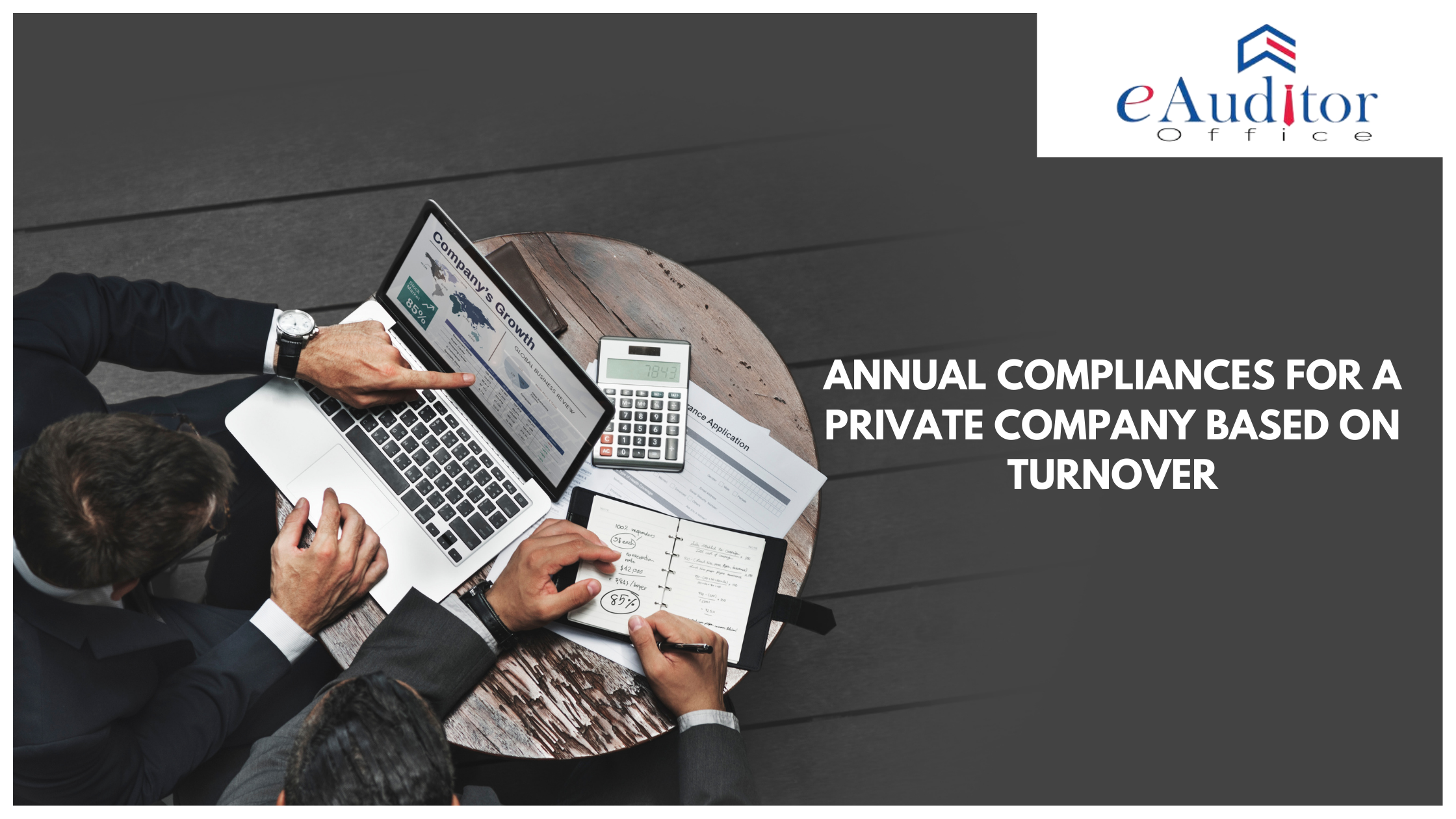 ANNUAL COMPLIANCES FOR A PRIVATE COMPANY BASED ON TURNOVER
The word "compliance" can be defined as the action of adhering to or observing the law or rule. In the business world, complying with laws, regulations, rules, and guidelines is an essential aspect of business operations called "corporate compliance." However, today the term "compliance" has been used for a long time and defined broadly. Apart from ensuring legality, the term is also about recognizing standards and guidelines that are common in the fields, like private limited company registration in India. What is more crucial is the commitment to the values of its own and principles, which means that a company adheres to strict ethical guidelines for its conduct both internally and externally.
While a Private Limited Company is the most common form, there are many requirements to be observed once the business is officially incorporated. The term "compliance" (also known as the regulatory requirement refers to a phrase used across different industries to refer to guidelines and policies that restrict or govern specific products and services or procedures. In most cases, lawfully binding and enforced through government agencies, the compliance requirements include federal, municipal, and state regulations that restrict how businesses run their business.
Controlling the day-to-day operations of your business and adhering to corporate law could be a little taxing for entrepreneurs. Therefore, it is essential to seek the assistance of an experienced professional and be aware of these legal requirements to ensure pvt ltd company registration online compliance is completed on time and without tax or penalty. With the steady growth in the private limited company registration online and the increased numbers of young entrepreneurs in India, it is essential to ensure that all compulsory and obligatory compliance is also increasing.
This particular editorial addresses all year-long mandatory compliances that a business must be in obedience to the Companies Act, 2013. It targets all mandatory compliances that companies must follow and, to an extent, some specific compliances based on events, as the situation is. In the most recent amendments, companies' requirements for compliance have been modified concerning the compliance requirements beginning on April 1, 2014.
Annual Compliances For Private Limited Company In India
There are two kinds of compliance:
Obligatory compliance (Registrar and related compliance)
Event-based compliance (Non-Registrar compliance)
Many first-time entrepreneurs aren't aware of the requirements for compliance to register private limited company online. Those familiar with the procedure are aware of the complexities involved in the filing of compliance documents.
To give entrepreneurs information about Annual Compliance for Private Limited Company, we have developed an appropriate checklist for private limited companies. This checklist is specially designed for small companies with capital paid-up that is not exceeding Rs. 50 lakh or businesses with annual revenue lower than Rs. 2Cr.
Mandatory Compliances
Each company should apply or paint the name and address of its registered office and place the same painted or affixed at the entrance where business operations are conducted.
Every business must have its company name, address, registered offices, CIN phone, and email on all business correspondence, including billheads, letters, and letterheads.
The First Board Meeting of Directors must be scheduled within 30 days of the company's incorporation. The notice of BM must be given to each director a minimum of seven days before the meeting.
Subsequent Board Meetings
The minimum requirement is that at least 4 Board meetings be conducted every year with gap not more than 120 days between meetings. For small companies, it is enough to hold only 2 Board meetings.
Issuing of Share Certificate
The company must distribute Share Certificates subscribers of memorandum within sixty days from the company's incorporation date.
Filing of Disclosures of interest by Directors
Every director at:
First meeting at which he is a director, or
The first meeting of the Board in each FY, or
When there is an update in the disclosures
Must disclose on the form MBP-1 (along with a list of relatives and concerns of the relatives of the company in accordance with the RPT definition) and his interest or stake in any business or body corporate or any other organization of individuals (including the shareholding interest). Form MBP-1 should be stored in the books of the business.
Every company is required to have at least one director who stays India for at least 182days in the financial year.
Alteration in MOA and AOA
Any alteration to Articles or Memorandums must be filed with the Registrar with copies of amended Articles as well as a notice of the meeting with the SR within 30 days from the date of passing the special resolution. Any alteration made to MOA and AOA must be noted on every copy of the documents.
The minutes of each General Meeting, Creditors, Board, and Committee are to be recorded within 30 days after the conclusion of each meeting that is concerned. All appointments made during the meeting will be noted in the minutes. Minutes of every meeting should be recorded in the Minutes Book along with the entry date.
Copy of each resolution (with an explanation, if any) or an agreement on the matters specified to be submitted along with ROC in MGT-14 form within thirty days. Articles of Company should contain a copy resolution that amends AOA and Agreements mentioned by Section 117(3) of the Act.
Every company is required to keep and maintain the following Registers according to the format specified:
- Register of Members MGT-1
- Register of Transfer and Transmission of Shares SH-4
- Register of Charge CHG-7
- Index of the Registers
Other Registers
Every company must maintain a Register of Directors and KMP in the prescribed format and containing specified details in its Registered Office.
Dispositions relating to DIN
Anyone who plans to be appointed director must submit an electronic application on form DIR-3 to Central Government for allotment of DIN.
Number of Directorships
A person cannot be a director of more than 20 companies. The maximum number of public companies may be as high as 10.
Meeting at short notice
A meeting can be scheduled at short notice to address urgent issues where affirmation from at least 95% of the members who are entitled to vote.
First Auditor
The BOD will choose the First Auditor of the company in the first 30 days of incorporation. He will be in charge until the close of the one 1st AGM. If the company has a First Auditor, filing of ADT-1 is not required.
Annual General Meeting
Every company must hold the Annual General Meeting at or before the September 30 every year during normal business hours (9 am to 6 pm) and on a date which isn't a holiday and held at their registered office for the company or in the town, city or village in which your registered office located. A 21 clear days prior notice must be provided for the same.
Filing of Financial Statements
Every company must file its financial statements within thirty days of the Annual General Meeting. The Registrar of the Company in the form of an electronic form AOC-4. It must be electronically completed by one of the directors and then certified through practicing CA/CS/Cost Accountant.
Filing of Annual Return
Each company must complete its Annual Return with The Registrar of Companies within 60 days of the Annual General Meetings in Form MGT-7 in electronic format. A business with revenues over INR 50 Crore or more must get certified through a practicing Company Secretary (CS) in the form MGT-8.
Regularisation of Additional Director
If a company wishes to appoint a director in addition to the director's position, it must regularize the director's appointment in the General Meeting by approving a Shareholder Resolution. Fill out the form DIR-12 for Change in Director's Designation and a regular resolution in the first 30 days of the AGM.
Directors' Report
Directors' Reports are to be filed with all the necessary information for Small Company under Section 134 within 30 days from the date of the AGM together with the Form AOC-4. It should be signed by the "Chairperson" authorized by the board if he is not legally authorized by at minimum 2 Directors, one shall be managing director or by the director if there is one director.
Filing of Financial Statements of a Foreign Co.
Each Foreign Company must keep annual accounts (consolidated financial statements or global accounts) and a list of the principal places where it conducts business in India within six months after the financial year.
Filing of Annual Return of a Foreign Co.
Each foreign company must prepare and file the annual report of the company on an electronic form FC-4 within 60 days after the end of the financial year.
Non-Registrar Compliance
GST Returns (Monthly/Quarterly )
TDS Returns (Quarterly)
Evaluation of the advance tax liability and the payment of tax in advance
Filing of Tax Audit Report
Application for KYC of Directors
Filing of Income Tax Returns (ITR)
The Regulatory Control of businesses is required to follow various laws (E.g., Money Laundering Act, Competition Act, Environment and Protection Act, Factory Act, etc.)

How is Annual Compliance for Private Limited Company Beneficial?
Here's how Annual Compliance for Private Limited Company is beneficial:
1. Avoid being a Defaulter-
Regularly filing annual compliance forms for private limited companies can save severe penalties and extra charges if the company fails to file the necessary forms.
2. Ensures Credibility-
Legal compliance is vital for all organizations. For many participants, including ministerial tenders, investors, and loan support, the submission of annual compliance to private limited companies plays an important role in determining the company's reliability.-
3. Invitation to Potential Investors
To ensure business credibility, potential investors are keen to examine the company's financial value. Investors can directly request the company's financial information or view the status of regular filing on the MCA portal. Therefore, investors who are considering investing prefer investing with an organization that has regular annual compliance filings in the case of a Private Limited Company.
4. Reputation-
In ensuring that they comply with the rules from the Registrar of Companies and the Ministry of Corporate Affairs, the Private Limited Company and partners can improve their standing before the general public. The Private Limited Company can increase its compliance with the requirements by doing this. More investors will be more inclined to invest in a Private Limited Company that complies with the rules that are required by law.
5. Compliance-
If all compliances are filed within a certain period, The Private Limited Company would be completely free from compliance demands. If you consider this, a Private Limited Company can fulfill its goals.
6. Less Burdens-
In compliance with the rules from the authorities, Private Limited Companies will have fewer burdens in terms of compliance obligations. If compliance requirements are not taken care of or reported through those who run the Private Limited Company, it could hinder the growth that of the Private Limited Company. Therefore, it is essential to ensure that all regulations in compliance are met by the shareholders who are part of the Private Limited Company.
Author : Sakshi
Date : 29-Jun-2022

GET HELP