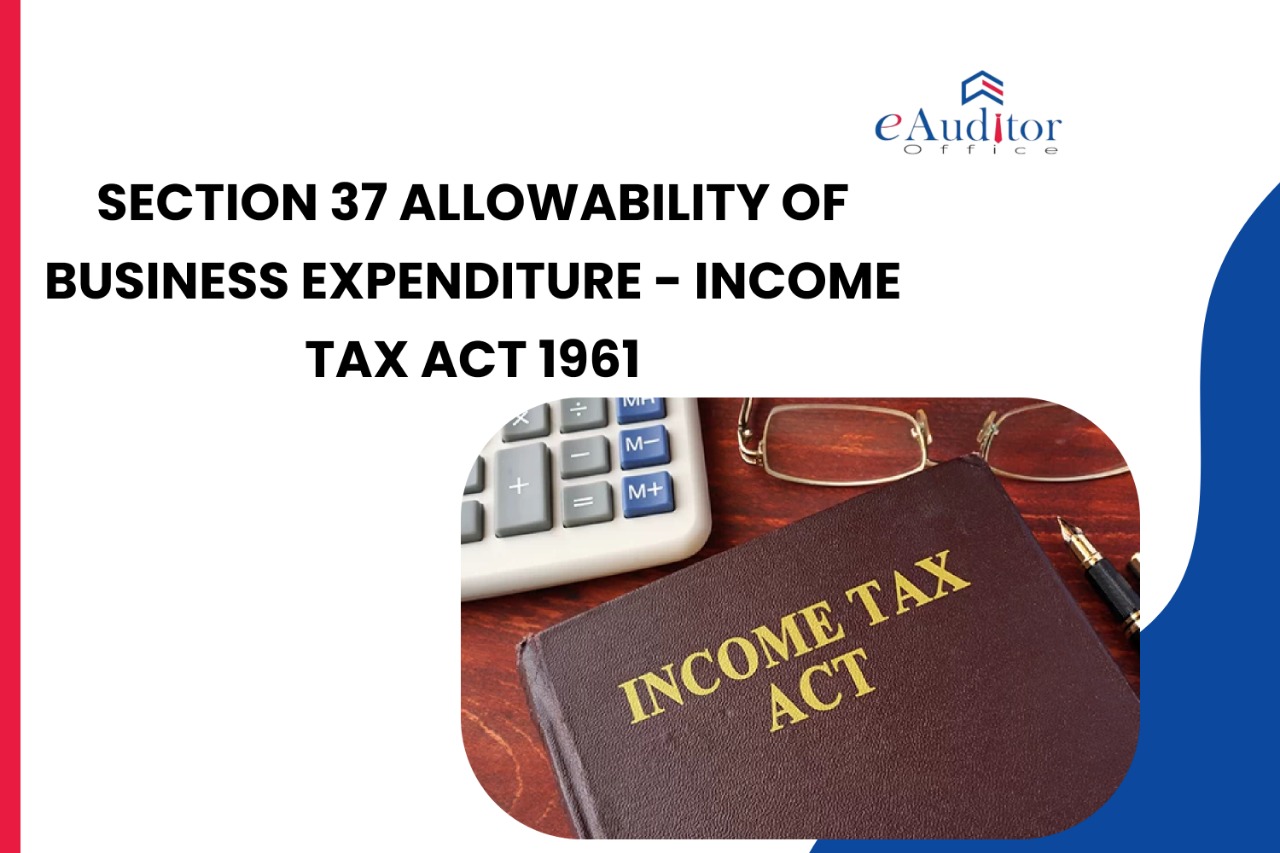 Overview
Income tax is divided into 5 major heads namely Income arising from Salary, House Property, Business and Profession, capital gain, and other sources. In the Act where income arises out of business and profession, some specific sections talk about the allowable expenses in the Profit and loss statement.
All accounting expenses are not allowed in the profit and loss statement as per the Income Tax Act 1961. The allowable expenses are mentioned under sections 30 to 36. Although income tax has a residuary section for other expenditures related to business or profession.
Section 37 is termed as a general deduction or allowable other expenditure under the Act.
Condition for Section 37
Any expenditure (other than covered under sections 30 to 36) shall be allowed if the following conditions are satisfied:
Expenses should be incurred wholly or exclusively for the purpose of the Business or Profession.
Expenses should be revenue in nature.
Expenses should be legal.
It is been further clarified under the Act that expenses related to Corporate Social Responsibility Activities commonly known as CSR activities are not deemed to be allowable expenditures under section 37.
Following Transactions are allowable / disallowed under section 37 of the Income Tax Act,1961:
If donations are made to Prime Minister Cares fund or PM Relief fund etc, then the assessee can claim a deduction (even if it is a CSR expenditure) under section 80G and not under section 37.
If donations are made in name of CSR expenses for Clean Ganga Fund or Swach Bharat Kosh then Assessee cannot claim the deduction in section 37 as well as in section 80G.
Advertisements in brochures, souvenirs, newspapers or pamphlets published by a political party are not allowed as an expense under section 37.
As per section 182 of the Companies Act 2013, advertisement in brochures, newspapers, and pamphlets for political parties is treated as a donation, so an Indian Company can claim a deduction under Section 80GGB for advertisement expenses.
Gifts given to employees are allowed under section 37.
Any customary expenses related to business for example some ceremony performed on any festival are allowed under section 37.
Dividend is not allowed as an expense in Income Tax Act, 1961 under section 37.
Provision for loss of subsidiary, provision for deferred tax, provision for diminution in value of an asset, and provision for an un-ascertain liability are not allowed under section 37
Penalty arising out of breach of law are not allowed although penalty arising from breach of contract is allowed
Interest on loans taken for the payment of income tax is not allowed
Tax audit fees and litigation expenses in relation to Income Tax cases are allowed.
Premium paid by the firm on the keyman insurance policy of a partner is allowed expense.
Expenses incurred on a project not relating to existing business and the project was abandoned are not allowed as it is not related to the existing business.
If the salary to the director exceeds the limit prescribed under the Companies Act such excess salary shall not be allowed.
Prior period expenses are allowed only if liability to pay is crystallized during the previous year.
Registration fees incurred on the increase of authorized share capital of the company are not allowed.
Cash embezzled loss is incidental to the business and it is allowed in the year in which embezzlement is discovered.
Author : Aditi
Date : 23-Jul-2022

GET HELP