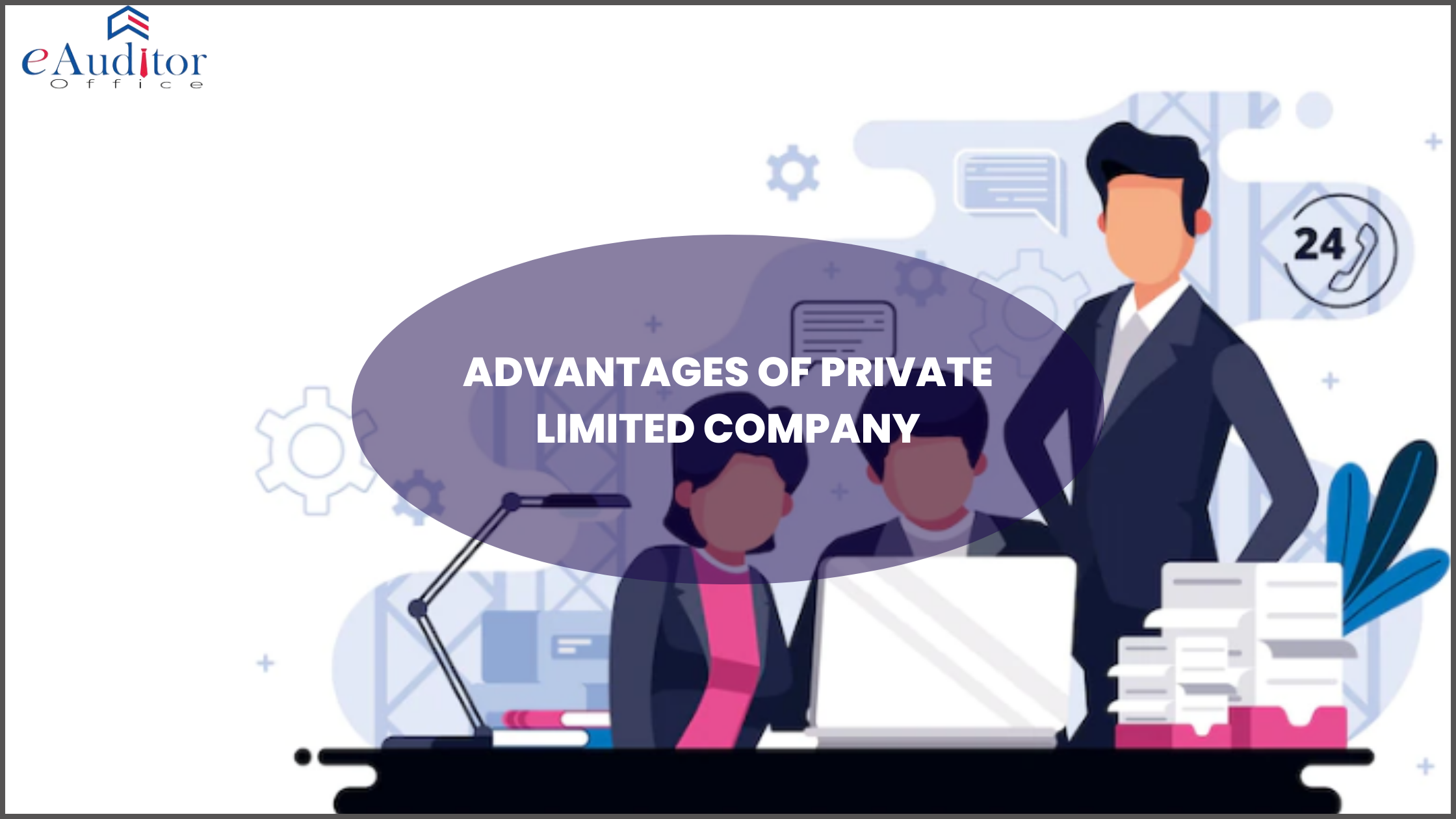 ADVANTAGES OF PRIVATE LIMITED COMPANY
Introduction:
Are you someone who wants to register your business in the form of a company? Then you must have decided in which category you want to register your company. There are many types of companies that are in existence in India, and every type of company has different features, requirements, advantages, disadvantages, and the process of registration. If you are planning to the registration of Private Limited Company in India, then this article will give you every information you need before getting registered. Here, we will talk about the advantages of Pvt. Ltd. Company and also about the other important topics. So, if you want to know everything about the Private Limited Company, keep reading...
What is a private limited company?
The first thing you should know is that a private limited company, comprehended as Pvt. Ltd. company, is a category of business entity in "private" ownership. The word Private is utilized in many jurisdictions across the world that have a separate entity to a publicly listed company. Both hold some dissimilarities from country to country. There is an advantage of owning a private limited company that it contains limited liability. Yet, the shares in the name of the company can only be sold to the shareholders in the business, which signifies that it can become oppugning when it comes to liquidating such a company. It states that a private limited company is a company that is owned privately by small businesses. You should know that the liability of the members of a Private Limited Company is limited to the number of shares respectively possessed by the shareholders. It is not legal and restricted to exchange the shares publically, which are held by the private limited company.
As per the analysis in India, nearly 93 percent of the companies incorporated are registered as Private Limited Companies.
The Ministry of Corporate Affairs is known as the governing body of Private Limited Companies in India. The law that regulates Private Limited Companies is the Companies Act 2013.
Earlier in 2015, the shareholders of Pvt. Ltd. Company had to pay at least ₹1 lakh as a subscription charge to register a private limited company In India, a Private Limited Company is a popular category of company that holds a place in the India Corporate World.
To add more to your knowledge, here are some features of a Private Limited Company.
Features:
The word "private limited" must be joined after their company's name.
At least 2 members are required and a maximum number of 200 members as per the provisions given in the Companies Act, 2013 to start a company.
The liability of each member or shareholder is limited in Pvt. Ltd. Company.
If a loss arises under any circumstances, then the shareholders are indebted to sell their assets for payment. The personal or individual assets of the shareholders are safe.
A private company must have two directors. With the presence of 2 directors, the registration of the private limited company is possible.
Least requirement for private limited company
Here are the requirements to register your company as a Private Limited Company.
At least 2 directors are mandatory who are adults.
One of the directors ought to be an Indian citizen and an Indian Resident.
The other directors among all can be foreign citizens.
The shareholders can be natural people and also can be an artificial legal entity.
There should be at least two shareholders of the company.
Now, let's know about the process for registration of a Private Limited Company.
Registration process for private limited company
The registration of a Pvt Ltd company in India is a compulsory online process. In recent times the MCA has changed the former SPICe form with a new web form as SPICe+ (SPICe Plus). Therefore, registering a Private Limited Company is even easier now.
So, now you can Incorporate a Private Limited Company with just a single application for Name Reservation, Incorporation, DIN Allotment, Mandatory issue of PAN, TAN, and more like these.
SPICe+ process is separated into two parts as follows:
1. Part A: First, apply for the name of the company for reservation in Part A of the form Spice+. This can be utilized for taking the name clearance of the presented Company and also for the filing of Company Registration in one go.
2. Part B: In this part of the Form Spice+, you need to apply for the following services:
Incorporation
DIN(Director Identification Number) allotment
Compulsory issue of PAN
Mandatory issue of TAN
Issue of EPFO registration
Required issue of ESIC registration
Issue of Profession Tax Registration
Compulsory Opening of Bank Account for the Company
Allotment of GSTIN (if applied for)
Advantages of a private limited company
Separate Legal Entity- A Private Limited Company is always defined as a separate legal identity in the court of the law, signifying the assets and liabilities of the business are not as same as the assets and liabilities of the Directors of the company. Both are measured as different aspects. A Private Limited Company splits Management from Ownership, and hence, managers are liable for the company's success and are also accountable for the loss of the company.
No Minimum Capital- There is no requirement of capital to form a Private Limited Company. A Private Limited Company can be registered with a sheer aggregate of Rs. 10,000 as total Authorized Share capital in India.
Limited Liability- If the private company experiences financial distress because of any particular reason, the personal assets of members will never be utilized to settle the debts of the Company as the liability of the person is limited. That means, if you are not payable towards the number of shares you hold, you are not creditable towards any debt payable by the company even if the debit/credit amount stays overdue.
Easy and Free Share Transferring- The shares of a Pvt. Ltd. company limited by shares are always transferable by a shareholder to any other person. The transfer of shares is easy as compared to the transfer of an interest.
Uninterrupted Existence- A Private Limited Company has a Perpetual Succession, which is persisted or has no interrupting existence until it is legally liquefied. A company, being a separate legal entity, is unruffled by the death or other withdrawal of any member. But, it continues to be in existence irrespective of the modifications in membership. Perpetual Succession is one of the most important features of a company.
Fund Raising- A Private Limited Company in India is the only type of business excluding Public Limited Companies that can raise funds from Venture Capitalists or Angel investors.
FDI Allowed- In a Pvt. Ltd. Company, 100% Foreign Direct Investment is allowed, meaning any foreign entity or foreign individual can directly invest in a Private Limited Company.
Builds Creditability- The particulars of the company are open for a public database. This enhances the credibility of the company in the market as it makes it effortless to ascertain the details.
Can Sue and be Sued- To sue someone means to initiate legal proceedings against or to convey a suit in a court of law. Just like one person can bring a legal action in his/her name against another person's name, a company existing as an independent legal entity can sue and also be sued in its name.
Own Property- A Private company being a juristic person, can obtain, own, enjoy, and estrange property in its name. No shareholder can make any suit upon the property of the company so long as the company is out of concern. The shareholders are not considered the owners of the company's property. The company itself is the true owner of the acquired property.
Has Dual Relationship- A company in the form of an organization, a company can make a reasonable and effective agreement with any of its members. It is possible for a person to be in management of a company and at the same time happen to be in its employment. Therefore, a person can be a shareholder, creditor, director, and employee of the company at the same time.
Conclusion:
As this article articulates every bit of the Private Limited company, now you can make appropriate decisions regarding the formation of your company. From the features of the Private Limited Company to Requirements to Private Limited Company registration online, everything that will guide you in forming a Pvt. Ltd. Company is given here so that there will be no confusion while making important decisions.

Author : Sakshi
Date : 30-Jun-2022

GET HELP