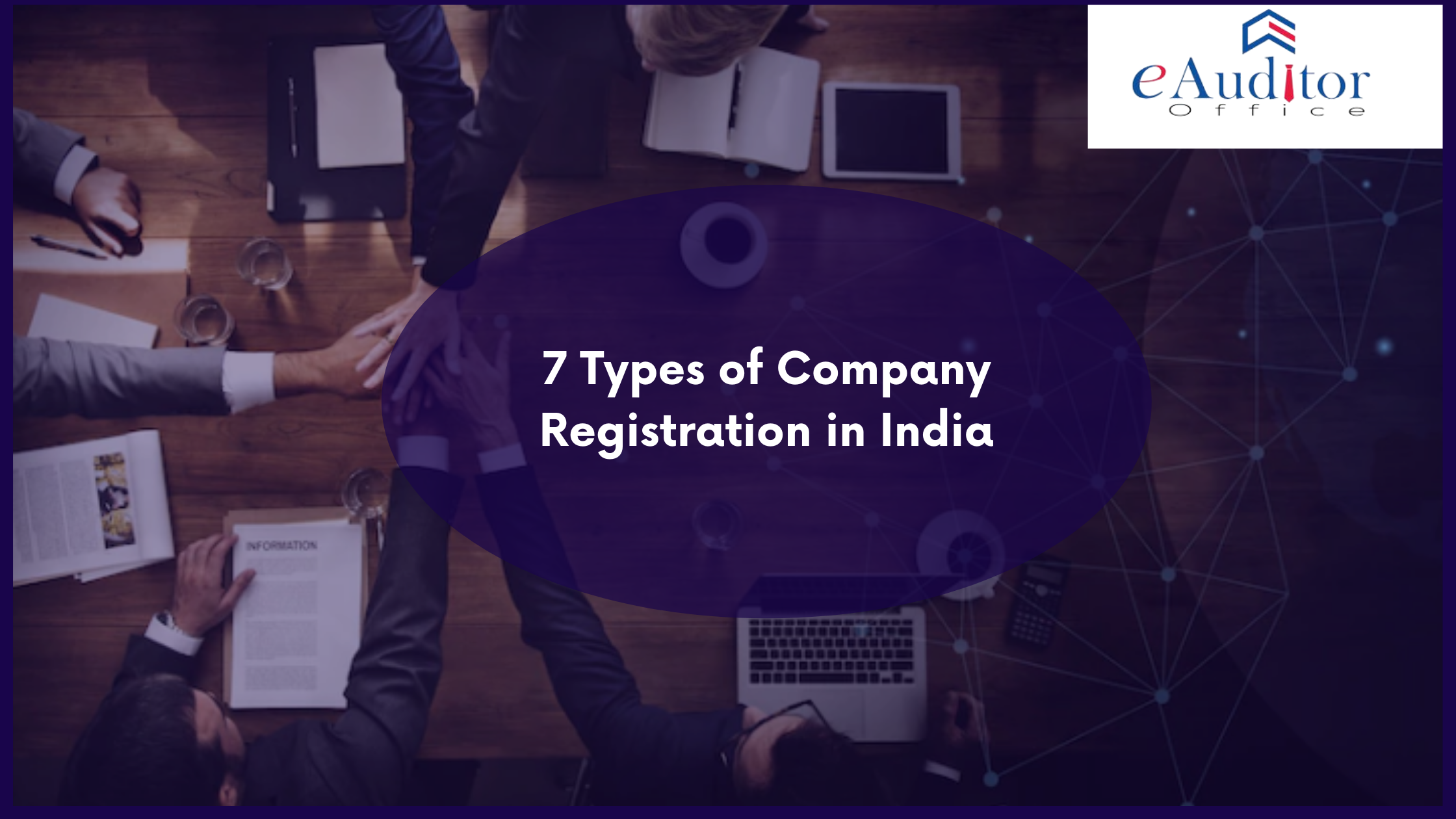 As per the Companies Act, 2013, a company is a distinct legal entity created with individuals or groups to serve business or commercial purposes. A company is formed with distinctive features that distinguish it from a sole proprietorship model. These include transferability of shares, sharing of losses and profits, taxes, and the ability to limit liability.
Different Types of Companies
According to the provisions under the Companies Act of 2013, companies are classified under the following categories:
On the basis of Size: Micro, Small, and Medium companies
Based on Number of Members: Private, Public, and One Person companies
On the basis of Control: Holding, Subsidiary, and Associate companies
On the basis of Liability: Unlimited and Limited by shares
On the basis of Capital Accessibility: Listed and Unlisted companies
Types of Company Registration In India
Every business or enterprise has to register legally under the Companies Act of 2013. There are seven kinds of registration for companies in India. Thus, it isn't easy to select the most appropriate type of business registration with so many options.
We've created a comprehensive list of registrations for companies and their process for application to make the registration process simple.
Private Limited Company
Public Limited Company
Partnerships Company
Limited Liability Partnership
One Person Company
Sole Proprietorship
Section 8 Company
Let us now discuss all the seven types in detail:
1. Private Limited Company
A most popular way to start a company is to establish a Private Limited Company, which has limited liability and legal protection for its shareholders. A Private Limited Company in India stands somewhere between a partnership and a publically owned company. A minimum of two directors and two shareholders are required to register PVT ltd company online, including a director and shareholder in the form of a Private Limited Company.
A Private Limited Company is one of the most well-known types of legal entities for corporations around the globe. It is governed under the Companies Act, 2013 and the Companies Incorporation Rules, 2014. The procedure for PVT ltd registration online has been streamlined to be more efficient by the Ministry of Corporate Affairs. Because a specified amount of investors own these private businesses, they are referred to as "Limited Companies'.
a. List of Documents Required for private limited company registration in India
The applicant must collect the following documents to file the incorporation application.
Properly filled application form, including passport-sized images of applicants (directors)
Photographs, Identity cards, address proof, PAN card, Aadhaar card
Business Address Proof
Business Incorporation Certificate
Self-declaration of directorship in other organizations
The lease agreement of the registered office
NOC issued by the property's owner
Any other documents required by the Registrar of Companies (ROC)
b. Process: Private limited company registration online
From 15th May 2015, a new method to register private limited company online was introduced. A separate portal online was created to register the documents to register an entity, and the applications can now be completed online. This is a part of the Green Initiative by the MCA (Ministry of Corporate Affairs).
Step 1: Check that the company name is available.
Step 2: Once the company name is finalized, a DSC/DIN application will be filed.
Step 3: Next, an application will be made for a Memorandum of Association and Articles of Association (AoA).
Step 4 – Next, get the PAN/TAN of your company.
Step 5 - The certificate of incorporation, together with the PAN or TAN, will be issued.
Step 6: As a part of private limited company registration online, establish a bank account for your company.
Step 7: Attach the required documents to your application form.
2. Public Limited Company
For entrepreneurs looking to open large businesses, such as opening an IT infrastructure or setting up a manufacturing facility, a Public Limited Company (or PLC) is the best structure. A Public Limited Company can be registered according to the provisions mentioned in the Companies Act, 2013. Public limited company registration requires at least three directors and seven members. Section 2(71) of the Companies Act 2013 defines a PLC; however, the Act does not require a minimum amount to register a public limited company.
Public Limited companies have more stringent and rigid rules than Private Limited Companies. It is still considered a better way to do business than a private company. This is because this business structure has many of the same benefits as a Private Company but also features easy transferability of shares or ownership. Public limited company registration can also apply to a subsidiary company. This applies even if it is still listed as a private business in its Articles.
Companies with many infrastructural plans usually consider these types of business structures. These companies can raise capital via primary and secondary issues and secure regular profit. A public limited company is, in essence, a company with limited liability. Public limited companies must make proper disclosures to the public and the regulatory authorities.
a. List of Documents Required for public limited company registration in India
The applicant must collect the following documents to file the incorporation application.
Identification proof includes Aadhar card or PAN card, Driving License, Voter Id, and Driving License of the directors and shareholders.
Address proof of all directors and shareholders proposed for the company
PAN card information of all directors and shareholders
Utility bills such as phone, gas, or electricity bills of the registered office as proof of residence. It shouldn't be more than two months old.
A NOC from the landlord.
DSC (Digital Signature Certificate) of the designated directors
Memorandum of Association and Article of Association
b. Procedure for Public Limited Company Registration
Step 1 - Obtain Digital Signature Certificate
First, you must apply for the Digital Signature Certificate. This certificate will be issued to all directors proposed for the company. DSC is used for signing the e-forms. It is a safe and authentic way to file all documents electronically. It is mandatory.
Step 2: Name Verification
This step lets you check whether the name is available through the MCA portal.
Step 3 - Filing Form SPICe+
After the company name gets approved, you can file the SPICe+ Form to obtain the company incorporation certificate. You must also file the MOA (Memorandum of Association) and AOA (Article of Association) documents. These documents include details about the company's mission, objectives, and visions. They also contain information on the responsibilities of directors and shareholders.
Step 4 - Obtaining a Certificate of Incorporation
After all documentation and verification, the company will receive the Certificate Of Incorporation. This certificate will include the CIN and the date of incorporation.
3. Partnerships Company
A partnership business entity is very similar to a sole proprietorship. A partnership is different from a sole proprietorship, where more than one person is involved in the partnership. A legal partnership agreement outlines each partner's roles, responsibilities, and shares. According to the partnership agreement, any profit made by the business will be shared among the partners. Each partner is responsible for any losses, and in case of losses, partners' assets may be used as compensation.
Partners agree on their share of profits and their roles in managing operations in partnership. All functions, powers, and shares are clearly stated in a verbal agreement known as the partnership deed. These businesses are subject to the Indian Partnership Act,1932. As long as they have a registered and valid partnership deed, partnerships can operate without or with a license.
a. List of Documents Required for Partnerships Company registration in India
The applicant must collect the following documents to file the incorporation application.
Properly filled application form along with passport-sized photos
Identification and address proofs for partners
PAN card and address proof and NOC from the property owner are on rent.
Partnership Registration Certificate
Any document that the state or central government issues (e.g., GST Registration)
Any other document that the authority requires
b. Procedure for Partnerships Company Registration
Step 1 - Choose a name for a partnership.
A partnership name should not be identical or similar to an existing company doing the same business.
Step 2- Create a Partnership Deed
The most important document is the partnership deed. It may contain the following details:
Name and address of the company and all its partners
Contact information for partners
The nature of the business
The duration of the partnership
Profit/Loss sharing ratio
Rules regarding the solvency and financial health of the firm
Each partner will need to provide information about the capital they have contributed.
The deed also includes information about partners' remuneration in excess of profit shares, responsibilities, and audit procedures.
Step 3 - Apply for a Partnership Firm PAN Card
Regardless of whether the firm is registered under the Act or not, it must apply for a Permanent Accounting Number to the Income Tax Department. This can be done based on a current account held in the company's name and address. To fulfill your tax obligation, the PAN must be provided.
Step 4 - File a Registration Form
A firm must provide information about the name, the nature, and date of its business, the company's address, the addresses of all partners, and the names and addresses of each partner. The form is then sent to the regional registrar of the firm's main offices
Step 5 - Submission of documents
The following documents must be submitted and your registration application to the registrar to complete the registration process.
Application for registration of partnership
Original certified copy of the partnership deed
Specimens of Affidavit
PAN Card for the name of a partnership firm
You will need to provide proof of address, ownership deed, and lease and rent agreements. are common acceptable documents
Address Proofs and PAN Cards for all partners
Step 6 - Pay the Stamp duties.
When documents are submitted to the registrar, a registration fee and a stamp tax must be paid. There are different fees for each state. It is important to understand that registration does not end when all dues have been paid.
Step 7: Finish the Deed
Each partner should receive a signed copy of the deed on stamp paper to legalize it. All partners should sign a single stamp paper deed before a notary. The stamp's value varies from one state to the next. The signed copy must be submitted to the registrar during the registration process.
Step 8 - Certificate from the Registrar
After a thorough examination of all documents, the registrar will issue a registration certification and record the entry in the register. The firm will be considered registered on the date of the entry.
4. Sole Proprietorship
A Sole Proprietorship company is the most basic type of entity for business in India that is controlled and owned by one person. It is not subject to any laws and, therefore, the simplest way to conduct business in India. It is not a corporation nor a limited liability corporation (LLC) that the state secretary registers. They are legal entities registered independently and provide owners with security against lawsuits and other financial responsibilities. The management and decisions of the business are at the disposal of a single person. Owners of businesses prefer sole proprietorship because it's easy to set up and has reduced tax requirements.
The sole proprietorship firm usually signs contracts in the owner's name as the sole proprietorship company is not a distinct entity under the law. Sole proprietors will usually have clients' paychecks in the owner's name, even if the company has a fictional name. Sole proprietors may frequently combine personal and business properties and money, which LLCs, partnerships, and corporations can't. Sole proprietorships typically have bank accounts under the name of the proprietor.
a. List of Documents Required for Registration of a Sole Proprietorship Firm
The applicant must collect the following documents to file the incorporation application.
PAN Card of the Proprietor
Identity Proof of owner- Voter's ID or Passport or Driving License Aadhaar
Passport Size Photograph
Address Proof of the Premises:
Lease or rental agreement if the premises is on lease or rent
The most recent tax-paid receipt or sale deed if one director owns the property.
5.The most recent Electricity bill/Telephone bill or Gas Connection bill
6.ANO from the owner of the property
b. Procedure of Sole Proprietorship Firm Registration
Step 1- Application for GST Registration
Based on the needs of the business and GST law, an application for GST registration for private limited company must be submitted to the department. GST registration generally takes five to ten working days.
Step 2. MSME Registration
To establish an existence for your proprietorship company and avail a variety of advantages, you'll need to apply for registration of your business as a Small and Medium Enterprise (SME) under the MSME Act. It will benefit your business when it comes to obtaining a loan. The government has a variety of schemes to help SMEs by granting loans with low-interest rates.
Step 3. Application for Shop and Establishment License
You must be granted a shop and establishment license following the local laws. The local municipal council grants the license based on the number of employees or workers within the company.
Step 4. Bank Account Opening
When all the steps are completed, your current bank account must be established by the proprietorship company.
5. One Person Company
One Person Company or "OPC" is a private limited company registered with the Companies Act, 2013. One Person Company is an innovative type of business that allows entrepreneurs to manage an organization independently. A single person wasn't able to establish a private company. However, this new concept was brought under section 2(62) Company Act, 2013. With this, a single person can form a private limited corporation.
It is a more legally-sound and reliable form of proprietorship. This type of company comes with all advantages of a private limited company but only needs one shareholder. One Person Company (OPC) is a private limited business that can be created with only one person who will serve as director and shareholder for the business. The need for a single company came because of the restrictions on sole proprietorship companies, the largest and most well-known type of registration for small-sized companies in India.
Contrary to a private limited company or an LLP in which at least two persons must be present, business owners can now form their business with just one person. An OPC is a private legal company in its own right, and therefore business owners are not personally liable for liability. The OPC can purchase assets and make loans in its account.
a. List of Documents Required for one person registration of a company
The applicant must collect the following documents to file the incorporation application.
A Passport size photo
Permanent Account Number of the Director
Identity Proof- Driving License or Passport or Voter ID Card or Aadhar Card
Address Proof - Bank Statement or Bill of Electricity / Mobile or Telephone Bill/Water bill.
Address Proof of Registered Office - Bill of Mobile / Electricity Bill / Telephone Bill / Water Bill / Gas Line Bill / Property Ownership Document
No objection Certificate (NOC) by the proprietor.
b. procedure for one person company registration
Step 1- Application for Digital Signature Certificate (DSC)
To get a DSC directorship, the proposed person will require documentation regarding the proof of address, Aadhar card, PAN card photo, email-id, and the number of his phone. DSC is crucial since all registration processes for companies are conducted digitally.
Step 2- Application for Director Identification Number (DIN):
The proposed director will need to fill out the SPICe Form to apply for DIN. Name and address evidence of the director's identity must be provided here. If the business is already in existence, the form DIR 3 must be filled out.
Step 3- Name Approval Application:
The company's name can be approved by submitting an application using Form SPICe 32 or the RUN web service provided by the Ministry of Corporate Affairs. One name of choice and the signature need to be submitted. The ministry can be able to approve two suggested names and also one resubmission. After approval, the name of the business will be affixed privately limited in the middle of the name, for example, ABC (OPC) Private Limited.
6. Limited Liability Partnership
Limited Liability Partnership (LLP) is now a popular kind of company among entrepreneurs. It combines the benefits of the two types of partnership firm and company into a single kind of company. A minimum of two partners are required to create an LLP, and however, there isn't a maximum limit. The partner in the LLP must be an Indian or an Indian national. The partners of this type only have a limited liability, which means that they cannot use their personal wealth to pay off the company's debts.
Additionally, there is no way for one partner to be accountable for the acts of another or negligence or misconduct of a partner. The LLP's rules are all subject to the requirements contained in the Limited Liability Partnership Act, 2008. The LLP agreement regulates the rights, obligations, and responsibilities of the members who are required to comply with the rules in the LLP Act.
a. List of Documents Required for LLP company registration in India
The applicant must collect the following documents to file the incorporation application.
Documents required by the partners
PAN Card/ ID Proof of Partners
Photograph
Residence Proof of Partners
Passport (in case of Foreign Nationals)
Documents required for LLP
Proof of registered office address
Digital Signature Certificate
b. Limited Liability Partnership Registration Process
Step 1– Obtain Digital Signature Certificate (DSC)
Before you begin the LLP registration, it is necessary to obtain the digital signature of authorized participants of the LLP. This is because all documents of the LLP are stored online and require to be signed digitally. The designated partner must get their digital signature certificates from government accredited certifying agencies.
Step 2- Apply for Director Identification Number (DIN)
Requiring the DIN for all designated partners or those who intend to become designated partners in the new LLP is necessary. The request for the allotment of DIN is to be filed on Form DIR-3.
Step 3- Name Approval for LLP incorporation
LLP-RUN (Limited Liability Partnership Reserve Unique Name) is filed to allow an LLP name reservation. LLP will be handled through the Central Registration Centre under Non-STP. The registrar will be able to approve this name only if it is not in conflict with the view of the Central Government and not a copy of any existing partnership company or LLP or trademark, or body corporate.
Step 4- Incorporation of LLP
It is necessary to complete an application form for LLP registration online. The details entered on the form must be correct. Depending on the members ' contribution to this proposed LLP, you will have to pay a specified LLP registration cost. The filled form must be signed electronically by the individual with a DIN listed in the incorporation documents to register LLP. Once the registrar approves the submitted form, the LLP is registered. The process can take anywhere from 15 to 20 days.
Step 5- File Limited Liability Partnership Agreement
A contract is signed that establishes the rights, obligations, and responsibilities between the registered partners and among an LLP and the registered partners. It is crucial to sign your LLP arrangement within 30 days of the anniversary date.
7. Section 8 Company
An organization registered as a Non-Profit Organization is referred to as a Section 8 Company. NPO/company promotes arts, commerce, charity, science and literature, education, care for the poor, and protect the environment. It operates exactly as a limited company, with all rights and obligations. It differs from companies in one crucial aspect: It cannot use Section 8 or Limited in its name. They also ensure that all profits are used for these purposes solely, and members don't take any dividends.
a. List of Documents Required for Section 8 Company Registration in India
The applicant must collect the following documents to file the incorporation application.
Digital Signature Certificate
DPIN/DIN
MOA and AOA
Photo ID verification
Passport Size Photographs
Directors data
Address verification documents
b. Procedure for Section 8 Company Registration
All partners must apply to DIN and DSC.
Get approval from MCA by selecting the names you choose for your company.
If asked by officials, provide the official approval of the department/relevant higher authority.
Get the Section 8 license from MCA after registering the company name.
Startup India Registration: A strong step towards economic development
A start-up is a company or project that an entrepreneur starts to develop and validate a viable business model. Entrepreneurship can be applied to any new business, even self-employment, and to businesses that do not intend to register. Start-ups are new businesses that aim to grow beyond the founder. The Government of India initiated the Startup India Scheme under the leadership of PM Narendra Modi. The Startup India registration process fostered and encouraged India's start-up growth. Start-ups that register under this scheme enjoy many benefits.
Startup India scheme registration holds a wide vision of economic development and creating employment opportunities. Start-ups have the greatest advantage of increasing employment in the country, which is directly due to more companies opening up. The Indian government is encouraging young Indian companies to grow and prosper in India by offering more job opportunities. Startup India registration online helps you innovate and promote economic sustainability.
a. Documents required to register start-up India
Dpiit registration process requires that organizations submit the following documents:
A certificate of incorporation, which is proof of business registration
Company PAN Card
Aadhar and PAN, passport-sized photographs of Directors
Certificates, if possible: MSME Registration, GST Registration, and Trademark Registration.
Website or Company Profile Deck (anyone)
Photos and Videos of Products / Services
Authorization Letter (We will send a draft copy)
A brief description of how the company is moving towards its goals
b. Startup India Registration Procedure
Step 1: Incorporate your company
As a first step towards the start-up registration process, your business must be incorporated as a Private Limited Company, Limited Liability Partnership, or Partnership. To register, you will need to go through the usual procedure, including filling out a form.
Step 2: Register with Startup India
You will now need to register your company or firm as a Startup India participant in the government's Startup India program. Fill out the Startup India form with all details and attach the required documents.
Step 3: Upload documents to a PDF format
A recommendation letter is required, along with the registration form. A recommendation letter from an incubator, A letter from the State or Central Government, or a letter issued by the incubator backed by the government authority, in DIPP format, or a patent filed and published in the Journal of Indian Patent Office in areas affiliated with its nature was promoted will work.
Step 4: Provide information regarding tax exemption
To obtain a dpiit certificate, start-ups in India don't have to worry about tax liability for the first three years. These benefits are only possible if the firm is registered with the Inter-Ministerial Board.
Step 5: The Self-certification requirements
You must register your firm as a private limited company, partnership, or LLC. Your company must be legal and registered in the country, and the business' turnover must not exceed Rs 100 Cr. mark. The company must promote innovative ideas. Your business should be unique and not copy the existing business.
Step 6: Get your recognition.
You will receive a recognition number immediately after you apply for this registration. After the authority has reviewed all of your documents, you will receive the certificate of incorporation or registration.
Final Words
Since the registration procedures have completely become online, registering companies in India has become a simple process. When registering a business in India, it is essential to select your business structure with care and caution because each business structure comes with various levels of compliance that must be met.

Author : Sakshi
Date : 30-Jun-2022

GET HELP