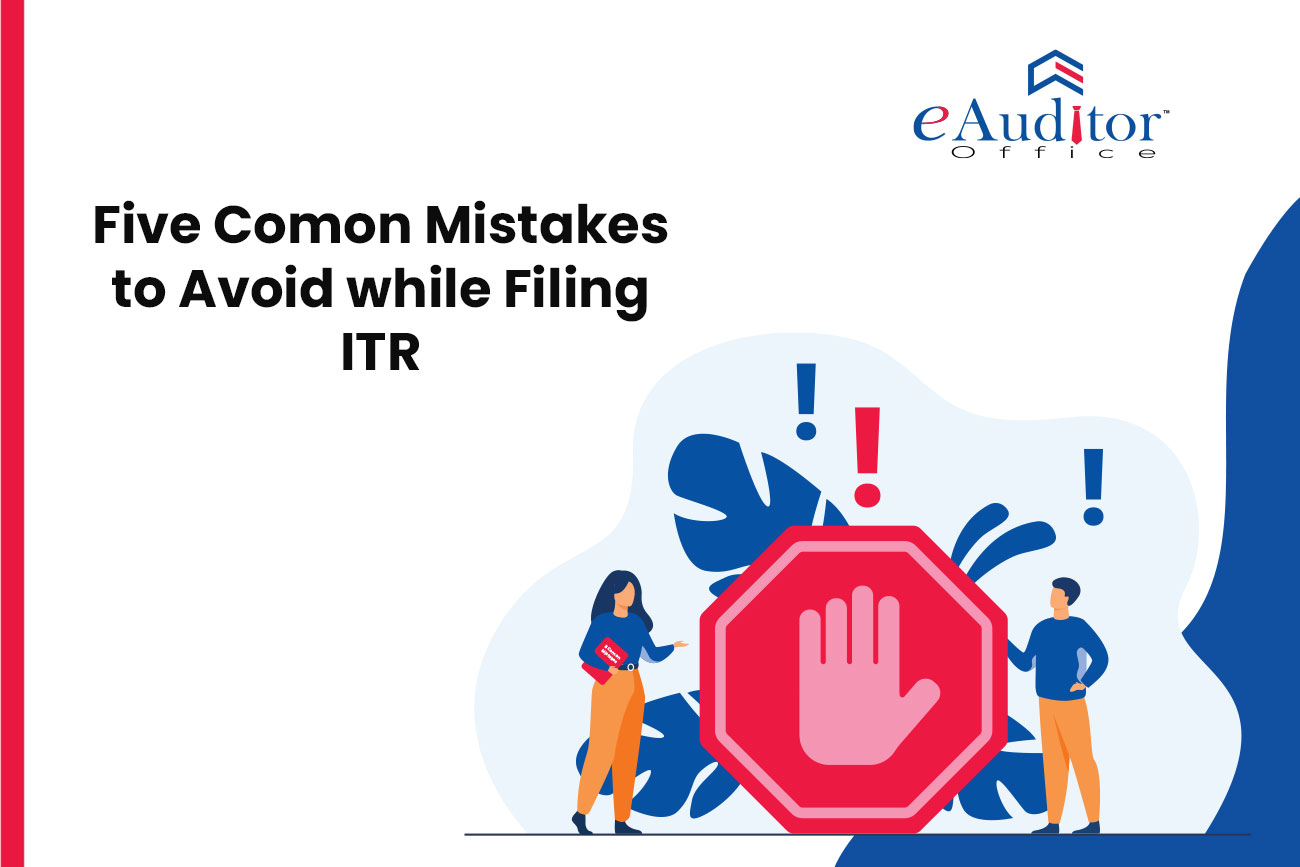 FIVE COMMON MISTAKES TO AVOID WHILE FILING ITR
Overview
The Total Income Tax Returns filed during A.Y. 2022-2023 is about 5.83 Crores. The increased number of ITR and disclosure requirements is due to the enhancement in the ease of filing returns. The income tax portal undergoes many changes to make tax filing easy.
Also, there are options for filing ITR online or offline, giving the taxpayer a right to decide on. Due to the surfacing of digitalization, the Government has given utmost importance to online accessibility for taxpayers. It is not false to say that taxpayers, as well as professionals, are using online utilities rather than conventional tax filing.
Tax filing can be complex and involves a good knowledge of the Income Tax Act and related rules while filing Income Tax Returns. Despite missing the deadlines for filing the ITR some other common mistakes that an individual can make while filing a return are listed below.
1. Providing Incorrect Information
While registering on the income tax portal, many of us do not provide precise information. Due to lack of information or error in the information provided by the assessee the Income tax department can't further process your registration. Sometimes due to incorrect information or personal details the communication by the department does not get delivered to the concerned person, which may lead to many problems. The factual information like IFSC code of the bank and account number of the individual should be correctly mentioned for nominating the bank account in case of any refund.
2. Choosing the wrong ITR form
The most common mistake an individual makes while filing their ITR is choosing the wrong ITR form. There are 7 ITRs that can be filed for Assessment Year 2022-2023 and onwards. The person filing ITR should have adequate knowledge about the following forms and when the ITR are filed.
ITR 1
For ordinary resident individuals having income from salary, one house property and/ or other sources of income; and
Income from these heads does not exceed INR 50 lacs.
ITR 2
For individuals having an income of more than ₹ 50 lacs
Having capital gain income and/or holds two or more house properties.
This form is applicable for residents who hold unlisted equity shares or directorship in a company.
ITR 3
Income as per ITR 2 and having income from profits and gains of business or profession.
The income of a partner in a firm or income from a Business/ profession are also considered.
ITR 4
Individuals, HUFs and firms (other than LLPs) being resident and having profits and gains of business or profession computed u/s 44AD, 44ADA or 44AE.
ITR 5
Applicable to firms, LLP, AOPs and BOIs.
ITR 6
For companies not claiming exemption under section 11 of Income Tax Act.
ITR 7
For Person/Companies to whom section 139 (4A/4B/4C/4D) is applicable.
3. Omission of details in Capital gain and other sources of income
Because of the introduction of the Annual Information Statement (AIS) and Taxpayer Information Summary (TIS), the summary of the transaction and related income has been automatically shown in these reports. The PAN number is the linkage due to which the taxpayer can systematically view the income from various sources like bank FD interest and dividend income etc.
SFT details would also incorporate the purchase and sale transaction of bonds, equity shares, and other mutual fund trading. A person filing ITR should be careful while filing ITR that the details match with 26AS form along with AIS.

4. Avoiding tax-related income on House Property
If the person has two or more house properties, he can only claim two house property as Self occupied and another house property would be deemed to be let out property, therefore the provision of income tax would be applied accordingly. Because of lack of awareness about the Income-tax Act, taxpayers who are filing the return on their own tend to forget to claim the standard deduction of interest on housing loans. Also, there can be technical errors when the person is ignorant about sections of income tax and their implications.

5. Forgot to verify ITR
Filing ITR is a complex process, and errors are bound to happen. The Income Tax department notifies the taxpayer's mistakes if it finds any. So, it is important to verify the ITR to reduce the chances of any errors.

Due to updated features in the income tax portal, the errors are highlighted if they differ from the AIS report and therefore the mathematical errors are reduced.

A period of 30 days is recently given by the authorities to verify the ITR. ITR verification can be done through Aadhaar OTP or the bank's online banking service. It can also be done by sending the signed physical copy of the return to the Central Processing Center (CPC).
Author : Aditi
Date : 02-Sep-2022

GET HELP